Reddit Is Questioning Aldi's Eggs For One Unexpected Reason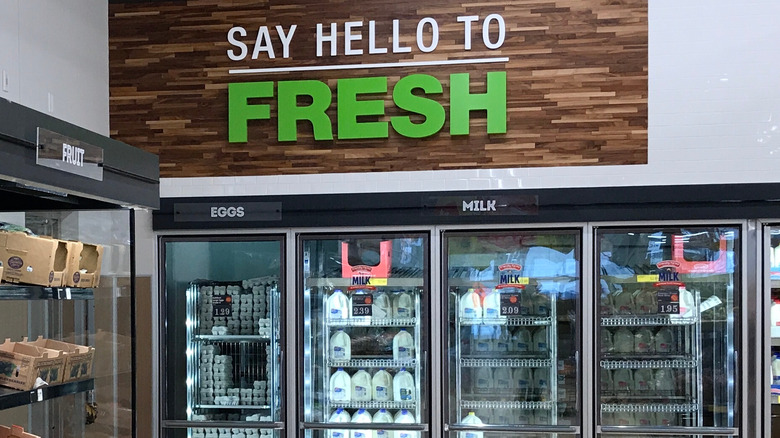 Jeff Bukowski/Shutterstock
Aldi has gotten pretty comfortable as a grocery company that makes the news on the regular: it's one of the fastest-growing in the country for starters (per Supermarket News). Unlike stores like Wegmans and Walmart, which prefer to maximize profits by going big, Aldi consistently keeps things small. But the chain makes efficient use of its space, featuring lots of inexpensive organic produce and extensive selections of snacks and other high-quality, low-price-tag items under its own store labels. Aldi carries a surprising variety of upscale items as well, including high-end cheeses like specialty goat, Gruyère and manchego without high-end prices (per Cheese Professor). The store manages to maintain standards without jacking up prices too much by dealing with local suppliers; Aldi doesn't have its own butchers — the grocer purchases precut meats from area farmers, which cuts down on both labor and transportation costs. 
Aldi also carries a good supply of inexpensive dairy products, including eggs priced so low that they have often come with purchase limits. Lately, however, egg prices are at a record high across the country – Forbes reports that they've doubled in the past year and even Aldi's prices are nothing to write home about these days (per Reddit). The chain's low egg prices have a downside, though: people have raised serious questions about the standard operating procedures of Aldi's main egg supplier, Rose Acre Farm — and some think you shouldn't bother buying eggs at Aldi, period. But that's not what's caught Reddit's attention.
Egg cartons complete with Bible verses
What have the good people of Reddit been wondering about? It looks like eggs' soaring prices have gotten everyone spending a bit more time perusing their cartons. The nifty packaging has a lot more uses than meets the eye (even when you're grilling), and cartons make great reading material, too. Aldi's boxes of Goldhen eggs provide a good deal of information along with their 70 calories and 6 grams of protein: vitamin content, place of origin, and safe handling instructions. But, more surprisingly, they also feature Bible verses (per Reddit).
Apparently, this is something Rose Acre does with all their cartons, and Aldi is just on the receiving end (via Pure Flix Insider). The key Bible verse (from Psalm 118) is an upbeat one: "This is the day that the Lord has made, let us rejoice and be glad!" The quote has been important to Rose Acre's founder David Rust which is why it's so prominently featured; many have seen it as a message of hope and written the company with their appreciation. And while many consumers are commenting on it now, other Redditors have confirmed that those words have been there for quite a while — over a decade, according to some. Funny the things you notice when you start paying a lot more for your eggs!