Rusty Nail Cocktail Recipe
Christina Musgrave/Mashed
The Rusty Nail really couldn't be much simpler. As recipe developer Christina Musgrave describes it, it's "a no-frills cocktail made with just two ingredients." That's just what you're getting here, as she says her version of the drink contains "no special ingredient, just did the classic recipe." Still, simple though it is, Concrete Playground notes that the drink was apparently good enough for Frank Sinatra, Dean Martin, Sammy Davis, Jr. and the rest of the Rat Pack.
The earliest version of the Rusty Nail was a drink that contained the same ingredients but also added a few dashes of bitters. It went by the name of the B.I.F. — these initials stood for British Industries Fair, the organization at whose event it made its 1937 debut. Apparently no-one was too wowed as it then went away for another two decades, but resurfaced again (sans bitters) in the '50s because ... er, we don't really know. We also do not know how the Rusty Nail acquired its somewhat unappetizing name, but one of the most palatable theories revolves around the fact that the drink does, in fact, have a somewhat rust-colored hue.
Assemble the ingredients for a Rusty Nail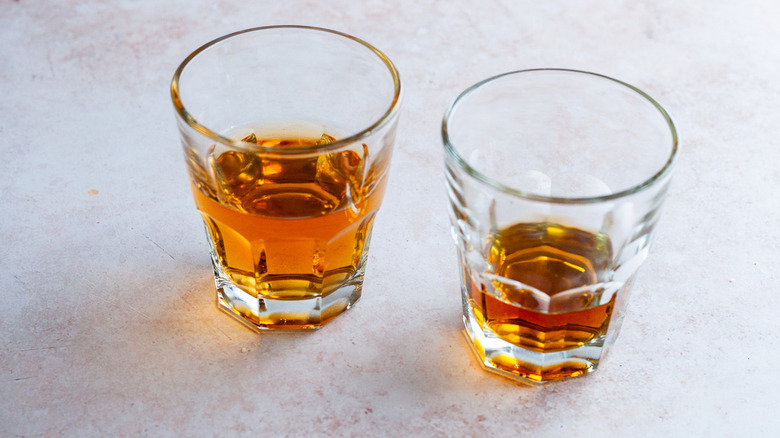 Christina Musgrave/Mashed
All you need to make this drink is Scotch and Drambuie, plus some ice cubes. Many bartenders prefer to make Rusty Nails with a blended Scotch and Musgrave concurs. As she points out, blended Scotch is "typically the best option for mixed drinks," although she does admit "it's all based on preference" so you can go ahead and use a single malt in your Rusty Nail if that's what floats your boat.
Combine the drink ingredients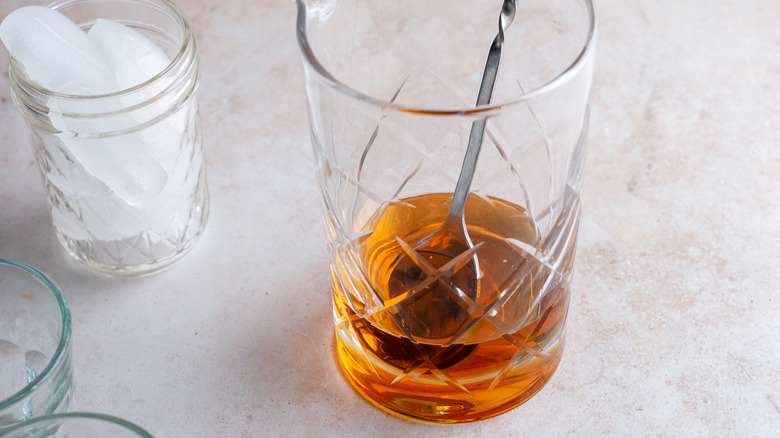 Christina Musgrave/Mashed
Combine the Scotch with the Drambuie. Yep, that's pretty much it as far as mixing the drink goes. Should you have no jigger on hand, that won't matter a bit, since, as per Musgrave, "the proportions are typically 2:1." That means you can measure out the Drambuie in whatever you like, then double that amount of Scotch and you've got yourself a Rusty Nail.
While Musgrave uses a special mixing glass to make her cocktails, you can actually stir them up in any type of vessel you have on hand as long as it's clean — a plastic cup will do just fine, Your mixing container won't be the final drinking glass, so there's no need to worry about how it looks.
Chill the drink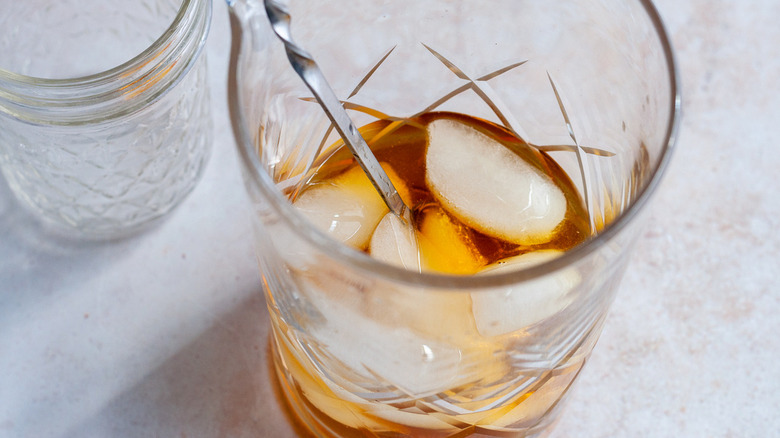 Christina Musgrave/Mashed
Plop a few ice cubes into your mixing container, then stir the drink for a few seconds until it feels chilled. If you're wondering why you're stirring and not shaking (besides the obvious fact that you're not making this drink for James Bond), it's because drinks that contain nothing but booze are generally stirred because they don't need the additional air introduced by vigorous agitation.
Strain the drink over fresh ice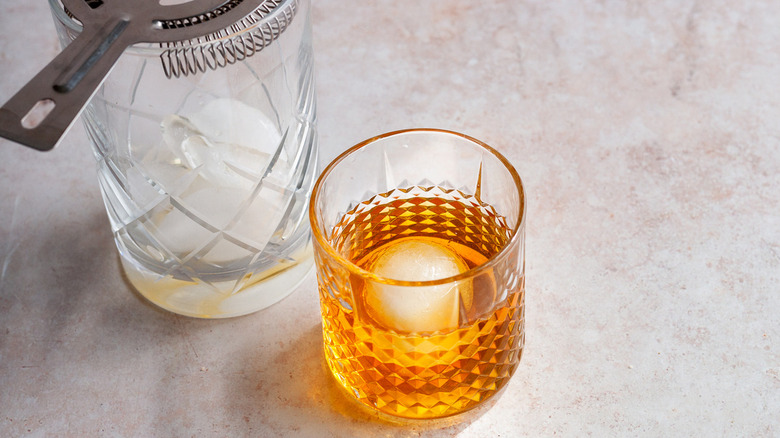 Christina Musgrave/Mashed
As a final step, stick a few more ice cubes into an empty rocks glass — or just one jumbo-sized cube, should your freezer run to such an amenity. Strain the Rusty Nail into that glass. Once the Rusty Nail is in the glass with the fresh ice, that's it, your drink is done.
There's no need to dress up your Rusty Nail because, as Musgrave tells us, "This drink typically doesn't come with a garnish." You could always add a twist of citrus peel, though, if a naked drink offends your sensibilities.
Rusty Nail Cocktail Recipe
When it comes to classic cocktails, it doesn't get much simpler than the 2-ingredient Rusty Nail.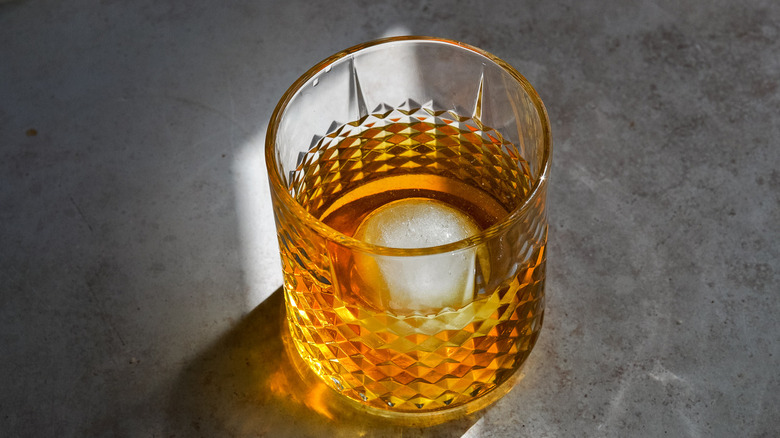 Ingredients
1 ½ ounce Scotch
¾ ounce Drambuie
Directions
Add the Scotch and Drambuie to a glass with some ice cubes and stir.
Strain the cocktail into a rocks glass with fresh ice and serve.
Nutrition
| | |
| --- | --- |
| Calories per Serving | 163 |
| Total Fat | 0.1 g |
| Saturated Fat | 0.0 g |
| Trans Fat | 0.0 |
| Cholesterol | 0.0 mg |
| | |
| --- | --- |
| Total Carbohydrates | 6.8 g |
| Dietary Fiber | 0.0 g |
| Total Sugars | 6.8 g |
| Sodium | 2.1 mg |
| Protein | 0.0 g |