How Chef's Table: Pizza's Gabriele Bonci Makes Food Political - Exclusive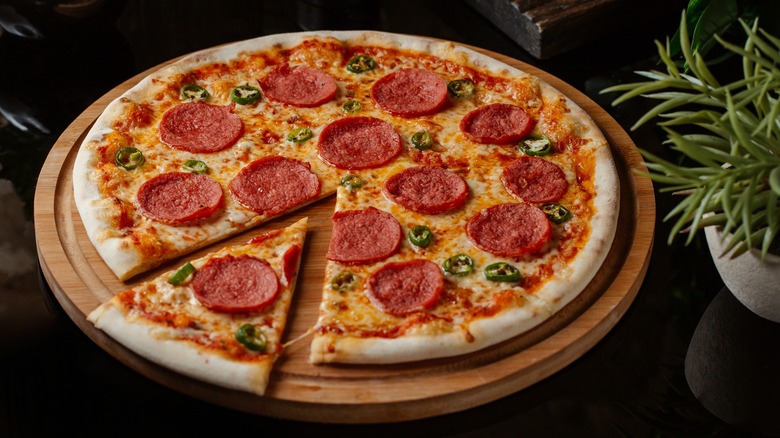 azeraijan plus/Shutterstock
Netflix's culinary docuseries "Chef's Table: Pizza" returns this fall with the newest season's theme focusing on an international favorite. The season features six chefs from around the world and looks at their individual cooking styles, inspirations, and what led them to their current statuses as some of the planet's experts in all things pizza. 
Given the season's impressive lineup of chefs, it's no surprise that Gabriele Bonci of Rome, Italy, is included among them. A celebrity chef in his home country, Bonci has been called "the Michelangelo of Pizza" and was featured on a 2011 episode of Anthony Bourdain's "The Layover," during which Bourdain told viewers to leave their families and abandon their children for Bonci's pizza.
But for Bonci, pizza isn't just pizza. The accomplished chef, according to the Bonci USA website, has formulated more than 1,500 pizza recipes, established multiple restaurants, and in large part — as "Chef's Table: Pizza" details — reinvented the Roman idea of pizza, elevating and using it to draw attention to his greater goals beyond just making a good pie.
Pizza as a means to an end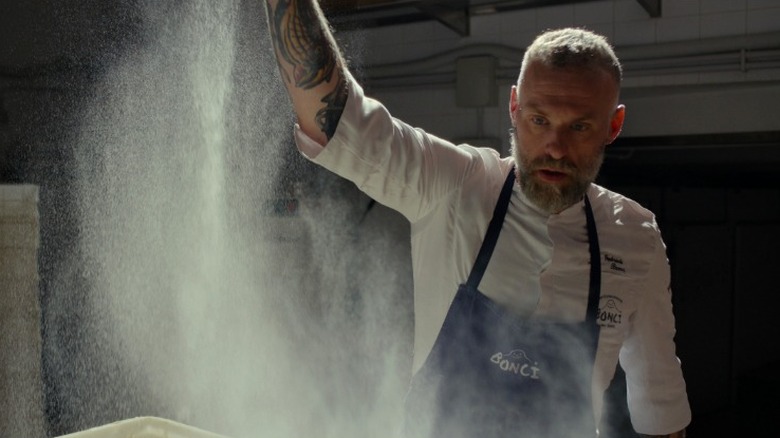 Netflix
Gabriele Bonci focuses on the Roman specialty of pizza al taglio, which, according to Taste Atlas, is a newer variety of Roman pizza invented in the 1950s, baked in rectangular trays and sold cut into squares or rectangles. The dish is a popular street food, and beneath Bonci's artistic touch, the dish is elevated with inventive combinations and unexpected ingredients. But it quickly becomes apparent within the first few minutes of his episode of "Chef's Table: Pizza" that while Bonci loves pizza, he views it as a means to an end more than anything else.
Pizza al taglio, he explained in an exclusive interview with Mashed, is special in its "contemporaneity, the gesture of cutting it, the gesture of sharing it with others, the pleasure of deciding how much of it to eat," but for his purposes, the real value lies elsewhere. "Thanks to its popularity, it could incentivize the development of a healthier and more ethical agriculture," he said. "Each pan of pizza corresponds to 10 square meters of cultivated land with both vegetables and wheat."
When a young Bonci began looking for a food to specialize in that would bring more attention to Italy's agricultural system, thoughtful consumerism, and mindful eating, he chose pizza — because "after hummus, it is the most consumed dish in the world." He added, "I have always considered eating a political gesture — not a party one, but a political one."
The challenges of Chef's Table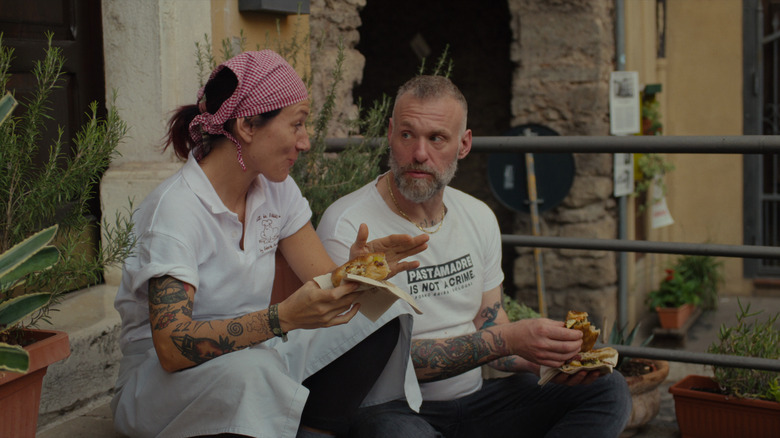 Netflix
Today, Gabriele Bonci serves his pizza at Pizzarium in Rome and in Chicago as of 2017 (via PMQ). The pizza lineup changes as often as hourly depending on what ingredients are available, with a heavy focus on seasonality and working with regional farmers to source cured meats, cheeses, and produce (per the Bonci USA website). The dough is made with a proprietary blend of 100% organic, heirloom, stone-ground wheat flour and takes a whopping 72 hours to create. 
Not sure what to order off the menu? Bonci recommends you try the fried carbonara, which, after the pizza, is likely its most popular dish. As for Bonci's favorite pizza variety, he said, "Red pizza — with tomato sauce — with burnt edges."
Telling his story while filming "Chef's Table: Pizza" was a challenge, according to Bonci: "It was a whirlwind of emotions, a lot of fear. I was completely unaware of what the end result could be like. I would say it was almost painful." Beyond the focus on Bonci's culinary chops, the episode features his personal struggles and emotional development, both of which came with his rise to fame. In the future, though, he says his focus is all "agriculture," and he's still chasing that accomplishment that will make him most proud in his career.
All six episodes of "Chef's Table: Pizza" are available on Netflix now.