Tropical Smoothie Recipe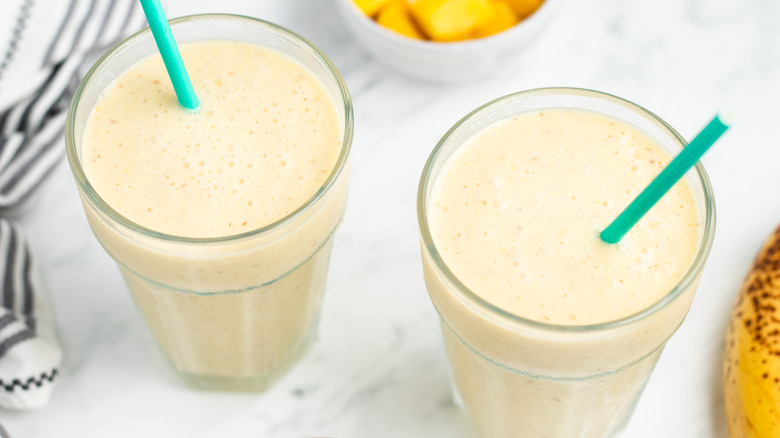 Catherine Brookes/Mashed
There's no doubt that sipping on this smoothie will make you feel like you're sitting on the beach in the tropics. But, it doesn't have to be summer, and you certainly don't have to be on vacation to enjoy the taste of a refreshing smoothie. There are many reasons to make this smoothie, and one real benefit is that most of the ingredients are frozen. This means you can shop ahead of time and make the smoothie at your convenience. Plus, the ingredient list includes healthy items like fruits and seeds, so it's a breakfast or snack you can feel good about. "It's packed with vitamin C, potassium, fiber, and has anti-inflammatory benefits, too," says recipe developer Catherine Brookes. "I love the natural sweetness and creaminess. It's fresh and fruity, but the healthy fats from the coconut and flaxseed help to make it more filling, too." 
That said, as filling as this smoothie is, that doesn't necessarily mean you should rely on it alone to kickstart your day. "I wouldn't say it's a complete meal, but it would be great to have alongside toast or granola for breakfast, or as a snack." We love its versatility! 
Gather the ingredients for this tropical smoothie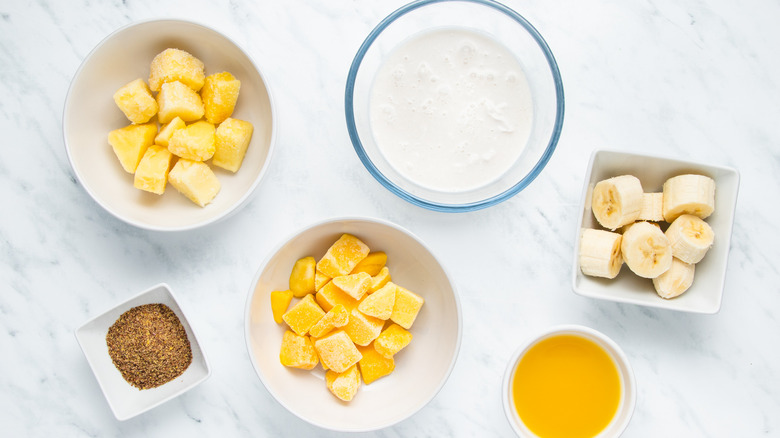 Catherine Brookes/Mashed
This recipe is filled with fruit, which is the bulk of the ingredients list. You'll need frozen pineapple, frozen mango, a large banana, canned coconut milk, orange juice, and ground flaxseed. 
When asked if you could swap out the fruit, Brookes says, "It would alter the flavor, but you could swap for other fruits such as passion fruit or kiwi, if desired." 
Add the ingredients to a blender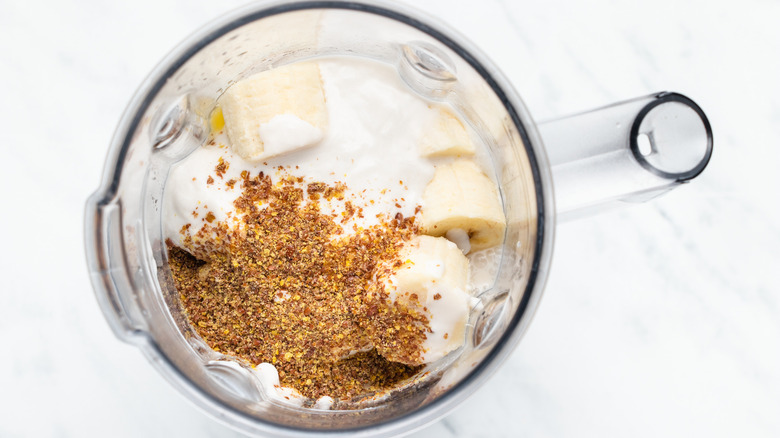 Catherine Brookes/Mashed
This is one of the least complicated recipes you'll ever make since you simply dump all the ingredients into your blender in the first step. Go ahead and add the pineapple, mango, banana, coconut milk, orange juice, and ground flaxseed to the blender's jug. "Flaxseed [is] the secret ingredient here as it adds extra fiber and omega-3 fatty acids," Brookes notes. 
Blitz the smoothie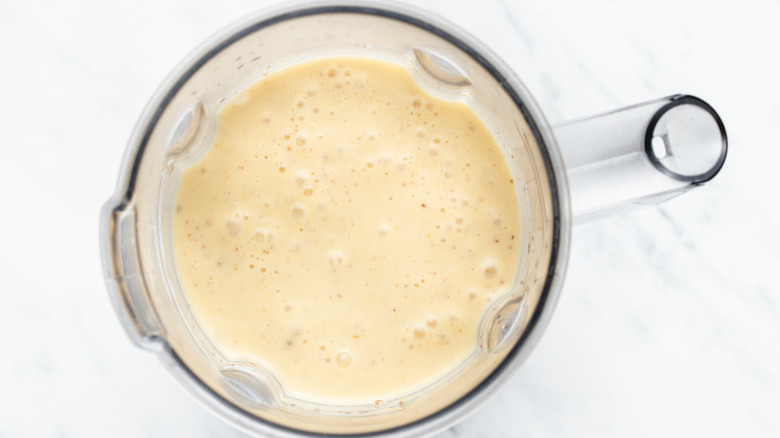 Catherine Brookes/Mashed
Place the lid on your blender and blitz the mixture until it's completely smooth. "It generally takes around 1 minute to blitz completely," Brookes shares. "The texture should be smooth and slightly thick." 
And the taste is fantastic. Brookes describes it as "creamy, fruity, sweet, and tangy." 
Serve and enjoy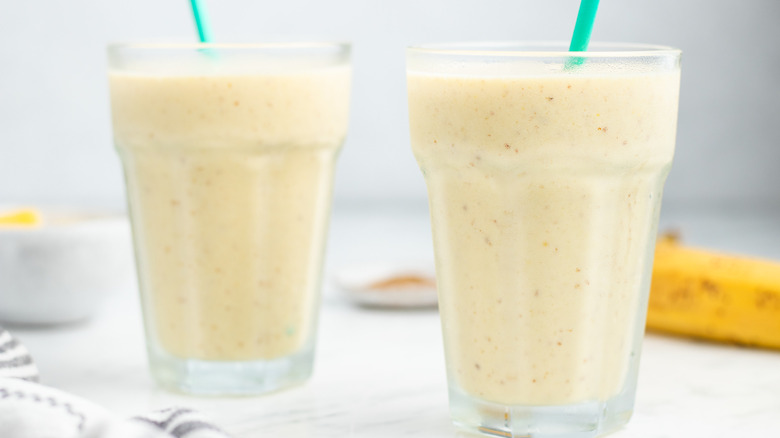 Catherine Brookes/Mashed
Once you finish blending the smoothie, you can pour it into the serving glasses of your choice. This recipe yields 2 smoothies, so don't be shy about sharing the love — go ahead and pour a glass full of tropical sunshine for a friend, too. 
Tropical Smoothie Recipe
When you want your breakfast to transport you to the tropics, this fruit-filled tropical smoothie recipe will do the trick. It only takes 5 minutes to make.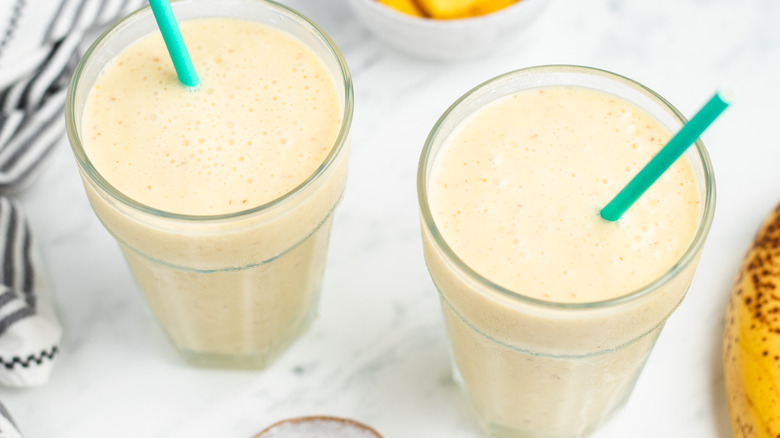 Ingredients
1 cup frozen pineapple
1 cup frozen mango
1 large banana, sliced
1 cup canned coconut milk
½ cup orange juice
1 tablespoon ground flaxseed
Directions
Add all the ingredients to the jug of a blender.
Blitz until completely smooth.
Pour into your serving glasses and serve.
Nutrition
| | |
| --- | --- |
| Calories per Serving | 417 |
| Total Fat | 26.0 g |
| Saturated Fat | 21.7 g |
| Trans Fat | 0.0 g |
| Cholesterol | 0.0 mg |
| | |
| --- | --- |
| Total Carbohydrates | 49.3 g |
| Dietary Fiber | 5.4 g |
| Total Sugars | 32.9 g |
| Sodium | 17.6 mg |
| Protein | 5.3 g |