The San Francisco Restaurant That's Run Exclusively By Robots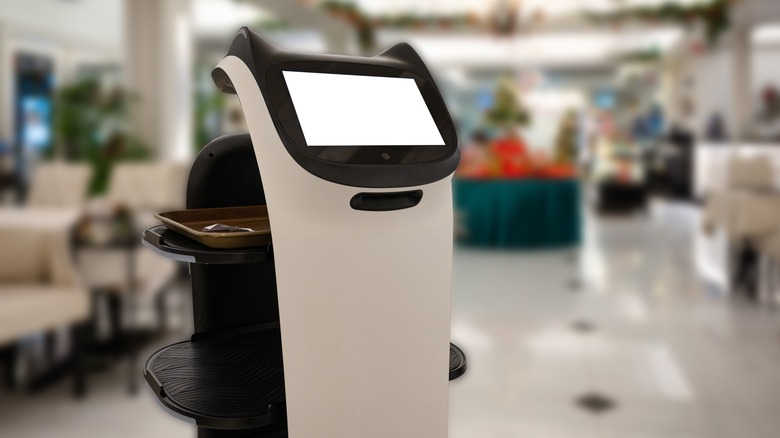 Mumemories/Shutterstock
From facial recognition to self-driving cars, technology is rapidly becoming the crux of our society. While artificial intelligence can determine the everyday outcome of our social media feeds and our GPS navigation, where it fits into the modern workplace, particularly in the food industry, is a far more complex topic.
As America's center for tech innovation, San Fransisco is dedicated to redefining the way we think about and interact with technology. A new frontier for the future of coding, computing, and applied sciences, the Bay Area is home to tech giants like Twitter, Uber, Snapchat, and more (per Built in SF). Championing food innovation through product development, sustainability, and commercial optimization, Kitchentown is one of San Fransisco's leaders in the restaurant and grocery industry. The company works with food start-ups out of their 30,000-square-foot campus to provide them with cutting-edge consulting, product development, and distribution (per Kitchentown).
Adding to its established initiatives, Kitchentown recently launched a fully autonomous restaurant Mezli (per KXAN). The 24-hour restaurant offers affordable Mediterranean food prepared and served entirely by artificial intelligence and robots. Although it's new to the city, Mezli's yelp page already boasts an impressive 5 out of 5-star rating by its customers.
Mezli is trailblazing the future of restaurants
Despite operating solely on advanced technology, Mezli's food hasn't lost its human spirit. Founded by Stanford engineering graduates Max Peham, Alex Gruebele, and Alex Kolchinski, the trio knew fast service and affordable prices weren't enough to satisfy customers. While the restaurant's mission is founded on convenience and frugality, the founders partnered with Michelin-star chef Eric Minnich to ensure that the robotic chef mimics the food quality of a Michelin-star meal (per Mezli).
According to QSR, the restaurant industry spends $28 billion a year to keep kitchen appliances operating, and when equipment is down, the lost revenue is estimated at $46 billion industry-wide. Because the restaurant eliminated labor and appliance repair costs, per Instagram a Mezli bowl starts at only $4.99 — not a bad price during times of inflation and food insecurity. 
As technology continues making its way into the restaurant industry, it's warranted for employees to heed concern for the future of their income. While Mezli operates solely on technology, its business model doesn't necessarily define the exact role of the robots. Those restaurants introducing robots into their kitchens doesn't necessarily mean replacing human labor entirely. Between self-repairing equipment, improved purchasing decisions, and refined staff recruiting, AI has the potential to make an often grueling job easier (per QSR).