Easy Steamed Broccoli Recipe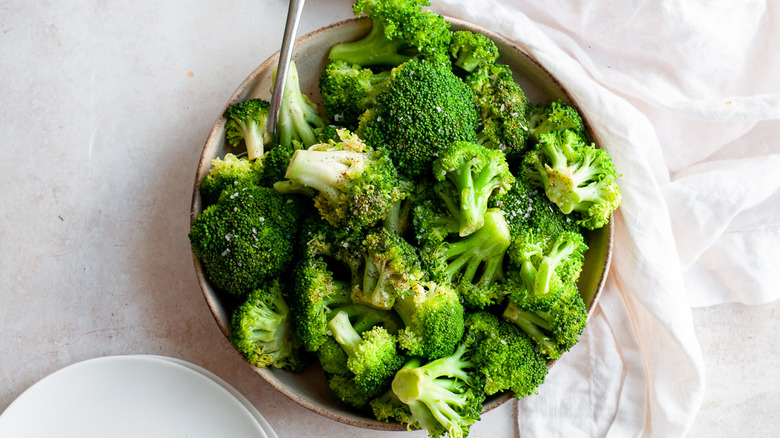 Christina Musgrave/Mashed
When you're trying to round out a dinner or lunch, there's no better option than a vegetable side. And, of all the vegetable side dishes out there, there are few options more healthy or tasty than broccoli. There are various ways to cook, season, and serve broccoli, but recipe developer Christina Musgrave keeps things classic with her easy steamed rendition. "This is a great, simple recipe for steaming broccoli that you can make again and again," Musgrave says. 
Not only will you make this steamed broccoli again and again, but you'll notice that it fits in with nearly any meal. If you've made grilled chicken, this broccoli would be a perfect side dish. The same goes for steak, seafood, pork, or even tofu — broccoli's fresh and earthy flavors pair wonderfully with any protein. Of course, you could also get creative with the broccoli and incorporate it into a rice bowl or stir fry. Basically, you can't go wrong with a side dish this simple and fulfilling, so master this easy recipe and keep it in your regular dinner rotation. 
Grab the right ingredients for easy steamed broccoli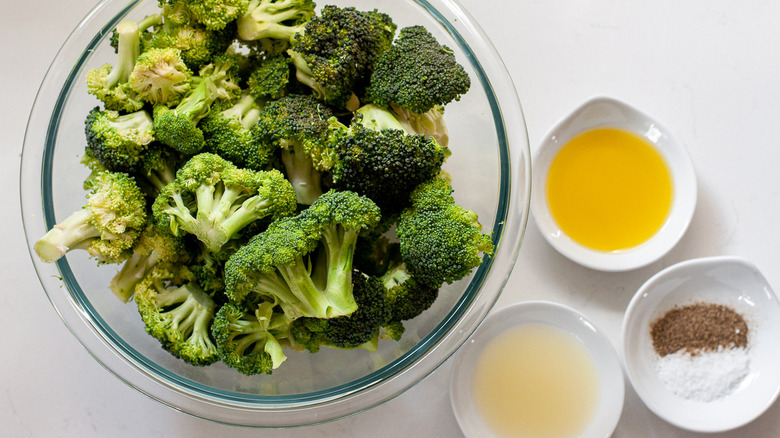 Christina Musgrave/Mashed
It doesn't take much to make steamed broccoli — you'll need broccoli florets, of course, along with olive oil, lemon juice, salt, and pepper. While Musgrave uses fresh broccoli in this recipe, she does say, "You could use frozen broccoli, you would just have to steam [it] for a few minutes longer."
Place the broccoli in a steamer basket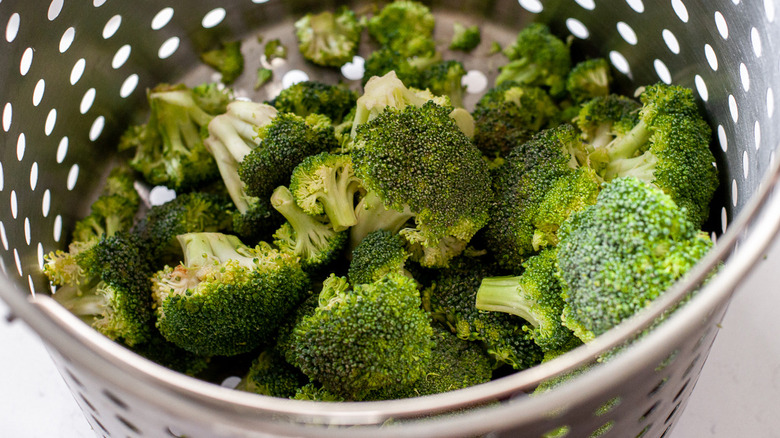 Christina Musgrave/Mashed
First things first, you'll want to get the broccoli all situated in the steamer basket. Add the florets to the basket, then place it into a pot with about 1-2 inches water. 
Steam the broccoli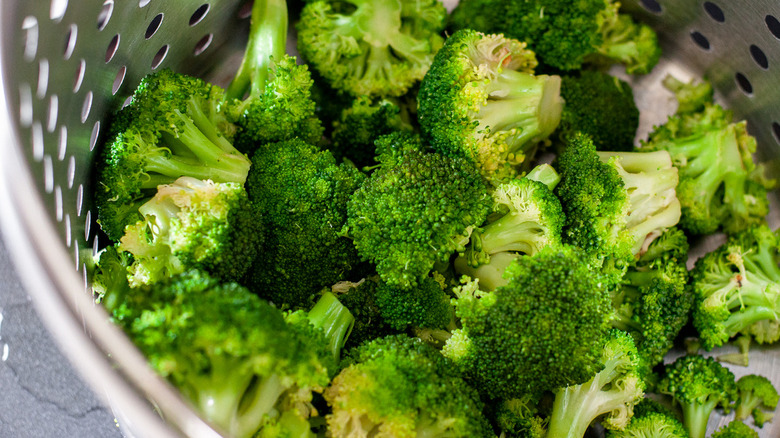 Christina Musgrave/Mashed
This is a recipe for steamed broccoli, so let's get steaming! Allow the water in the pot to come to a simmer, then cover the whole pot — with the broccoli and steamer basket inside — for about 5 minutes. During this time, the broccoli will steam to tender perfection. 
Top the broccoli with olive oil, lemon juice, and seasoning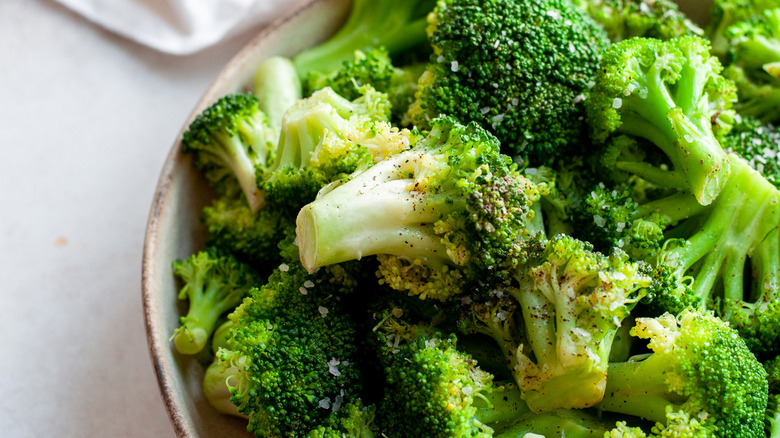 Christina Musgrave/Mashed
Once the broccoli has steamed, carefully transfer it from the basket to a large bowl. Add the olive oil, lemon juice, salt, and pepper to the broccoli, then give it all a good stir. Now, serve the steamed broccoli as desired. "I'd serve this with grilled chicken and dinner rolls or mashed potatoes," Musgrave suggests. You can't go wrong with the classic meal combination of a protein, vegetable, and carb, and this steamed broccoli will add the perfect pop of color and nutrition to any meal. 
Easy Steamed Broccoli Recipe
Whipping up a side of broccoli is the perfect complement to any lunch or dinner, and this steamed broccoli recipe couldn't be easier to master.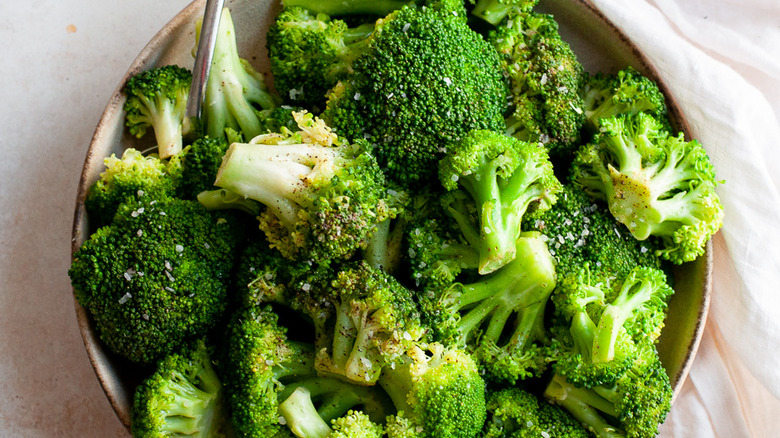 Ingredients
1 pound broccoli florets
1 tablespoon olive oil
1 teaspoon lemon juice
¼ teaspoon salt
¼ teaspoon black pepper
Directions
Place the broccoli florets in a steamer basket. Set in a pot filled with 1-2 inches water.
Bring the water to a simmer. Cover the pot and steam for 5 minutes.
Transfer the broccoli to a serving bowl. Top with olive oil, lemon juice, salt, and pepper. Stir and serve.
Nutrition
| | |
| --- | --- |
| Calories per Serving | 42 |
| Total Fat | 2.5 g |
| Saturated Fat | 0.4 g |
| Trans Fat | 0.0 g |
| Cholesterol | 0.0 mg |
| | |
| --- | --- |
| Total Carbohydrates | 4.1 g |
| Dietary Fiber | 0.0 g |
| Total Sugars | 0.0 g |
| Sodium | 117.4 mg |
| Protein | 2.3 g |