Twitter Is Raising Armies After Red Lobster Slander
If you love to eat at restaurants, you're not alone. According to You Need A Budget, the average American eats out almost six times a week, and if you're not careful, that can quickly spin your budget out of control. One solution? Sticking to fast-casual and casual dining restaurants, where you might not get white tablecloth service, but you'll still get to eat a meal you didn't have to cook, with no dishes at the end to boot. Some affordable casual dining restaurants even have the allure of a fancier establishment, like seafood chain Red Lobster.
Seafood costs are at an all-time high (via Fish Farming Experts), so a lot of people seem to love that at Red Lobster, they can enjoy an abundance of their favorites (unlimited shrimp deals, for instance) without it being too much of a splurge. The chain is also famous for its garlicky Cheddar Bay biscuits, which have spawned countless copycat recipes. Its fans can be pretty passionate, and one Twitter user recently learned this the hard way, when fans came to the chain's defense and even got Red Lobster to trend on the social media platform (via Twitter).
Twitter users couldn't take the Red Lobster hate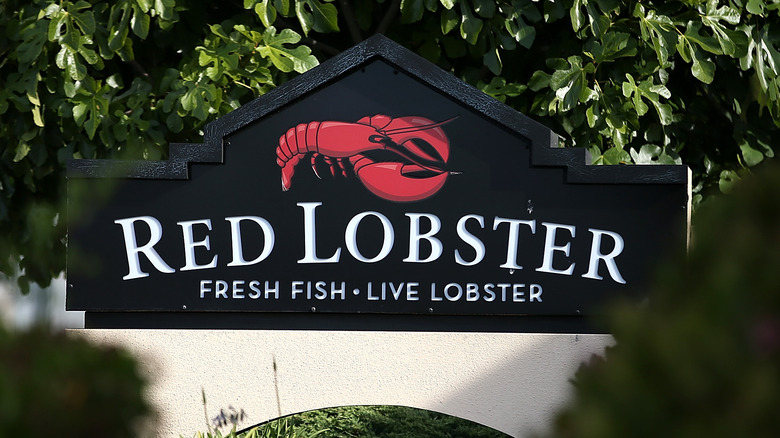 Justin Sullivan/Getty Images
The tweet that started the controversy wasn't just about Red Lobster. Account @anothercohen stated, "I don't understand how the following restaurant are still in business: Chilis, Applebees, Olive Garden, Red Lobster." While fans of the other restaurants named also came to their defense, Red Lobster's fans were so passionate that they actually got it trending on Twitter. "Tell me you haven't had 'endless shrimp' at Red Lobster without telling me you haven't had 'endless shrimp' at Red Lobster," replied one person. "Red Lobster is the only seafood option in a lot of the non-urban Midwest," another offered.
The original poster isn't the only one who might have been surprised that Red Lobster's defenders were so passionate. The Red Lobster CEO himself was shocked in the past when confronted with the chain's popularity. When the restaurant was named one of millennials' favorite casual dining restaurants in a 2016 Nation's Restaurant News poll, CEO Kim Lopdrup told Business Insider, "Red Lobster is not the first place people think of as a favorite restaurant for Millenials." Perhaps he would also be surprised that just six years later, fans of the chain are willing to go so hard for it on social media.