Red Lobster Launched Another Unlimited Shrimp Deal, But With A Twist
Although Red Lobster might have "lobster" in the name, there's a lot more at the restaurant that attracts customers. The restaurant's Cheddar Bay Biscuits are a fan-favorite, and you can even make the biscuits at home. When it comes to the chain's seafood, one of the more exciting times of the year comes when its unlimited shrimp deal is available.
In a press release, Red Lobster announced the return of its Ultimate Endless Shrimp deal, where customers can order as much shrimp as they want. Customers start out with two shrimp dishes and order additional shrimp dishes one by one. Of course, the meal comes with the chain's signature biscuits. And if shrimp and biscuits aren't convincing enough, Red Lobster has also decided to run this promotion every day of the week instead of sticking to a few weekdays. On the chain's Instagram post announcing Ultimate Endless Shrimp, fans were ecstatic about the change, so it looks like the deal is already drawing attention. Here's what to expect on the menu for this year's promotion.
What's on Red Lobster's unlimited shrimp menu?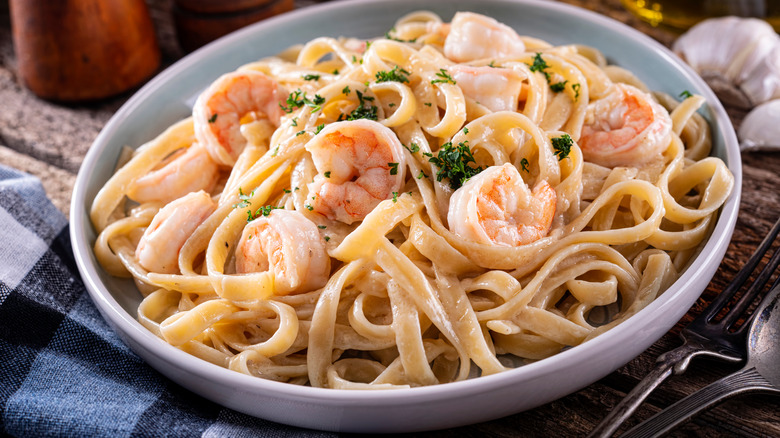 Foodio/Shutterstock
A shrimp dish played a big part in Red Lobster's popularity, so it's no surprise that seafood fans get so excited about the chain's endless shrimp promotion. Although Red Lobster is giving customers the chance to eat as many pieces of shrimp as they want, diners are limited to five dishes (per press release). That being said, there is still a lot of variety within Red Lobster's endless shrimp menu. The promotion will include Parmesan-Bacon Shrimp Scampi, Argentine Red Shrimp, Shrimp Linguini Alfredo, Walt's Favorite Shrimp, and Garlic Shrimp Scampi.
The new Parmesan-Bacon Shrimp Scampi gives customers another meat option that'll provide some contrast to the seafood. Besides the garlic butter sauce and bacon, this shrimp scampi also is topped with breadcrumbs, shaved Parmesan, and parsley. The Argentine Red Shrimp dish is grilled, and Walt's Favorite Shrimp is breaded shrimp that's fried and served with cocktail sauce. And back by popular demand is Shrimp Linguini Alfredo, so if you're a fan of this dish now's the time to enjoy it.
Red Lobster's Ultimate Endless Shrimp is available in participating stores across the United States and Canada from September 5 to November 6, so fans will have a couple months to eat their fill. Need even more shrimp? Here's our list of the 51 best weeknight shrimp recipes for seafood lovers.