Aldi's Popular Fall Cookies Just Made Their Way Back To Shelves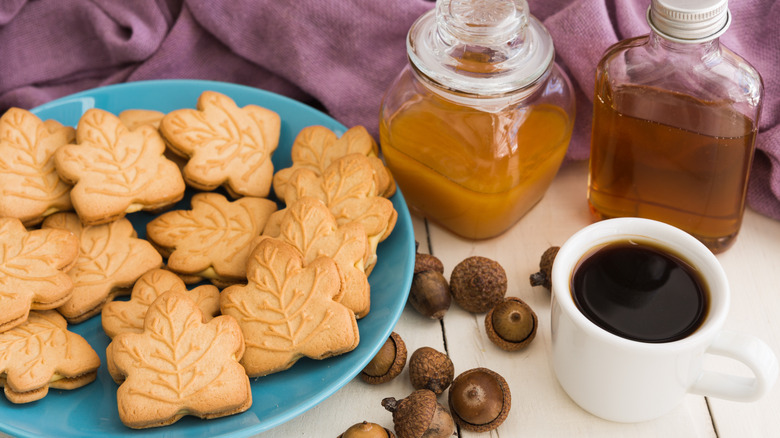 Sarah Morrison/Shutterstock
We're still a week away from the official start of the 2022 fall season. However, we can't blame anybody who's already living in an autumn state of mind. Though some parts of the country are still experiencing shorts and T-shirt weather, restaurants like Starbucks, and Chick-fil-A have already rolled out their fall-themed goodies, and many grocery stores have been lining their shelves with seasonal fare for several weeks now, as well. Aldi, for example, ushered in its fall food lineup last month with the debut of the new Benton's Apple Cider Donut Crème Cookies, which fan Instagram account @aldifavoritefinds alerted shoppers to in a post on August 21. "The first fall snack item has been found!" the Instagrammer triumphantly captioned a photo of the never-before-seen treat.
In the comments section, shoppers expressed excitement to have a new sandwich cookie to munch on during leaf-peeping season. However, some also had another fall Aldi fave on their minds. "Can't wait till the maple leaf cookies come back! Those are the best!" read one comment on @aldifavoritefinds post, to which another Instagram responded, "me tooooooo."
To clarify for those who are new to the Aldi fandom, the shoppers were talking about Benton's Maple Leaf Crème Cookies: a leaf-shaped, maple syrup-flavored sandwich cookie that Aldi Reddit's beloved cookie-eating rat, Snoot, once awarded a score of 15/10. The limited-edition snack has been showing up seasonally at Aldi since at least 2016 (via YouTube). Now, after a lengthy absence, they've returned once again.
Benton's Maple Leaf Crème Cookies are a must-buy, according to Aldi shoppers
The leaves may be starting to disappear from the trees outside, but they're just now beginning to make their presence known inside Aldi stores. No, we're not talking about actual foliage, but rather, the grocer's highly popular Maple Leaf Crème Cookies, which have officially landed in store for the 2022 fall season. The limited-edition product was spotted this week by Aldi fan Instagram account @adenturesinaldi, who excitedly alerted followers of their return in a post on September 14.
"I feel like maple is such a fabulous fall flavor that is often overlooked," the Instagrammer wrote — though it doesn't seem like Aldi shoppers are breezing by these sandwich cookies on the shelves. "Yes! So do not leave without them," Instagram user @vettechbuckeye commented. "Got these yesterday!! So so good! Get them NOW!!" encouraged another fan, while a third claimed they were "obsessed" with the seasonal treat.
The hype is clearly real around Benton's Maple Leaf Crème Cookies, though we can understand if you're a bit hesitant to give them a try. Aldi Reviewer was, as well. However, after finally picking up a box, they said they had no regrets. "The cookie is buttery and crisp, and the creme filling has a light but not overwhelming maple flavor," they explained in their 2020 review of the "satisfyingly large cookies." The blogger also recommended pairing them with a hot seasonal beverage for a heightened eating experience.