The Best Advent Calendars Of 2022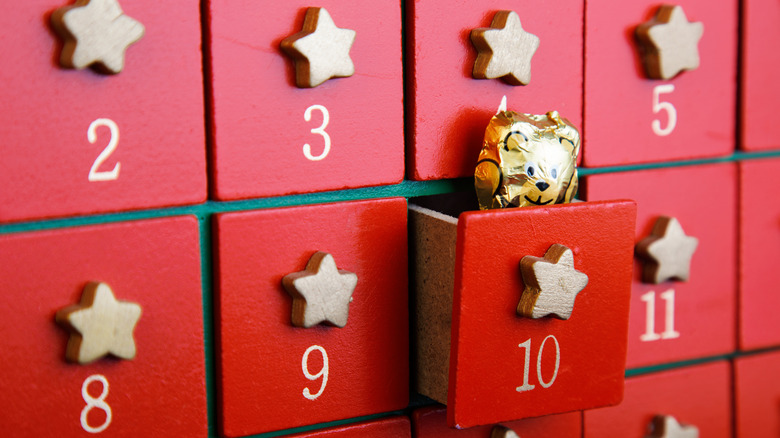 Mahony/Shutterstock
We may receive a commission on purchases made from links.
The American Christmas holiday borrows, or takes inspiration, from many German Christmas traditions including markets, wreaths, and even cookie baking (via U.S. Army). Perhaps one of the lesser widespread traditions, that is no less worthy of recognition, is the Advent calendar. For those unfamiliar, these calendars mark the period leading up to the birth, or advent, of Christ. In this case, Advent calendars mark the 24 days leading up to Christmas. While traditionally lines of chalk, or burning candles would be used to measure this period, it wasn't until the 1800s that the advent calendar took its modern "calendar" form, according to Doing History in Public.
As the history site notes, 24 rectangular doors were added. While there's speculation as to the different things that were put behind the doors originally, by the 1950s chocolates and other little sweets began being added into the calendar. In the aftermath of World War II, President Eisenhower is credited with both conserving the advent calendar in a time of shortages and popularizing it among Americans as observed by McCrea's Candies. Nowadays, Advent calendars may not be in every household, but for those who are in anticipation of Christmas day or enjoy a fun little surprise each day in December, this is the perfect holiday tradition worth picking up.
How we selected these Advent calendars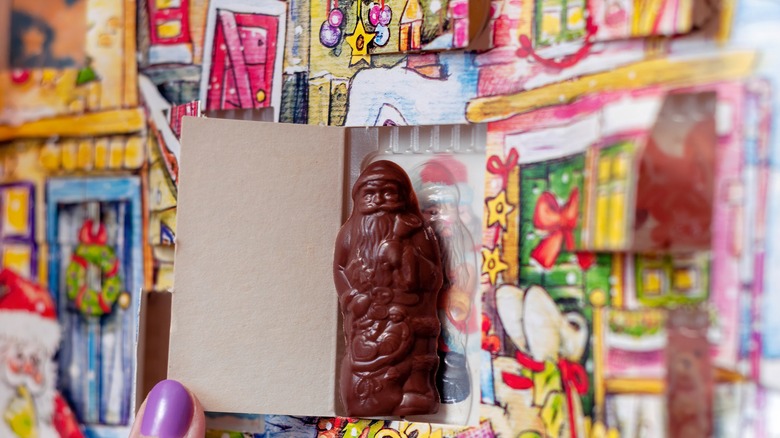 Johana Mlichova/Shutterstock
The real question is, what makes a good Advent calendar? There isn't a specific thing that defines them beyond their 24 paper doors and little gifts. Traditionally, advent calendars include little sweets and candies. But, nowadays, Advent calendars can be found with just about any ingredient: from candies, to teas, coffees, even beef jerkies, and fine wines. For every food, it seems that there is now an advent calendar that provides the perfect testing grounds!
With that in mind and a world full of possibilities, there's a lot that goes into the "best" advent calendars of 2022. Reception remains a major factor when it comes to the calendar, after all, reviews speak volumes. But, there are other factors that go into these calendars. This list took into consideration price-point, quality of ingredients, and even creativity behind the design. Below are 13 separate advent calendars that are sure to brighten up the many days leading up to Christmas. All prices listed were current at the date of this writing.
Best breakfast
What's better than the warm smell of toast cutting through the chilly winter air? Bonne Maman has long proven a faithful companion: the French compote is vibrant, rich, and tasty. Leave it to the French to add some much-needed flair to an otherwise gray winter morning. 
The Bonne Maman Advent Calendar is able to do so 24-fold. While the brand may be more closely associated with traditional flavors such as your day-to-day blueberry, raspberry, and strawberry jams, the advent calendar really does take a dip into both the experimental and festive. As noted on Amazon, the 2022 advent calendar features such astounding flavors as: chestnut, orange yuzu, mirabelle plum with spice, and raspberry with lime. Just to name a few! The calendar also features one honey, to add a particularly sweet twist or finish to the entire event. As promised by the jam-makers themselves, this calendar is sure to delight.
One reviewer does note that while the Bonne Maman advent calendar makes for a wonderful gift, it can be hard to keep up with a new jam each day. In this sense, it may make sense to get a head start on the advent calendar and begin early. Or, for those who want the joy of a traditional advent calendar experience, the Amazon-listed product notes that the jams are best used by July 2023. 
The Bonne Maman 2022 Limited Edition Advent Calendar is available on Amazon starting at $39.99.
Best for country music lovers
Good golly, Miss Dolly! While it may seem gimmick-y to slap the beloved country music star on to a box of sweets, this isn't Dolly Parton's first stint in the culinary world. In March 2021, the Southern belle brought a potluck good to the frozen treat world by collaborating with Jeni's Icecream to make a tantalizing Strawberry Pretzel Pie flavor.  Heck, Dolly even has her own cake mix! 
From Summer to Winter, perhaps the next step for her was to bring her classic finesse to the holiday season. For an interesting odd couple pairing, it's Williams Sonoma that brings Dolly's eccentric, eclectic, and ever-beautiful vision to light.
The Williams Sonoma Dolly Parton Advent Calendar truly is a sight to behold, mainly because of the sprightly drawing of Dolly Parton that adorns the box. A wreath wraps around her and the overall vibe of the box is festive. This is the perfect gift for any tried and true Dolly lover. While her name and face may be what brings people in, it's ultimately the sweets that give reason to stay, for 24 days! The treats are just as festive and feminine as the legend herself, with Champagne bubbles, gold stars, and twist-wrapped caramels await eagerly behind this calendar's doors. 
The Dolly Parton calendar is available through Williams Sonoma for $39.95 or as a set of two for $75.95.
Best for those who like it hot
There are endless possibilities when it comes to an Advent calendar. Even those who aren't particularly drawn to sweet things, may find just what they're looking for elsewhere. BYOB Hot Sauce's Hot Sauce Advent Calendar takes inspiration from the hottest part of the country and serves up 25 Creole-style slow-simmer hot sauces. Each of the 2 oz. bottles are delightfully festive and feature seasonal names such as Belsnickle's Brew, and It's the Most Wonderful Hot Sauce. 
What results is best described by one Amazon reviewer as a "spicy adventure."  The reviewer notes that the 25 sauces cover a wide range from a gentle "tingle" on the tongue, to an unbearable spiciness for most. In that sense, this particular Advent calendar also functions just as well as a hot sauce challenge. The site also makes a point of mentioning that the last bottle of hot sauce is a full-sized one, consider it a gift from Santa. Wonderful for veg- and meat-heads alike, this is one spicy treat. 
At the time of this writing, the BYOB Hot Sauce's Advent Calendar sells for around $79.98.
Best premium calendar
It's no secret that Belgian chocolate is good. In fact, it's some of the best chocolate on Earth. For chocolate and gourmet lovers alike, it seems that the classic Belgian chocolatier Neuhaus' Advent calendar will hit the perfect sweet spot 24 times over. Neuhaus, fully known as Neuhaus Galerie de la Reine, is a prestigious chocolate house located in none other than the elegant city of Brussels. 
It comes as no surprise then that their Advent calendar looks just as yummy as it is. The Neuhaus Premium Advent Calendar comes in a handsome red box, that features the chocolate-maker's iconic storefront where chocolatiers work on goodies from behind the window. The box opens to reveal a Christmas scene and as the Advent passes, each "door" can be popped to add more objects to the scene, such as an inquisitive Santa. 
Chocolate-wise, the collection features 25 chocolates ranging from white to milk to dark chocolate pralines. Simply Chocolate describes the box as a "joyful collection" with a "timeless taste." Suffice to say, this Advent calendar will add a decadent note to the days leading up to Christmas. 
The Neuhaus Premium Advent Calendar is available from Simply Chocolate at $89.99 per box.
Best for popping
Popcorn is a foodstuff native to the Americas, and it has long occupied space outside the movie theater. The Popcorn Board observes that popcorn had long been a staple around Christmastime due to its low price point, some even opted to string popcorn up and wrap it around the tree as a garland. Joe & Seph's Popcorn Advent Calendar is a U.K. brand that continues on this long-held popcorn Christmas tradition so unique to the States.
This particular Advent calendar has a notable air of playfulness to it. It opens up like a storybook to provide 24 doors, each leading to a new popcorn design. You might find yourself asking: Just how many different kinds of popcorn can there be? Joe & Seph's deliver in abundance. Cinnamon roll popccorn, banoffee pie, and speculoos popcorn are only some of the few flavors that wait to be enjoyed. 
As of September 2022, Joe & Seph's Popcorn Advent Calendar is available for $39.00.
Best range of chocolate
Zotter chocolate leans into the storybook fantasy with its Labooko Advent calendar, which provides both a beautiful and tasty Advent. This particular calendar is created with chocolate enthusiasts in mind. Similar to hot sauce challenges, this Advent calendar takes the taster on a journey from 1% to 100% chocolate, i.e. from the lightest, milkiest chocolate to the darkest purest chocolate (via Zotter USA).
But, interspersed on this lovely scale of chocolates are popular chocolate flavors such as fine white chocolate, raspberry, and caramel. They're sure to act as a gourmet palate cleanser in between the bites of rich, and milky, chocolate. It's not often that Advent calendars take you on a journey, but Labooko does just that. As noted by the brand's description, the Advent calendar sources from Mayan cacao from Belize to African island cacao from Madagascar. It's a journey into the depth and breadth of chocolate. 
At the time of this writing, The Labooko Chocolate Advent Calendar is available for $59.90.
Best for tea-drinkers
Is chocolate not your cup of tea? Why not a cup of tea? Okay, wordplay aside Numi's Countdown to Christmas Tea Advent Calendar is perfect for those who are looking for some comfort in the days leading up to Christmas. Fittingly, the countdown features warm and comforting blends such as Aged Earl Grey, Congest Away, Matcha Toasted Rice, and Turmeric Amber Sun. 
Clearly, these blends are not only comfort- but health-oriented. Additionally, there is a mental wellness aspect to this advent calendar as well. With each tea comes a daily inspirational quote, that as the Amazon product description promises, "will bring intention, fulfillment, and gratitude to your holiday season." It's not often during the holiday season that one is encouraged to slow down, but that's exactly what these 24 days of cuppas encourage you to do. 
There is also a sustainable element to this Advent calendar, as Numi's teas are Climate Neutral Certified. This certification means that the company is actively working to reduce the greenhouse gas emissions produced making the product, and compensating annually for any emissions that were produced (via Climate Neutral). This is the perfect sustainable gift whether to yourself or for others. 
Numi's Countdown to Christmas Tea Advent Calendar is available on Amazon for $20.13.
Best for wine-downs
This Advent calendar is for wine-aficionados and wine-lovers alike. In Good Taste's Wine Advent Calendar offers 24 nights of pure relaxation and enjoyment. While a calendar featuring 24 full-fledged wine bottles would be cumbersome and weighty, as per the In Good Taste site, the mini-bottles of this calendar offer a "hefty pour of 187ml." 
This wine calendar offers a broad range of wines: French rosés, Portuguese white wines, dolcetto, and Bordeaux wines are only a few of the wines included in this calendar. If a few of the wines are unfamiliar, no reason to fret! As noted by In Good Taste, the wines included in this Advent calendar not only come with tasting notes, but also a daily E-mail describing the wine, its origin, and character. In that sense, this wine Advent calendar could be the perfect gift for those looking to dip their toes into the wine world. 
As of September 2022, the In Good Taste's Wine Advent Calendar is available for $149.99.
Best for Potterheads
Are your heart and head still at Hogwarts? Jelly Belly Bertie Bott's Harry Potter Advent Calendar may be the perfect way to imbibe the magic season with a different kind of magic. Of course, Bertie Bott's Every Flavour Beans may come off as more infamous than famous. You might twist your nose at the thought of stumbling upon a vomit flavored jelly bean on Christmas Eve, but don't fret. As the product description on Amazon promises, this calendar only includes the yummy kind of Bertie Botts beans. No vomit beans here.
Nonetheless, as per Amazon, these flavors are still unique: Tutti Frutti, candyfloss, and marshmallow are a few of the flavors included in this calendar. Also, no worries! There isn't just one jelly bean waiting behind each door. Each day comes with a small bag of jelly beans to nibble on throughout the day. 
The Harry Potter Advent Calendar is available on Amazon for $34.88.
Best for Gummy Bears fans
Some may hold gummy bears as the preferred treat, and for them the Haribo Advent Calendar is the perfect choice. Really, leave it to none other than the inventor of gummy bears to make for a stellar Christmas collection all these years later (via The Smithsonian Magazine). Haribo's calendar hits all the right notes. While of course, the collection includes the classic gummy bears, there is still a wide selection of candies beyond that. This includes Haribo gummies: cola bottles, blocks, and pinballs. Tropical, cola, and fruit flavors also await enthusiasts behind the doors.
Of course, it wouldn't be an Advent Calendar without some festivities. The Haribo Advent Calendar includes gummy gingerbread men, gift boxes, and Christmas trees. For the young and young at heart, this collection of gummy candies is sure to encourage the Christmas spirit. 
The Haribo Advent Calendar is available, at the time of this writing on Amazon, for $23.19.
Best fireside treat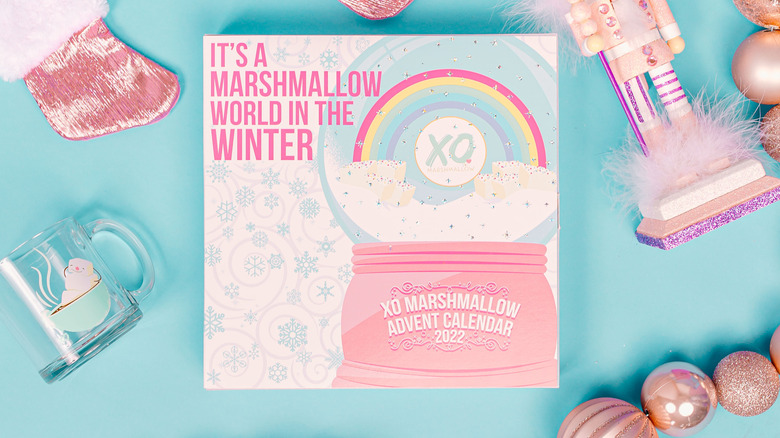 XO Marshmallow
Sure, chestnuts roasting on an open fire are lovely, but marshmallows are much sweeter! The XO Marshmallow Advent Calendar is sure to hit the sweet spot( pun intended). Marshmallows are in no sense of the word, newfangled. The National Candy Association cites the marshmallow origin as somewhere around 2000 BCE in Ancient Egypt. It wasn't until the 1900s that the marshmallow was fully introduced to the U.S., and then in the 1950s it was popularized and came into the pop culture. The XO Marshmallow Advent Calendar pushes boldly on, and brings an innovative experience to a timeless treat.
 XO Marshmallow includes flavors that are unique to the brand such as pumpkin spice, funfetti, and peppermint. The brand includes unique flavors that can only be found in the advent calendar such as: s'mores, chocolate chip, and peaches & cream. While these may not be the marshmallows to dunk in hot chocolate, the hot chocolate-flavored marshmallow is sure to delightfully hit the spot. 
There's a playfulness to the marshmallows, and its packaging is no exception. The calendar is decorated with holographic snowflakes, and each door contains hints of what the flavor could be. 
The XO Marshmallow Advent Calendar is available for $54.99 at the time of writing.
Best for sipping
There's something so inherently comforting about a warm cup of hot chocolate on those blustery winter nights. While there are many tips on how to make the best hot chocolate, it's just a matter of the fact that the best drinks start with the best ingredients. Yawn Brew gives connoisseurs 24 opportunities to have a truly wonderful hot chocolate.
The Yawn Brew Hot Chocolate Advent Calendar offers up what they describe as a "luxury" hot chocolate experience. Each chocolate brew contains 65% cacao solids which make for an especially thick cup of hot chocolate. The calendar doesn't shy away from a bold range of flavors: cinnamon roll, enchanted forest, winter spice, and mince pie all find their place in this Advent calendar.
An added bonus to plant-based chocolate lovers is that these hot chocolates are vegan as well! Plant-based milks are sure to bring out the best in these blends as well. Yawn Brew's Advent calendar doesn't shy away from indulgence: the calendar can be upgraded to include marshmallows, which are also plant-based. 
The Yawn Brew Hot Chocolate Advent Calendar is available for $45.99 or with marshmallows for $48.99.
Best for caramel lovers
The 12 days of Christmas follow the holiday, so for those who aren't quite done with a treat of the day, Kate & Jason McCrea's Caramel Advent Calendar will hit the spot. McCrea's candies are a small-batch caramel manufacturer based in New England (via McCrea's Candies). For those who are looking to shop small this holiday season, McCrea's caramels may be the way to go. 
Besides being small batch, these caramels are delightfully innovative. The 12 flavors included in this Advent calendar range from Cape Cod Sea Salt to Black Lava sea salt to give a broad taste of the States. Deep chocolate, tapped maple, and café noir add nuances to the already versatile collection.
This Advent calendar is also simply put: pretty. According to the company's product description, New England-based artist Cindy Hendrick designed the entire packaging. Hendrick opts for a folksy design, with anthropomorphic woodland creatures gathering in a Wes Anderson-esque estate with gifts, acorns, and wreaths alike. The Americana of both the design and classic character of caramel candies make for the sweetest pairing. 
As of September 2022, McCrea's Caramel Advent Calendar is available on Amazon for $50.