Dolly Parton Now Has Her Very Own Ice Cream. Here's What It Tastes Like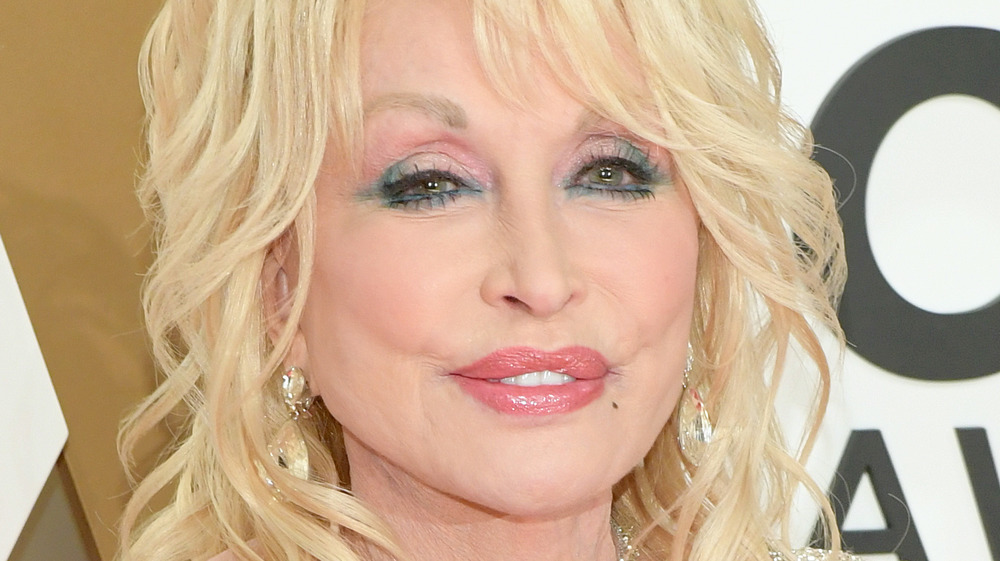 Jason Kempin/Getty Images
Dolly Parton might have been making headlines for funding COVID-19 vaccine research (and then getting a dose of her own medicine, according to NPR), but now she's back in the spotlight for a much sweeter reason. According to a press release received by Mashed, Jeni's Ice Cream is releasing a flavor that's just for the Queen of Country, but now everyone can give it a try. The flavor is Strawberry Pretzel Pie, and apparently, it's inspired by "the triple-decker pie from the potlucks of our youths."
Jeni's new Strawberry Pretzel Pie ice cream will be available to try by the scoop at open stores across the United States or online for delivery too, starting April 8th. Though fans of the country music icon will undoubtedly want to try it, there's another reason to buy it too. Every purchase of the flavor will benefit Dolly Parton's Imagination Library, which gives free books to children between infancy and the age of five.
Here's what we know about the Dolly-inspired flavor
Strawberry Pretzel Pie is a mouth-watering layered ice cream that includes a salty pretzel streusel over a sweet and tangy cream cheese ice cream. It's all topped off with plenty of strawberry sauce that's as red as Parton's lipstick. The ice cream specially made for Parton is gluten-free. Each two-thirds a cup serving is 310 calories too.
The press release went on to add, "God Only Knows how quickly this flavor will sell out as it's extremely limited!" There are only about 10,000 pints. So if this sounds like something you can't pass up, you'll want to do everything you can to get your hands on some.
For those who want to try just a scoop of it in a bowl or on a cone, get to your local Jeni's shop well before open to get in line. Those who wish to order it for delivery, make sure you're online and ready to buy it right at noon on April 8th. Keep in mind that there is a two-pint limit both in-stores and online. The flavor won't be available on the Jeni's app either. So mark your calendar and design your purchase plan.