The Bobby Flay 'iCarly' Connection You Probably Forgot About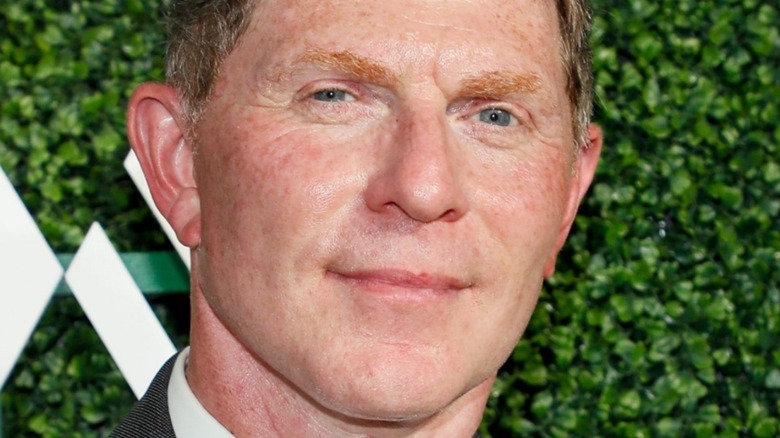 Paul Morigi/Getty
Generation Z (and the parents of kids now entering their 20s) are undoubtedly familiar with the Nickelodeon teen sitcom "iCarly." Initially airing from 2007 to 2012 (before its 2021 revival), kids enjoyed watching preteen web personality Carly Shay and her tough-talking friend Sam star in their own fictional internet show. Produced by Carly's neighbor and friend Freddie, the in-show series became a hit, turning the trio into celebrities and creating an array of crazy situations for them to navigate. With the help of Carly's dim-witted older brother and guardian Spencer and often shirtless friend Gibby, the teens sort their way through adulthood and life in the city.
As the show gained in popularity and cemented its place in the pop culture lexicon, celebrities began making appearances on "iCarly." Former First Lady Michelle Obama had a cameo to promote her initiative, "Joining Forces," which supported the children of military families. The band One Direction went on the show to perform, while actor Jack Black reunited with his "School of Rock" co-star Miranda Cosgrove (Carly herself). Late-night host Jimmy Fallon even showed up to invite Carly and friends onto "The Tonight Show" (per Seventeen).
Along with a slew of teen internet sensations, and additional celebrity cameos, the show parodied several of the most popular pop culture icons in a given year. Season 3 of "iCarly" saw one of the funnier ones, as it featured a celebrity chef named Ricky Flame – meant to poke fun at everyone's favorite chef to beat, Bobby Flay.
Spaghetti taco throwdown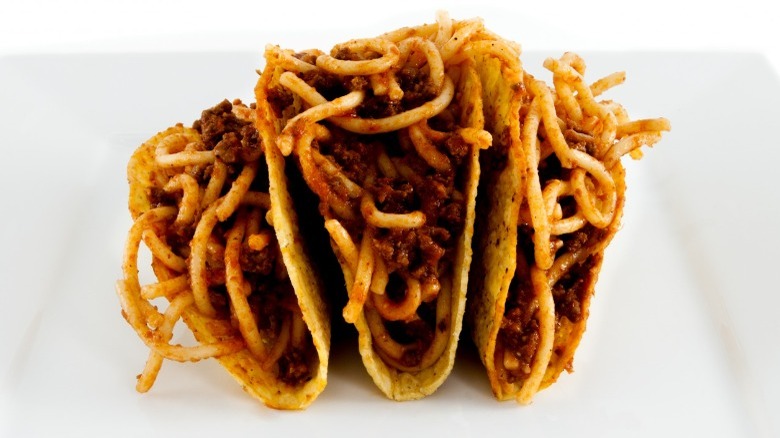 CE Photography/Shutterstock
In a cooking segment called "Food Fight" on a fictional food network, "iCook" hosts Sarah James and Ricky Flame spoof the real-life show "Throwdown! with Bobby Flay." Like Flay's Food Network program, contestants compete in an unexpected cook-off for a panel of three judges. On a winning streak, Flame challenges the "iCarly" gang to a showdown over spaghetti tacos, a signature dish created by Spencer in a previous episode.
Spaghetti tossed with marinara sauce yet placed in a hard corn taco shell became "spaghetti tacos" when Spencer could not decide which he wanted for dinner more and combined the two. What was initially a fictional recipe became a real-life meal for families nationwide as fans of the show began making spaghetti tacos at home (via Food.com). Ricky Flame lost his encounter with the kids, ruining his winning streak and prompting a vow never to cook again, but unfortunately, his real-life counterpart Flay never appeared on the show.
In addition to Flay's cooking shows and competitions, the chef has often appeared on other celebrity chef shows, including Ina Garten's "Barefoot Contessa," "Beach Bites with Katie Lee," and "Giada at Home 2.0" (via IMDb). Flay has made cameos or played close versions of himself on quite a few television series as well. Flay sparred opposite mega-agent Ari Gold as a restauranteur and love interest of Gold's ex-wife on several episodes of HBO's "Entourage," played himself in the rom-com "Younger" and the comedy "Portlandia," and even popped up on the cartoon "Scooby-Doo! and the Gourmet Ghost."