Halo Top Has A Pumpkin Spice Latte Truck Coming Your Way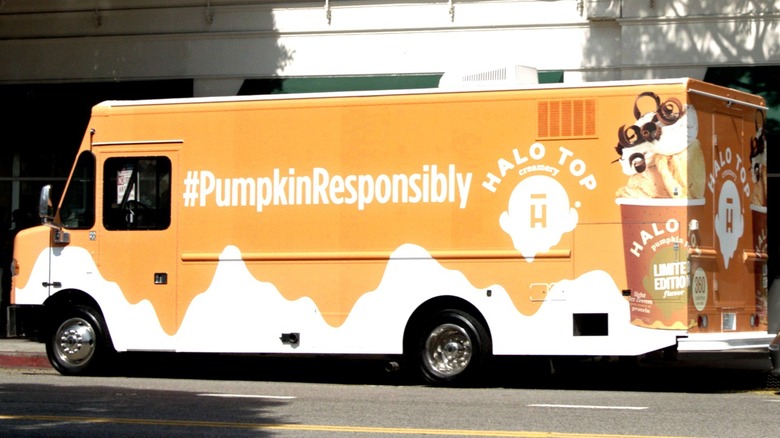 Halo Top
Even if the weather's still warm, the return of pumpkin spice lattes signals the fall season. The pumpkin spice latte became a fall staple after Starbucks introduced its version of the drink in 2003, and since then, brands have been rolling out other versions of the PSL. There's a lot you can do to elevate your pumpkin spice latte, and Halo Top is making the drink its own by adding the brand's signature ice cream as a key component to the drink.
According to the press release, Halo Top has a pumpkin spice latte that will be making a trip around the United States to provide a healthier pumpkin spice drink. Halo Top's latte has three main ingredients: Halo Top Pumpkin Pie Ice Cream, coffee, and nonfat milk (via Facebook).
Halo Top is marketing its latte as a better alternative to other pumpkin spice lattes, but drinking a Starbucks or Dunkin' latte won't hurt your health. A registered dietitian shared a few thoughts on Dunkin's pumpkin spice latte, and while it is high in sugar and fat, it's fine to drink in moderation while eating a well-rounded diet. But if you want to try something new, here's where to look out for Halo Top's pumpkin spice latte truck.
Where to find Halo Top's pumpkin spice latte truck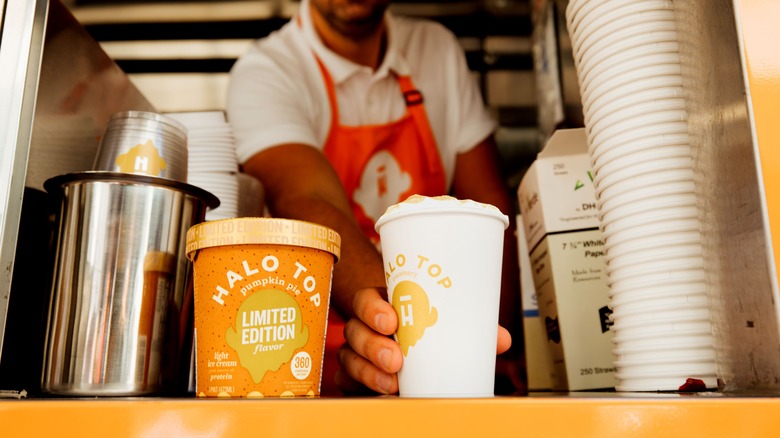 Halo Top
Halo Top's latte truck is making stops in multiple cities across the United States, with the truck's first stop in Los Angeles. Halo Top created a video commemorating the first day of the truck's journey, and one person described the pumpkin spice latte as light and refreshing.
You can find the full list of stops on Halo Top's Facebook page, and the pumpkin spice latte truck will be in different locations across multiple days in each city. Some of the cities include Minneapolis, Denver, Nashville, Dallas, and New York, and the pumpkin spice latte truck will be going around the U.S. throughout October.
Even if Halo Top's pumpkin spice latte truck isn't making a stop near you, that doesn't mean you'll have to go without an ice cream latte. Since Halo Top's latte just has three ingredients, it's easy to make in your own kitchen (per Facebook). Or try our recipe for homemade pumpkin ice cream, then add coffee and milk to make your own latte. And if you're getting tired of all things pumpkin spice, you can also make another fall-inspired latte with this Salted Maple Ice Cream that Trader Joe's customers are craving.