James Bond Fans Need To Know About This Secret Menu In The Bahamas
Can you believe James Bond is 60 years old this year? Movie Bond, that is, as 1962's "Dr. No" was the first in the long-running franchise. Bond first appeared in Ian Fleming's 1953 novel "Casino Royale," however, and in the novel's text, there are clues that he was not exactly a fresh-faced newbie at the time (he had a Bentley he bought in 1933). Hmm, it seems the immortal Mr. Bond may be somewhere upwards of a century, though he's still in fantastic shape for his age. A Bahamas resort called the Ocean Club, however, is choosing to celebrate Bond's 60th movie-versary as this is the one that happens to coincide with its own founding.
Not only did the Ocean Club (which bears the subtitle "A Four Seasons Resort") also get its start in 1962, but it was the site where filming for 2006's "Casino Royale" took place, so naturally it's got quite an affinity for 007. As an homage to the silver screen's favorite secret agent, Ocean Club created a special – and top secret! – seven-course menu. It comes complete with martini pairings, although it doesn't disclose whether these are all vodka martinis or whether the cocktails are shaken or stirred as per Bond's own drinking preference.
Menu details are strictly classified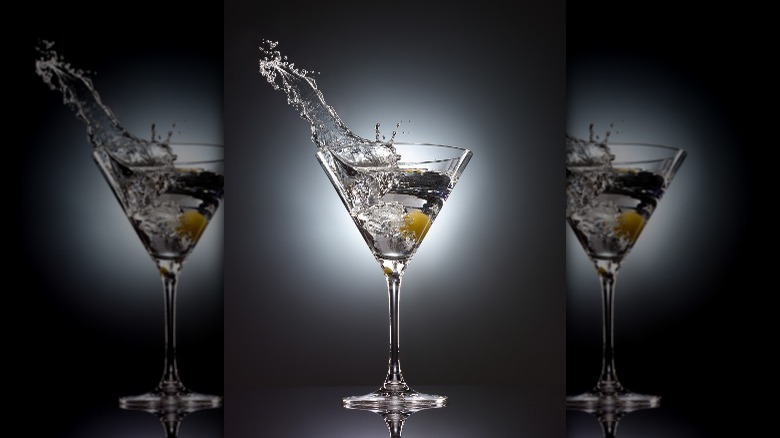 halfmax/Shutterstock
So what's on the menu? We can't tell you, because then we'd have to kill you. No danger of that, though, because we don't have a clue. All we do know, as per the Four Seasons press release, is that each course is inspired by one of the original '60s Bond films: "Dr. No," "From Russia With Love," "Goldfinger," "Thunderball," "You Only Live Twice," and "On Her Majesty's Secret Service," plus a "Casino Royale" course to take the number up to seven. As those movies span the globe from Russia to Japan to Switzerland to the Bahamas, we'd expect a variety of international culinary delights, but we can't say for sure and it's possible that no one really knows apart from the resort's own chefs.
You see, the way it works is, once you book the special James Bond meal, which it seems you can only do if you're a resort guest, you'll receive a note the resort describes as "classified" delivered to your room on the morning of the dinner. You can choose to dine in the Martini Bar, or have your meal served in your suite, villa, or bungalow if you're having a secret rendezvous and privacy is a top priority. Should you choose the first option, though, you might have a special celeb sighting – not 007 himself, but Keith Cash, the bartender who was on hand (if not on-screen) during the filming of "Casino Royale."