Minecraft Is Releasing A Dessert, And Yes, You Can Build With It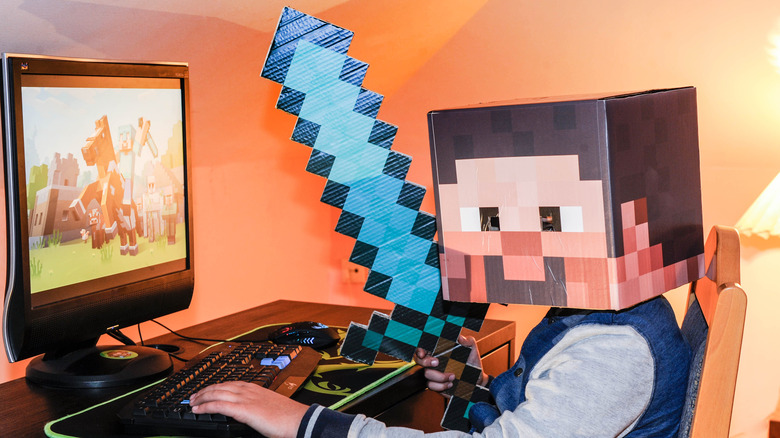 bibiphoto/Shutterstock
What is Sweden's number one export? If you're a millennial or older, IKEA may be the first thing that comes to mind (because of IKEA's meatballs, of course). If you're Gen Z, or else the proud parent of Z's or Alphas, though, you're more likely to think of "Minecraft." This online world-building game that's kind of like an enormous Lego set come to (virtual) life has been molding young minds since 2009, and over the course of a decade-plus, its burgeoning popularity has inspired a vast variety of merch.
Not only can you buy "Minecraft" clothing, posters, books, and yes, even Legos (art imitating art imitating art), but there have also been "Minecraft"-themed food items including birthday cakes, breakfast cereal, waffles, and a very special one-time only Starbucks "caramel blockiato." "Minecraft" for breakfast might be cool for some, but you know what some might find even more fun? A "Minecraft"-themed frozen dessert! Thanks to a Swedish-owned healthy snack company called N!ck's, some sweet-toothed gamer's dreams could finally be coming true with the release of the first-ever "Minecraft" ice cream.
Minecraft ice cream won't be sold in stores
If you're planning to dash out to the grocery store and stake out the ice cream aisle in anticipation of this sure-to-sell-out-in-a-second treat, don't bother. It seems the only way people can get it is to order it online, and it's set to be released on September 27. Fans can sign up to be notified as soon as it drops. Bad news if you're located outside the 48 contiguous United States, however – N!ck's won't be shipping the ice cream overseas or to Alaska or Hawaii.
As per Game Rant, the available flavors are all based off of foods or other items available in "Minecraft." There are four of these: Cake Blocka, Emerald Minta, Enchanted Apple Pie, and Peanot Choklad Glowdust. The ice cream is intended to be keto-friendly, with just four to five carbs in each pint. And guess what: It comes in block-shaped containers, so if someone buys a couple of pints (a little pricey at $9.99 per pint, but they do have bundles available) they can stack them up and build stuff! That way, fans can enjoy their low-carb ice cream and play with it, too.