The Limited-Edition Kettle Chips You're Going To Need For Tailgate Season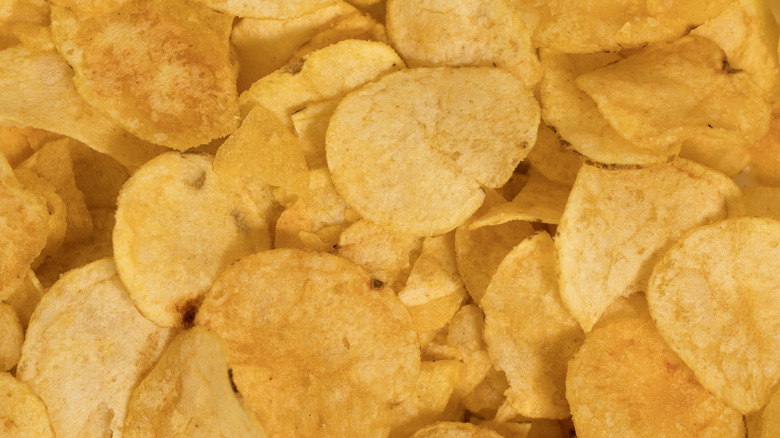 Dan Kitwood/Getty Images
Ask any football fan and chances are high that they'll say one of the best parts of tailgating is the food. Whether you're cheering on your favorite college team or huddling up outside the stadium on NFL Sunday, there are certain foods that were just made for tailgating. Those include buffalo wings slathered in ranch or blue cheese, nachos with all the works, burgers and hot dogs, pit beef, and chili — just to name a few. 
Now, just in time for football season, Kettle Brand has released a new flavor of its ever-popular kettle potato chips inspired by the flavors of tailgating. Called "Buffalo Bleu," the chips are seasoned with natural flavors and are "meant to replicate the experience of dipping buffalo wings in blue cheese during a football game" (via Trend Hunter). According to Food Business News, the special-edition chips are available in a 12.5-ounce package at grocery stores and retailers across the country for a limited time only.
This flavor first came out a few years ago
This might be the first time you've heard of the Kettle Brand Buffalo Bleu chips. However, the seasonal flavor was actually first released back in 2005 for a short time, according to Snack Food & Wholesale Bakery. 
According to Chew Boom, the chips,"[combine] the classic flavors of tailgating with an extra bold kick of buffalo and cool balance of bleu cheese flavors." Instagram is buzzing with comments such as, "This is everything I've been craving in one chip," from @kaseysmithbeauty's. Some people even alluded to the popularity of the previous release by stating, "Yay! This is one of my favorite flavors!" 
It should be noted that one of the draws of kettle chips is that many people believe they're slightly healthier than regular potato chips. However, according to Food & Wine, a chip is a chip — and kettle chips don't offer much more nutritionally than your standard chips.