Here's Who Contestants Are Competing Against First On Bobby's Triple Threat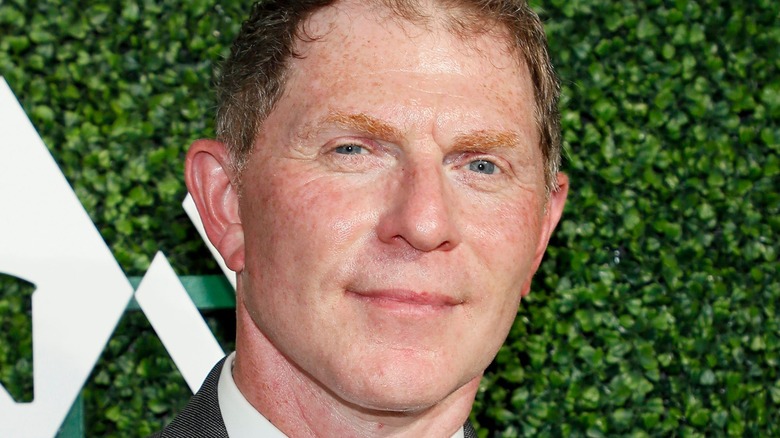 Paul Morigi/Getty Images
Bobby Flay loves competition cooking shows, or so it would seem when you look at his resume. Sure, Flay quit "Iron Chef" for personal and professional reasons, but he made a new Food Network deal in late 2021 that has given him the opportunity to continue his old shows and pitch new ones. That has meant more episodes of his signature series, "Beat Bobby Flay," as well as his new show with his daughter Sophie, "Bobby and Sophie on the Coast." But that's not all the restaurateur has up his sleeve.
Flay has a new competition show coming out on Food Network on September 27, and it's a doozy. On "Bobby's Triple Threat," each contestant will have the chance to cook against three iconic "Top Chef" alums: Tiffany Derry, Michael Voltaggio, and Brooke Williamson. If they win, they could get $25,000, but they'll have to out-cook all three chefs in order to bring home the prize. However, the three "titans," as Flay calls them, might not have such an easy time in the arena, if the first competitor is any indication.
The competition is fierce
In a preview clip of the first episode of "Bobby's Triple Threat," Flay starts to introduce the first competitor (via People). Before he even finishes, Michael Voltaggio whispers to the other titans, "I know who it is." According to Flay, the secret competitor has "opened over 25 restaurants," having worked under Charlie Palmer and Michael Symon before breaking out on his own and winning a James Beard award. The chef in question? Jonathon Sawyer.
Sawyer has made quite a name for himself in the culinary world. He's the chef de cuisine at Adorn in Chicago, which just made the Michelin Guide's "New Discoveries" list. He's also no stranger to television. Sawyer has been both a judge and contestant on "Chopped," and he acted as sous chef for Michael Symon on "Iron Chef America" before competing on his own against Geoffrey Zakarian (via IMDb). He's even cooked on "Beat Bobby Flay," though victory has eluded him. "Tune in this Tuesday to see if my long standing streak of never winning a kitchen battle continues," Sawyer joked on Instagram. 
If the other contestants on the lineup for the first season of "Bobby's Triple Threat" are similarly talented, it seems like the "titans" of the show are going to have their work cut out for them.