Bobby's Triple Threat: Release Date, Cast, And More - Everything We Know So Far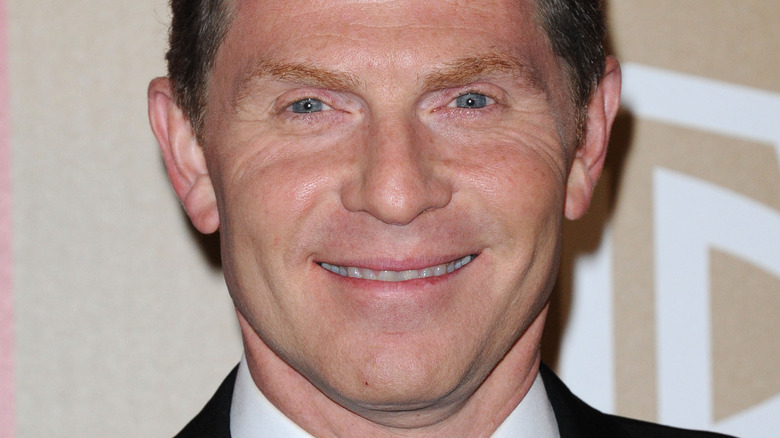 DFree/Shutterstock
Bobby Flay has starred in a variety of cooking shows over the years, from the laid-back "Grillin' and Chillin'" back in 1996 to hyper-competitive shows like "Iron Chef America" (via IMDb). Although the celebrity chef gives great insights on the slower instructional shows like "Brunch at Bobby's," he seems to be more in his element when he is facing off with another chef. The "Beat Bobby Flay" star told Sports Business Journal that he gets his competitive spirit from playing basketball and running cross country in his younger years. "I played a lot of team and individual sports, and I learned how to lose," Flay added. "That's a huge thing. I was taught that when we are beaten, to shake it off, shake hands, go home and work harder for the next time."
Bobby Flay doesn't lose very often, though. According to The Recipe, the "Throwdown" star has competed in and won more battles than any other Iron Chef, with a whopping 72.1% winning percentage. Flay clearly loves to compete, but in his new show "Bobby's Triple Threat," he is passing the reins to three culinary heavy hitters who will compete against Flay's hand-selected chefs in a battle that he designed.
What's the release date of Bobby's Triple Threat?
We are used to seeing Bobby Flay down on the front lines of culinary battles, but in his new show, "Bobby's Triple Threat," he is taking a back seat and orchestrating the competition, rather than cooking (via Food Network). Since he has so much experience from his countless competition shows, he is on a mission to put chefs to the ultimate test in his speakeasy-style kitchen that is only accessible by password. Flay's hand-selected chefs will compete against three of the fiercest culinary competitors out there in hopes of winning $25,000.
The competitors will face off against each of the "culinary titans" in three separate rounds and the final dishes will be judged via a blind taste test. The "Throwdown" star picks the star of the plate in the first two rounds, while the competitor can choose which titan to face based on the ingredient (via Variety). In the final round of battle, the visiting chef gets to choose the main component of the dish. Since Flay has had many twists thrown his way in the heat of battle, we imagine that he will use every weapon in his culinary bag of tricks to make the battles as difficult as possible. The series will premiere on September 27 at 9 p.m.
Who will be in the cast of Bobby's Triple Threat?
A cooking competition designed by Bobby Flay (who is also listed on IMDb as a cast member) is not going to be a walk in the park, so he has brought in three culinary all-stars to battle against the visiting chefs on "Bobby's Triple Threat." If the visiting chefs can somehow make it through this culinary gauntlet, they not only get the cash prize but huge bragging rights. For Tiffany Derry, Brooke Williamson, and Michael Voltaggio, it is more about protecting their reputations as fierce competitors (via Food Network).
Brooke Williamson won Season 14 of "Top Chef," took home the first-ever "Tournament of Champions" win in 2020, and was the youngest female chef to ever cook at the James Beard House (via Williamson's official website). Michael Voltaggio is also no stranger to competition and famously defeated his own brother to take home the "Top Chef" title back in 2009 (via NY Daily News). Tiffany Derry competed in Seasons 7 and 8 of "Top Chef" and has been a James Beard Award finalist twice (via Bravo and PBS). This lineup of culinary heavy hitters is no joke, so we can imagine that viewers will be excited to see how the visiting chefs fare in this six-episode series (via Variety).