Michael Symon's Sweet Response To Bobby Flay's New Food Network Deal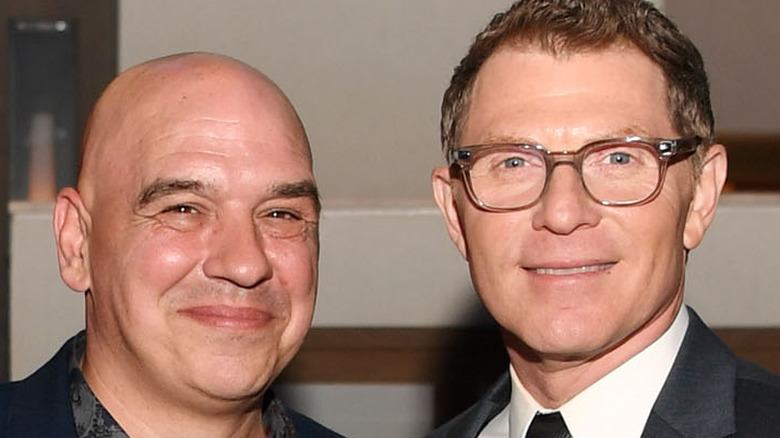 Denise Truscello/Getty Images
Don't call it a comeback ... because Bobby Flay never left.
After negotiations between Flay and Food Network stalled in early October, it looked like the star chef's relationship with the cable channel would conclude at the end of this year, per Variety. With negotiations on hold over the past several weeks, Flay shopped himself around and found a lot of interest in what he brings to food TV. "Every single major network and single streaming service has, to use a pun, a very big appetite for this programming," he told Variety. In the end, either the grass or the money wasn't greener on the other side. Flay and Food Network wound up working out a three-year deal, although neither side is commenting on how much Flay will be paid (via New York Post). Reports from early October indicated Flay wanted $100 million, which would have been a bigger contract than the $80 million deal Guy Fieri signed in May, per People.
Whatever the dollar amount, suffice to say Flay will be gainfully employed for the next three years. Friend and fellow chef Michael Symon is happy about this turn of events, judging from Symon's Instagram post from November 22. It shows a photo of Symon and Flay at a public event, with Symon's caption, "Don't call it a comeback!! .. love ya my brother .. congrats."
After Food Network deal, Bobby Flay wants to make new and different shows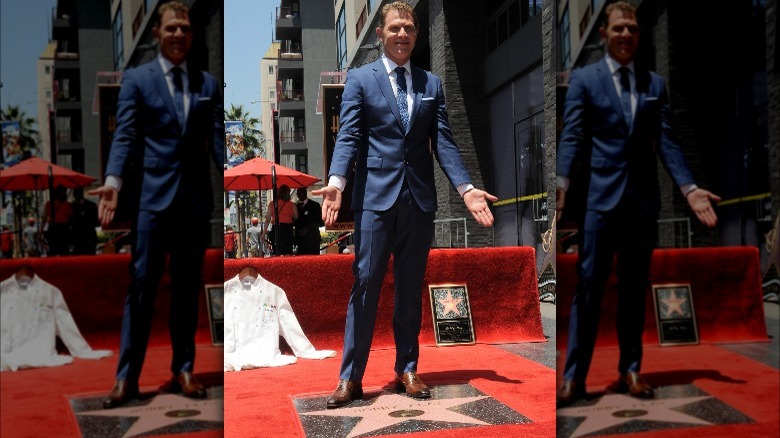 Albert L. Ortega/Getty
Food Network viewers are undoubtedly excited over the prospect of more "Beat Bobby Flay," now that Flay and the network have agreed to a new deal. But Flay is itching to branch out and develop new content, according to Variety. "I'm going to be pitching a lot of things that we haven't seen when it comes to this kind of programming," Flay told the Los Angeles-based publication. "I'm ready to turn the page and create a new chapter of what (foodie TV) is going to look like."
Maybe, if Flay gets his way, he can become the next Anthony Bourdain. The famous "Kitchen Confidential" author reached his television peak with the food-travel series "Parts Unknown" on CNN. Now that Food Network's parent company Discovery is merging with WarnerMedia, Flay's brand can expand into other channels, including HBO Max and Bourdain's home network, CNN. "If [Discovery CEO] David [Zaslav] calls me up and says I want you to do a travel show for CNN or a cool new series for HBO Max — I'm there," Flay told Variety.
Maybe he'll bring his buddy Michael Symon with him on his next adventure. According to People, Flay and Symon are longtime friends who have already parlayed their close relationship into a food competition show: "BBQ Brawl: Flay v. Symon," which debuted in 2019.