The Best Portable Grills In 2022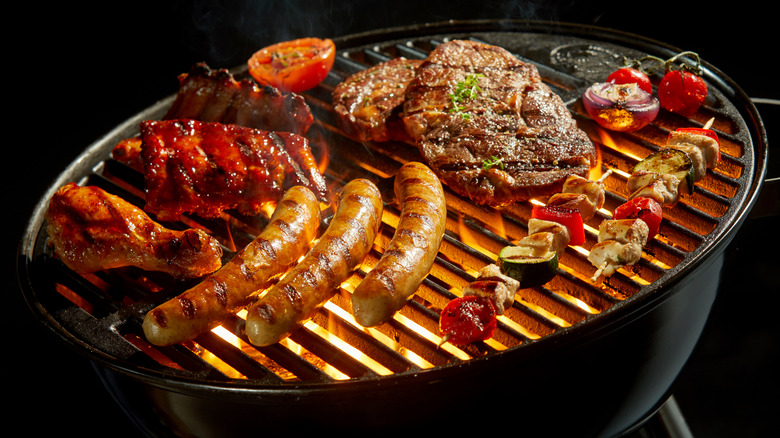 Stock Creations/Shutterstock
We may receive a commission on purchases made from links.
Never underestimate the power of mobility. Using a portable grill is a surefire way to fully enjoy the art of grilling without any limitations. While stationary grills tend to offer more cooking space, they're also much heavier and more difficult to move, which seriously restricts flexibility. With a portable grill, you can be a grill master on the go, whether you're camping, tailgating, or hosting a little backyard barbecue.
The good news is that there are plenty of high-quality portable grill models to choose from that come with a wide range of features. Whether your preferred method of cooking is over charcoal, with gas, or using electricity, rest assured there are portable grills on the market that can meet your needs. If you're concerned that a portable grill won't be big enough, keep in mind that there are lots of suitably-sized models that have more than enough cooking space for a small group. The bottom line: There are excellent portable grills on the market that can pull off the same results as a stationary grill, with the added benefits of mobility and environmental versatility.
How we selected products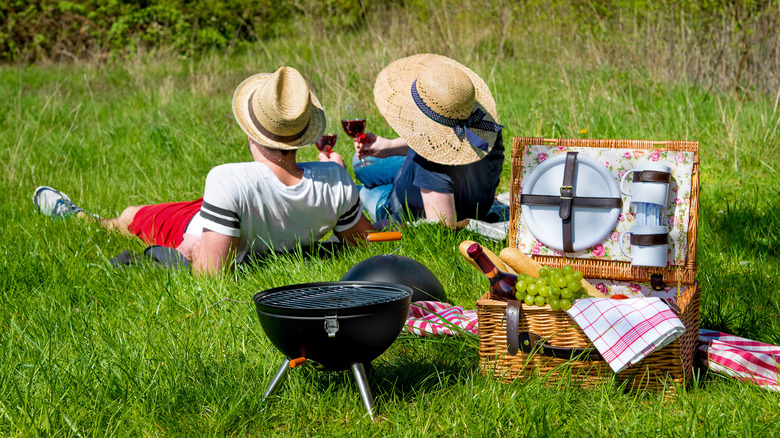 Alexander Raths/Shutterstock
The portable grills on this list were selected through a research process that took several factors into consideration. We closely analyzed user feedback from verified purchases, keeping careful track of strengths and weaknesses to gain a comprehensive view of each product's true value. There's no doubt that user feedback remains one of the sharpest tools we have to gauge the genuine quality of a product.
We also kept variation in mind, selecting a wide mix of differently designed portable grills that range from small and simple models all the way to more elaborate setups. The diverse options offered in this collection ensure that no matter your specific needs, you'll find a portable grill on this list that fits the bill. And as always, affordability was another priority, so we made sure to provide options for every budget. Get ready to behold some of the best self-contained rolling pits of fire on the market right now. Here are the top portable grills of 2022.
Best overall portable grill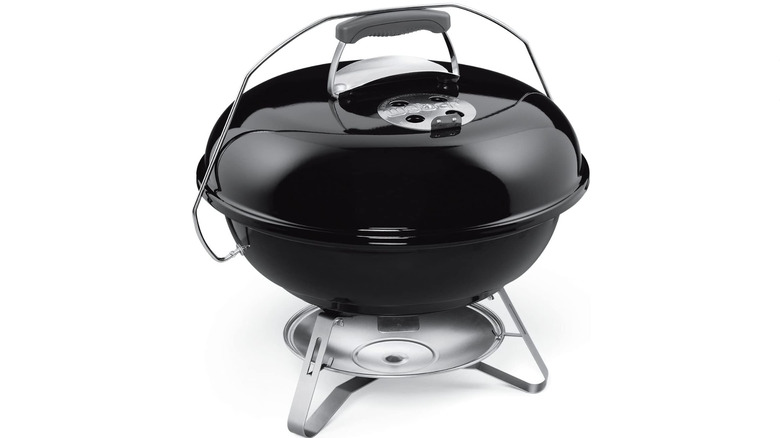 Weber
It really doesn't get much more classic than a Weber. As the world's leading brand on the barbecue scene, Weber has been making dependable grills since the early 1950s and continues to lead the way as one of the most trusted and widely used grill manufacturers on the market. This portable charcoal grill is small enough to be compact yet big enough to cook for a small group, plus it has a few nifty features that make it worth your while.
For starters, this grill comes with a lid lock to provide extra security during transport. Once it's unlocked, the lid lock also serves as a holder for the top dome of the grill, so you don't have to worry about finding a spot to set it down while you cook. Even though this portable Weber grill is modestly sized, it still offers a surprisingly spacious cooking surface with room for up to eight burgers. With a heavy-duty steel charcoal grate, a perfect five-star rating, and over 4,700 positive reviews from highly satisfied customers, there's no doubt this portable grill is one of the hottest deals out there.
You can buy the Weber 18-inch portable grill on Amazon for $89 as of September 2022.
Best budget portable grill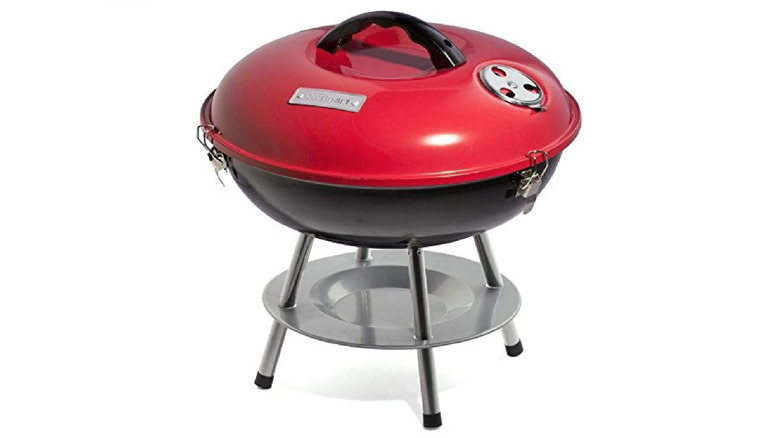 Cuisinart
While it's true that buying a new grill can be on the pricey side, there are still some great offers out there that won't break the bank if you're on a budget. That's where this domed charcoal grill from Cuisinart comes in. Easily portable and clocking in at only $22, this is one deal that you definitely don't want to miss out on.
Weighing only five pounds and sporting a gorgeous red steel coating, this portable grill is 14 inches wide and offers 150 square inches of cooking space. It also comes equipped with an enamel-coated firebox and ash catcher to efficiently maximize safety. Lightweight, easy to assemble, and with enough space to cook up to six burgers at a time, this little grill packs a punch for its humble size. Still not convinced? You might want to take a peek at this grill's four-and-a-half star rating from more than 16,000 reviews. You're just a few clicks away from one of the most affordable portable grills out there.
Purchase the Cuisinart 14-inch portable grill on Amazon for only $21.99 as of September 2022.
Best portable grill for camping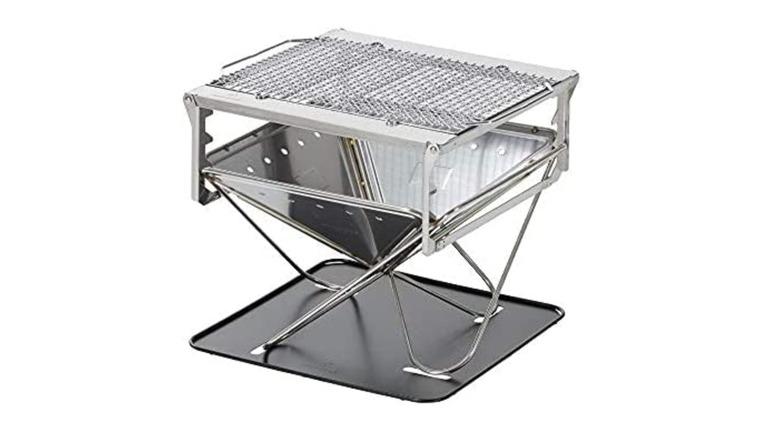 Snow Peak
While it's true that campsites often have access to a fire ring or public grill, honestly ask yourself this question: Do you really want to cook your food over gnarly, rust-riddled hunks of metal? Unless you plan on thoroughly exercising some filth demons over the communal fire pit with a scrub brush, we'd recommend providing yourself with a better option. There are lots of portable grills on the market that claim to be suited for camping, but this model from Snow Peak is the real deal.
One of the major lures of this grill is the fact that it folds down completely flat. By simply pushing one of the grill's corners inward, this model collapses down so that it can be stored in its carrying case for easy transport. Made with durable stainless steel, this portable appliance also comes with a grid pattern grill grate to prevent pieces of food from falling through during the cooking process. Remove the grate and this grill easily converts into a mobile fire pit, which is perfect for camping and roasting marshmallows.
You can buy the Snow Peak portable grill and fire pit on Amazon for $349.95 as of September 2022.
Best portable grill for tailgating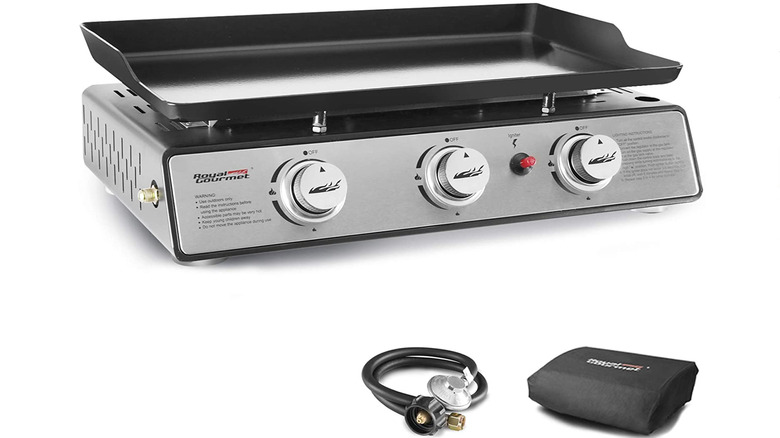 Royal Gourmet
Along with guzzling your favorite boozy beverages, grilling is an essential part of the tailgating experience. But what kind of grill should you use when you're partying in a crowded parking lot? We think it's best to use a gas griddle in this situation for several reasons. For one, some stadiums don't allow cooking with charcoal over an open flame in the parking lot, so grilling on a griddle with propane is probably a safer bet (via Crockett Creek). Another reason a gas griddle works so well for tailgating is its simplicity. There's no charcoal to tend to, no grill grates to clean, and no need to worry about food falling through the gaps and burning into oblivion.
This 24-inch tabletop gas griddle has three burners and more than enough space to feed a small group. The griddle is perfect for deliciously simple tailgating grub like an easy Philly cheesesteak recipe, quesadillas, and grilled sausage subs. Since it's equipped with three separate burners, you can have different temperatures going on at the same time: one region for cooking at higher temperatures, one area for cooking over a medium heat level, and a spot for keeping food warm. All things considered, this portable gas grill is the perfect tailgating companion.
Purchase the Royal Gourmet portable griddle on Amazon for $99.99 as of September 2022.
Best portable grill bundle package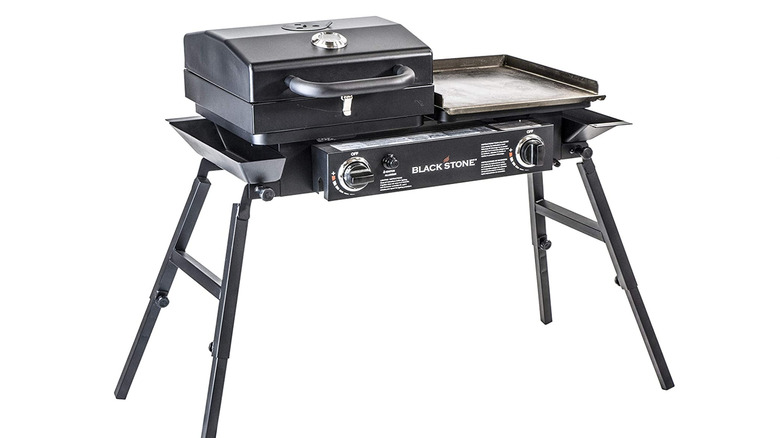 Blackstone
Sometimes it's much more convenient and affordable to invest in a bundle package that includes the basics rather than buying everything separately. This portable gas grill from Blackstone offers a great bundle deal that comes with some extra tools that you're bound to love for their design and practicality. Not only is this grill portable, it's also double-sided with a flat top griddle on one side and a grill with grates on the other.
Having two different types of cooking surfaces on the same model offers a level of versatility that's often hard to find among portable grills, making this deal particularly unique and enticing. Aside from the portable grill itself, this bundle package includes two large professional quality stainless steel spatulas, a stainless steel chopper and scraper for the griddle, and a couple of leak-free premium bottles for condiments, marinades, and sauces. This model also has a nearly perfect rating after more than 1,700 reviews from satisfied customers. All things considered, this is one of the best portable grill bundle packages on the market right now, so it's best to jump on this deal while it lasts. Did we mention it even comes with its own carry bag?
You can buy the Blackstone portable gas grill and griddle combo package on Amazon for $362.94 as of September 2022.
Best portable grill on wheels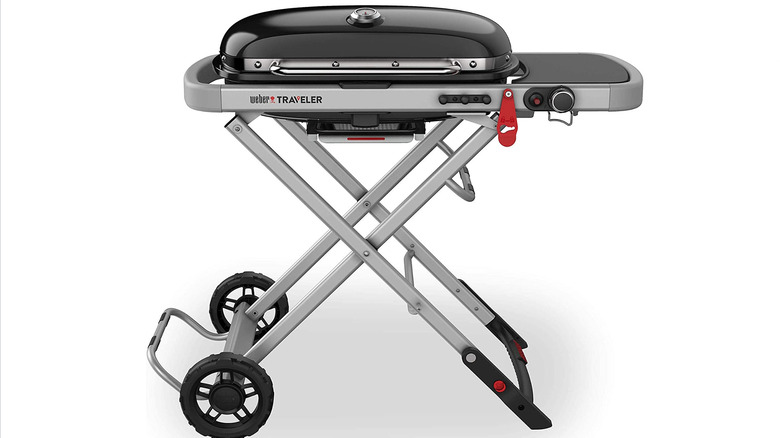 Weber
The invention of the wheel was one of the most important designs humans ever created (via Smithsonian Magazine). What started thousands of years ago as a way to make pottery more quickly has transformed into an indispensable design feature that equips some of our most useful tools and equipment — including portable grills. This portable gas grill from Weber comes decked out with two large heavy-duty wheels that make carting it around a breeze.
This Weber portable gas grill has an aluminum frame that folds down flat to maximize space during travel. It can be set up and collapsed back down with only one hand, which makes it amazingly simple to set up if you're carrying other equipment. It also boasts a large cooking surface that can handle up to 15 burgers, which is more than enough for a group. Between its clever foldability, well-designed wheels, and straightforward operation, there's no doubt that this compact grill is at the top of its class.
Purchase the Weber traveler portable gas grill on Amazon for $411.79 as of September 2022.
Best luxury portable grill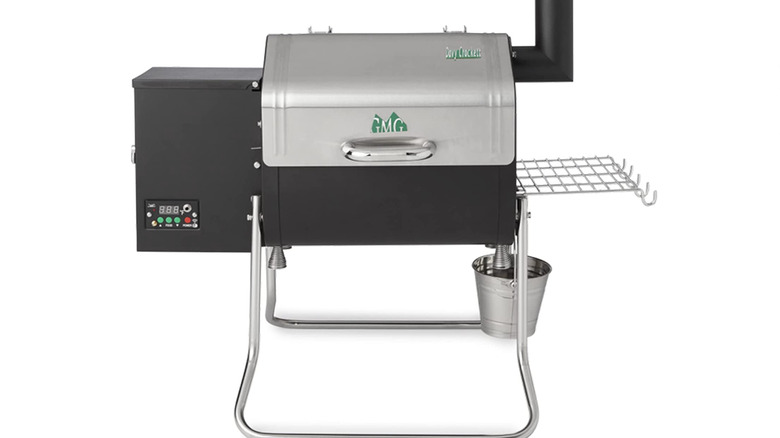 Green Mountain Grills
Who says a portable grill can't be a bit extravagant? While this grill is undoubtedly on the bigger side compared to some of the other models on this list, it's still foldable and should easily fit in just about any truck, making it another excellent option for tailgating or backyard barbecues. This Green Mountain grill has a wide range of impressive features that make it worth every penny.
For one, it comes with a WiFi controller for ultimate convenience, allowing you to monitor the temperature and progress of your food on the grill. It can also be plugged into your vehicle's cell phone adapter or hooked up to your car's battery for electricity. This model also comes with a metal grid side table so you can easily keep whatever you need right by the grill, along with five heavy-duty utility hooks to hang your barbecue tools. Whether you're camping, tailgating, hunting, or partying somewhere outdoors, this deal offers a level of luxury and spaciousness that's seldom seen in portable options. Check it out for yourself and see what you've been missing out on.
You can buy the Green Mountain Davy Crockett electric portable grill on Amazon for $359 as of September 2022.
Best portable charcoal grill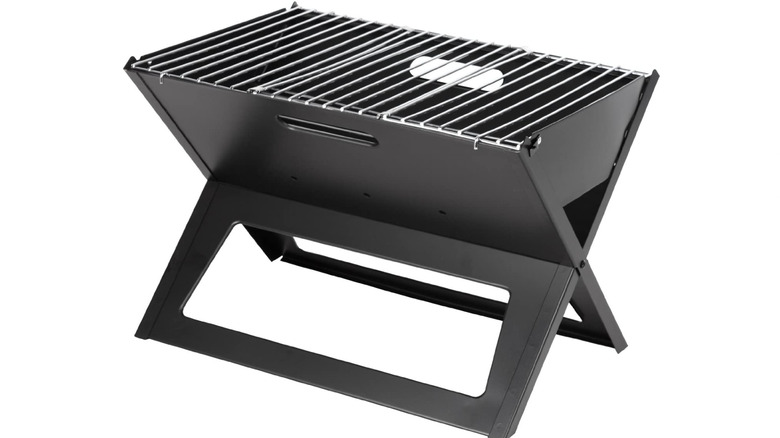 Fire sense
If you're on the prowl for a portable charcoal grill that's lightweight, sturdy, and amazingly sleek, then look no further. This charcoal grill from Fire Sense weighs less than eight pounds, which is amazingly light even by portable grill standards. Its humble size and smart design allow it to fold perfectly flat, making it extremely easy to transport.
Made with a combination of durable alloy and food-grade stainless steel, this portable charcoal grill comes with its own carrying case as well as compact foldable cooking grates. Even though this model is on the slim side, it still has enough space to cook about six burgers at a time, which will keep a small group fed. This grill has also earned a nearly perfect score after more than 3,500 reviews. Modest yet mighty, this grill is sleek, easy to use, and impressively compact. If you're searching for a grill that's affordable, small, and well-reviewed, then the wait is over. Treat yourself to one of the most mobile grills on the market right now.
Purchase the Fire Sense portable charcoal grill on Amazon for $32.26 as of Septmeber 2022.
Best portable gas grill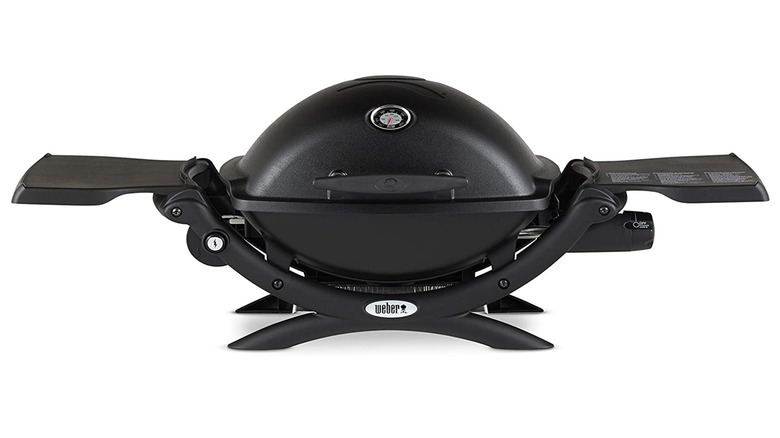 Weber
Charcoal is great to cook with, but there's no denying the convenience of grilling with gas. If you're on Team Propane and you're looking for a good deal on a top-notch portable grill, then we have an excellent option for you with this model by Weber. Constructed with a blend of aluminum and cast iron, this portable grill truly has a lot to offer.
This grill's single stainless steel burner can quickly heat up its 189 square inches of cooking space. At the bottom of the unit, a dedicated metal frame fits a disposable pan grease trap while keeping it at a safe distance from the burner. It also comes with an electric ignition button that makes lighting the grill practically foolproof. For extra mobility and stability, there is an optional portable cart available for an additional purchase. With a perfect five-star rating after nearly 7,000 user reviews, it's clear that this deal is a real winner. Did we mention it's even available in six different colors?
You can buy the Weber portable propane grill on Amazon for $259 as of September 2022.
Best portable electric grill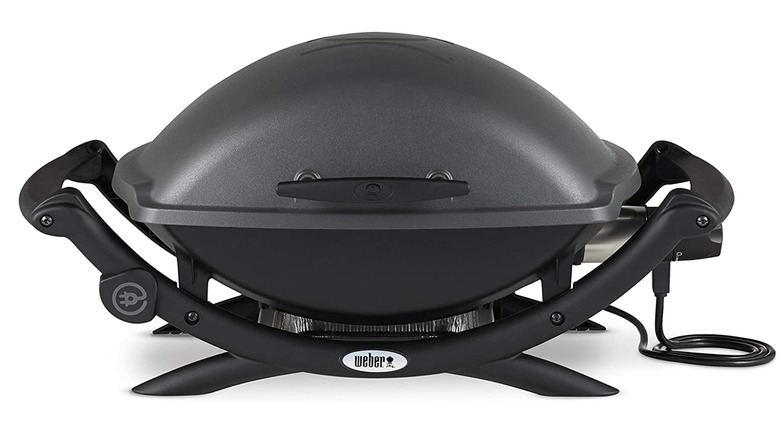 Weber
Electric grills can certainly be useful, especially in living situations where space is limited and yards are non-existent. This portable electric grill from Weber offers plenty of useful features that make it one of the best models in the grilling game. With almost 300 square inches of cooking surface, it also provides enough room to cook a respectable meal for a small group of people.
Equipped with heavy-duty cast iron cooking grates, this electric grill comes fully assembled right out of the box, allowing you to get grilling right away. The cord attached to the grill is six feet long to give you ample space to reach an extension cord or outlet. With user-friendly heat control settings and a removable catch pan for grease drippings, this electric grill has room for steaks, burgers, fish, vegetables, and just about anything else you'd normally put on a grill. Durable and fun to use, you can cart this puppy around on any patio, and we guarantee you'll be the life of the party.
Purchase the Weber electric grill on Amazon for $399 as of September 2022.
Best portable grill with carrying case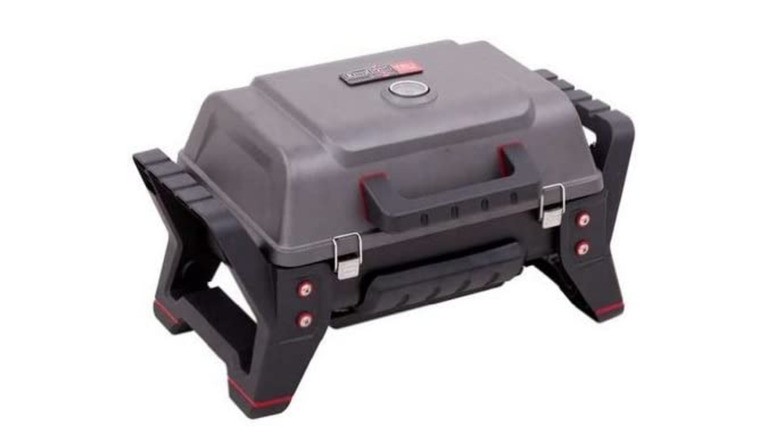 Char-broil
Portable grills are fantastic, but if they don't come with wheels or a carrying bag, how are you supposed to easily move them around? Some grills leave you in the dark to figure that out on your own, but not this model from Char-Broil which comes with a well-designed carrying case. Equipped with exterior pockets for extra storage and buckles to firmly secure it shut, the bag that comes with this portable grill is much more thoughtfully designed than some of the other options out there.
This portable gas grill was specifically created for travel and comes decked out with a high-impact frame and durable carrying handles. The cooking grate on this model was also developed to reduce flare-ups and cook evenly, which makes it much easier to produce consistent results. This grill is also durable and stable, due to its cast aluminum firebox and stainless steel latches. Compatible with 1-pound propane tanks, this portable gas grill has an easy-to-read temperature gauge and has also earned four and a half stars after more than 3,000 reviews.
You can buy the Char-Broil portable gas grill on Amazon for $231.49 as of September 2022.
Best portable hibachi grill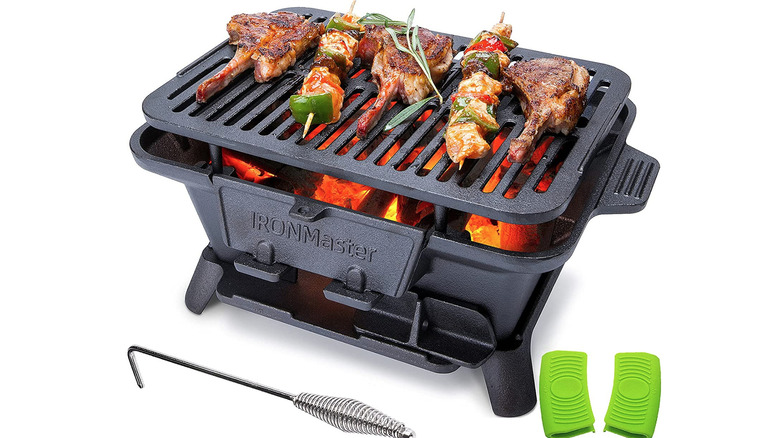 Iron master
If you're a fan of hibachi restaurants, then it might be time to try and grill up your own brand of fire-kissed magic. Made with durable and chemical-free cast iron, this portable Iron Master grill is the perfect vessel to get started. Even though this hibachi grill is made of cast iron, it's still only about 20 pounds, which is relatively lightweight for a grill constructed with such a strong material.
Equipped with over 100 square inches of cooking space, there is enough room on this grill for at least six servings per session. By turning the grates upside down, you can also adjust the height to bring it lower to the fire depending on your needs. There are even subtle raised lips around the edges of the grill to prevent food from rolling off during the cooking process. Because it's only 16 inches at its longest point, it's extremely easy to store and transport. It also comes with a coal port to provide you with easy access to tend the fire. At the end of the day, you'll be hard-pressed to find a top-notch portable hibachi grill that's designed better than this one.
Purchase the Iron Master portable hibachi grill from Amazon for $149.99 as of September 2022.
Best durable portable grill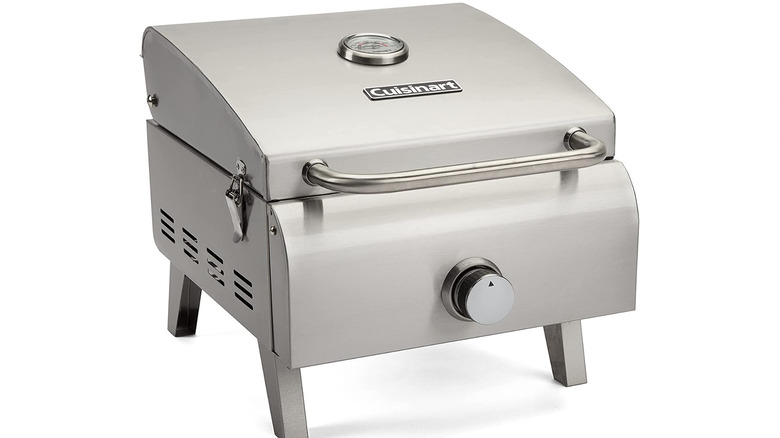 Cuisinart
Of course, we all want the items we buy to last a long time. More often than not, the shelf-life of the products we buy depends on their level of durability. And if durability is one of your main concerns, then we have a great portable grill for you.
This portable gas grill is made with stainless steel and features a locking hood handle that makes moving it around practically effortless. It has a single burner that starts with a simple twist of the ignition button, and the stainless steel cooking grate is sturdy and rust-resistant. The built-in thermometer is easy to read and located in a highly visible spot centered on the hood of the grill. With over 180 square inches of available cooking surface, this portable gas grill from Cuisinart can easily pull off feeding a small group. Built to last a lifetime thanks to its high-grade stainless steel, this deal is definitely worth your investment.
You can buy the Cuisinart portable gas grill on Amazon for $112.11 as of September 2022.