Red-Eye Gravy: Cracker Barrel's Bizarre Discontinued Sauce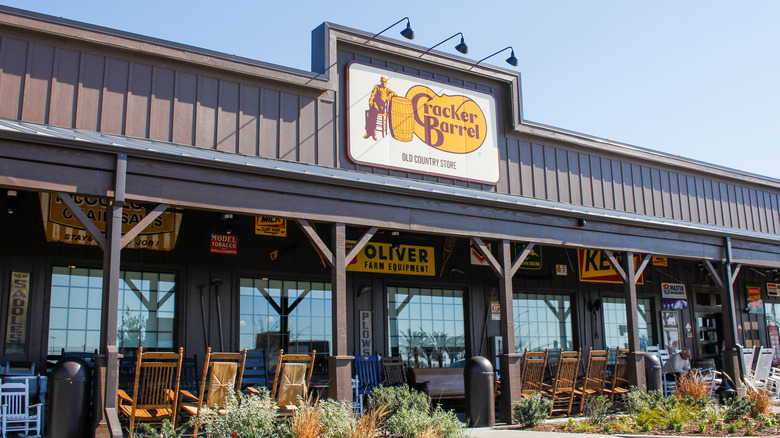 The Image Party/Shutterstock
Cracker Barrel — you know it from a mile away. It's an American breakfast institution marked by its cabin-like architecture, rocking chair-lined storefront, charming orange logo, and general store that sells tchotchkes and knick-knacks. The southern food kitchen is a one-stop-shop for sinful comfort food. The franchise is so popular, in fact, that each year Cracker Barrel serves 230 million hungry guests, turning over 210 million biscuits, 162 million eggs, and 140 million slices of bacon (per Cracker Barrel). The award-winning chain offers southern classics like chicken fried steak, fried pickles, and buttery grits. In addition to its classic menu, the homestyle restaurant recently added vegetarian options, like its new Impossible breakfast sausage.
While Cracker Barrel is constantly rotating and updating its menu with exciting new additions, sometimes these seasonal changes lead to disappointment. In order to make room for new dishes, older seasonal plates get the boot. In addition to other discontinued items, like strawberries 'n' cream french toast, fried chicken livers, and chicken salad sandwich, one sorely-missed Cracker Barrel sauce has an unsuspecting ingredient — coffee.
Red-eye gravy is made from ham grease and black coffee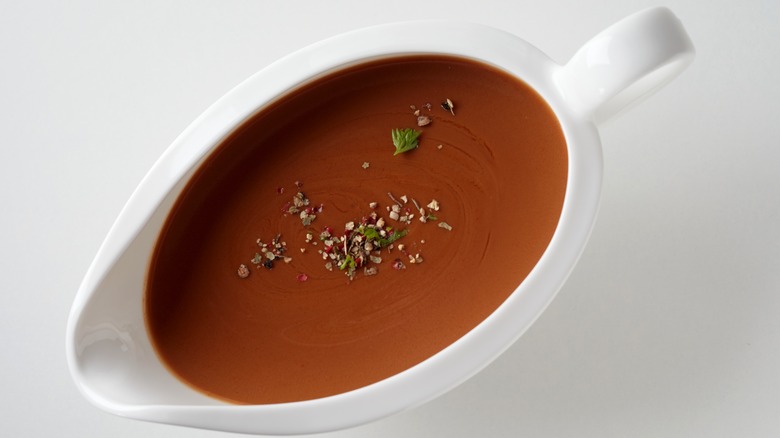 stockcreations/Shutterstock
Despite its unusual complexion, red-eye gravy is a southern staple designed to add a savory flair to grits, biscuits, roasts, and just about anything else under the southern sun. Unlike most gravies, red-eye gravy doesn't require flour to create a roux. A resourceful and low-waste sauce, the former Cracker Barrel gravy is made with just two ingredients — ham drippings and strong black coffee (per Southern Living). With effortless preparation directions, if you don't count cooking an entire ham beforehand, it's hard to say why Cracker Barrel removed the gravy from its menu.
According to Southern Living, the once adored sauce was removed from the Cracker Barrel menu in 2017, just before the restaurant introduced its seasonal shepherd's pie. Unfortunately, it doesn't look like the franchise will bring back red-eye gravy this year. Instead, the 2022 fall menu includes loaded hashbrown casserole tots, broccoli cheese casserole, and apple streusel pie (via Fox Business). While the red-eye gravy is no longer available at Cracker Barrel, the chain still serves its classic, roux-style sawmill gravy all day long (which, when paired with mashed potatoes, is one of the best things to order).