Shoppers Are Raving About Aldi's Fall Soup Lineup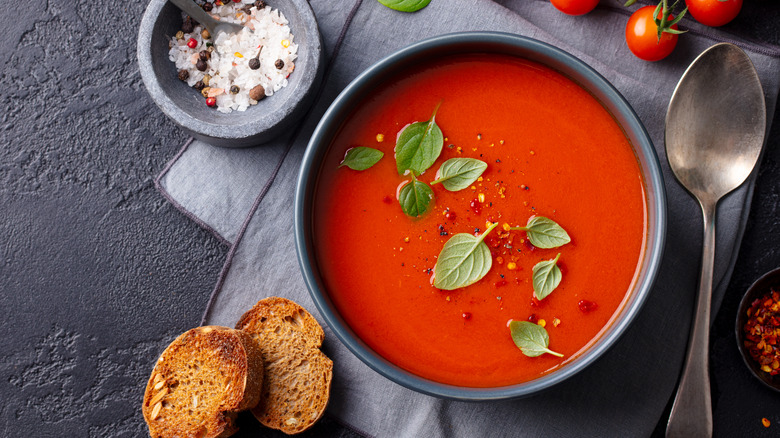 Anna_Pustynnikova/Shutterstock
One of the big draws of Aldi is the store's rotating seasonal items, and we've rounded up the fall Aldi products we can't wait to try. This list includes classic fall treats, like apple cider donuts, and snacks you can take on the go, such as pumpkin spice trail mix. Shoppers with a sweet tooth might be excited to hear that Aldi's popular maple leaf cookies are on the shelves, but if you want something savory to warm you up, the store is also offering customers plenty of soups.
In a recent Instagram post, @aldifavoritefinds showed off Aldi's fall soups, and the flavors in the slideshow include carrot coconut bisque, pumpkin maple bisque, roasted red pepper and tomato, hearty vegetable, Southwest-style tomato and black bean, and tomato Parmesan bisque. For anyone hoping to get in on this vast soup selection, the Instagrammer notes that some jars were found in their store's soup section, while others were located in the Aldi Finds area.
Grab the pumpkin maple, leave the carrot coconut, shoppers say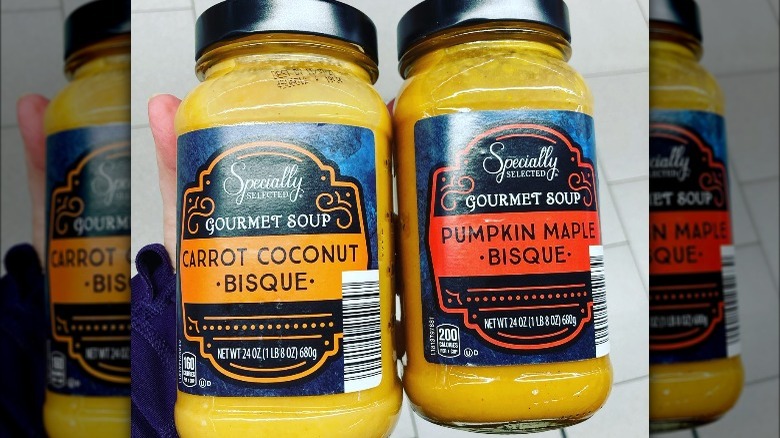 Based on the comments of @aldifavoritefinds' Instagram post, people are looking to try each and every one of these Aldi soups, but the two that stand out are the pumpkin maple and tomato Parmesan bisques. Customers gushed over the pumpkin soup, saying, "The pumpkin maple one is to DIE FOR" and "Had the pumpkin maple and it was amazing with my grilled cheese!" As for the popular tomato Parmesan bisque, one customer wrote, "We just killed a jar of that and I'm strongly considering buying 12 more." Another concurred, "Tomato Parmesan is absolutely delicious!"
The one fall soup that might have fallen short is the carrot coconut bisque; while one person expressed interest in trying the soup, other commenters said it wasn't quite as good as the other options. In the caption of the post, @aldifavoritefinds said, "I will not be buying that one again." If you're still hoping to have a hearty carrot soup, try our recipe for roasted carrot soup instead.