Aldi Is Recalling These Falafels For A Scary Reason
Usually, when walking into an Aldi, your worst fear might be that you'll end up spending all of your money on Halloween-themed pasta and other fun foods and snack items. After all, there are tons of Aldi fall items we can't wait to try. But this year, there is something legitimately scary about one food at Aldi: two flavors of its Earth Grown Vegan brand frozen falafel are being recalled. 
In a press release, Aldi USA announced that it was recalling the Traditional and Garlic & Herb Falafel it sells under the Earth Grown brand, manufactured by Cuisine Innovations Unlimited LLC, due to concerns that the product might have been exposed to E. coli. E. coli is a bacteria that can cause severe gastrointestinal distress. According to the FDA, the potentially-contaminated Aldi falafel was sold in more than 30 states and may contain the Shiga-toxin-producing E. coli. Even scarier is the fact that the link between the falafel and an E. coli outbreak tracked in several states seems pretty solid.
How many people got sick from Aldi falafel?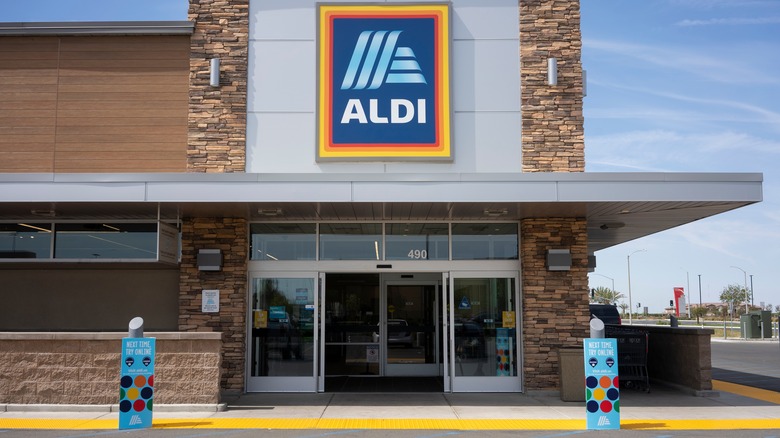 Tada Images/Shutterstock
It turns out, the recall is pretty serious. The FDA investigated 20 people who had been infected with Shiga-toxin-producing E. coli, and 15 of those reported shopping at Aldi, with six saying they had actually ingested the now-recalled Earth Grown Vegan frozen falafel within a week of falling ill (via RTT News). According to the Iowa Department of Public Health, ingesting the bacteria can cause bloody diarrhea, and in rare cases, the kidney disease Hemolytic Uremic Syndrome. So far, the cause of the falafel's contamination (whether it stemmed from an ingredient, or was introduced during production) is unknown.
Customers who might have the product in their freezers are being encouraged to either throw it out or return the falafel to the Aldi where it was purchased to receive a refund. It shouldn't be eaten under any circumstances. Aldi has removed the product from its shelves, so thankfully these days the spookiest thing you'll find there is likely an assortment of Halloween cheese and decor.