Halloween-Themed Pasta Is Making A Spooky Comeback To Aldi Shelves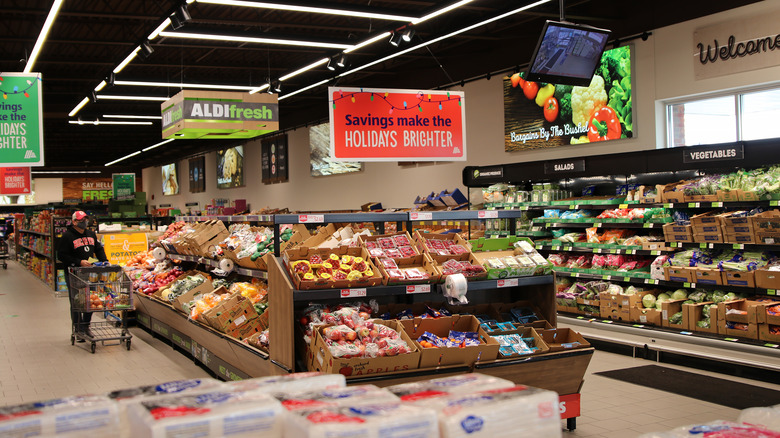 Eric Glenn/Shutterstock
Each Halloween season, special snacks, candies, and other goods flood the supermarket shelves to create a spooky feel for all who celebrate. Cheetos is one of the companies to jump on the trend with its Bag of Bones — a white cheddar snack shaped like skulls, hand bones, feet bones, and ribcages (per Junk Food Betty). One product released this year is Jett-Puffed Pumpkin Spice Marshmallows, per Fox 8. The company didn't stop there, however. It also came out with candy corn-flavored marshmallows.
If you're the type who likes to add a frightening touch to your pantry each year, you can always find goods at Aldi. Pizza lovers can pop into the frozen aisle to stock up on Pumpkin and Ghost-shaped pies (via Aisle of Shame). According to the Aldi website, other products include Benton's Caramel Apple Sandwich Creams, International Delight Pumpkin Spice Creamer, and Nature's Nectar Pumpkin Spice Cider. And if you're in the mood for even more spooky spectacles, a beloved item will be returning to shelves on Wednesday, October 5.
A frighteningly fun find
In a truly bold and batty move, Reggano Halloween Pasta will be hitting Aldi shelves on Wednesday, October 5, per Aisle of Shame. According to Totally the Bomb, the returning pasta product features noodles in the shape of pumpkins, bats, and spiders. One bag sells for $2.69.
Many Instagram accounts, such as @aldiforpresident, posted the find online when it was discovered two years ago. "This pasta is the absolute perfect addition to Halloween this year," the post read. Instagram users commented to share how they plan on implementing the pasta into their meals. "I bought these yesterday and I'm going to make acorn squash mac and cheese!" one poster said. Another planned to add the noodles to chicken soup.
Responses were similar when the pasta was shared on Reddit in 2020. "Found this cute Halloween pasta at Aldi, I bought a few bags," the post read, followed by comments including, "My first bag I was so anxious to try it I made a simple pasta with butter, Parmesan and garlic which was really tasty!" and "Super cute! I would make a pasta salad with it." Intrigued? You might want to stock up now, as the product is only available for the Halloween season.