The Sausage Dish Giada De Laurentiis' Followers Can't Get Enough Of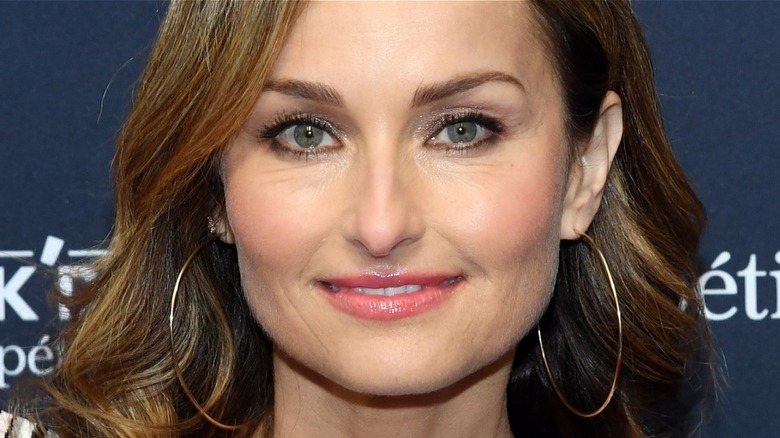 Ethan Miller/Getty
While Italian food gets lumped into a single category in the U.S., the country offers a diverse selection of regional cuisine. There are 20 regions in Italy, each with specialties influenced by their climate, nearness to the ocean or mountains, neighboring countries, and food delicacies the region is known for, per Delish.
North to south and throughout the boot-shaped country, delicious dishes are being created. Northern Italians favor corn-based polenta over the pasta the country is known for. The area bordering Switzerland is also known for its cheeses — Gran Padano, Gorgonzola, Taleggio, Provolone, and Robiola. The Emilia-Romagna region is a food lover's paradise that produced Parmigiano Reggiano, tortellini, Bolognese sauce, and balsamic vinegar of Modena. 
Sicily has crops that thrive in volcanic soil from Mt. Etna, like blood oranges, lemons, almonds, and olives. Despite being surrounded by water, Sicilian diets contain a lot of lamb, pork, veal, and rabbit and take credit for inventing the meatball or polpetti.
Inspired to share Italian food with the world, chef Giada De Laurentiis contributes traditional Italian recipes to our lexicon through her cookbooks and television shows. De Laurentiis also exports specialty ingredients through the online food store Giadzy Pantry, found on her blog Giadzy, to make regional Italian food accessible worldwide. On TikTok, De Laurentiis shared one of her favorite Italian dishes and her followers can't get enough of it.
Orecchiette with sausage and broccoli-rabe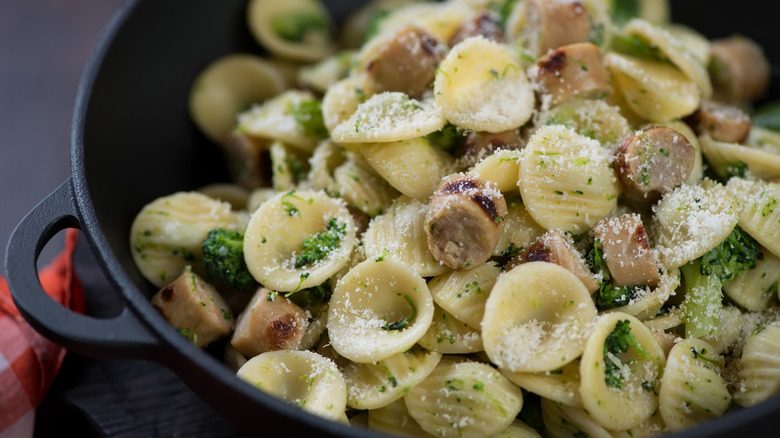 Nickola_Che/Shutterstock
Giada De Laurentiis shared a video cooking orecchiette with sausage and broccoli rabe on TikTok. The regional dish from Puglia in Southern Italy uses a handful of ingredients to create a flavorful but simple pasta dish. De Laurentiis favors the cup-shaped pasta orecchiette, or "little ears" in Italian, for the recipe. "I love the way they scoop up the sauce," she said. According to The Pasta Project, orecchiette dates back to the 12th and 13th centuries when the handmade domed pasta was created in Bari, and after 700 years, the recipe has barely changed. The region still celebrates the pasta shape with an annual festival called 'La Sagra Degli Stacchioddi.'
De Laurentiis begins preparing the sauce while the pasta cooks. She sautés chicken or turkey sausage out of the casing in a frying pan until no longer pink, then adds grated garlic, red pepper flakes, and broccoli rabe blanched in boiling water for a minute to tame some of the bitterness. Broccoli rabe or rapini is a winter vegetable popular throughout Italy, traditionally cooked with orecchiette in Puglia, per The Pasta Project. Now widely available, the bitter green pairs well with Italian sausage, cutting through its richness.
De Laurentiis ladles pasta water into the frying pan containing the sausage and broccoli rabe with grated Parmesan cheese to pull the dish together, loosely creating a sauce. 30,800 users liked the recipe.