The Disney World Dish That Comes With Actual Teeth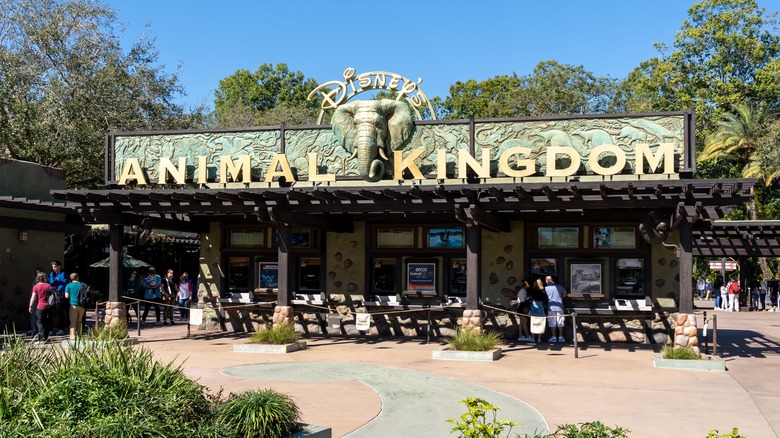 JHVEPhoto/Shutterstock
The world's most-visited theme park (at least in 2018 via USA Today), Disney World attracts people from all over and with different food palettes. Known not just for its rides and bubbly characters, Disney World and its parks have come to be popular as a destination for foodies wanting to try outrageous snacks (via Disney World). Disney World has no shortage of restaurants and food kiosks throughout its 27,000 acres of grounds (via aRes Travel). There are cult favorites like Dole Whip and seasonal holiday treats. 
Some parks more than others are known for their vast food options. For instance, Epcot has food options from all over the world (literally) and has inspired food challenges like grabbing a drink at every Epcot country and a popular holiday cookie stroll (via Disney World).
While parks like Epcot are most known for dining, Animal Kingdom is not to be discounted on its food prowess. According to All Ears, Disney's Animal Kingdom is more than just quick bites either. It has fine dining options like the Nomad Lounge and Tiffins. It also has one of the most unique dishes you can experience at Disney World, and it comes with teeth.
A fishy dish at Animal Kingdom
The fine dining restaurant in Animal Kingdom, Tiffins, specializes in a fusion of Asian, African, and South American cuisines. On the menu is a whole fried yellowtail fish with teeth and all. At $42, the Whole-Fried Sustainable Fish swims on a bed of coconut fried rice, green and red curry, and Thai green papaya slaw, and is topped with peanuts (via Disney World). 
One of the more dangerous Disney foods, diners should eat the dish slowly in order to not accidentally swallow a bone or two (via Disney Food Blog). There are just under a thousand reviews on TripAdvisor for Tiffins with an average of 4.5/5 stars. One reviewer, who tried the Whole Sustainable Fish, had high praise writing, "it was one of the best fish I have ever had." For another reviewer, the adventurous dish was delicious but also a bit too much. They wrote, "I ordered the whole fish. Cooked to perfection, though I would have gotten it without the head. The black bean butter sauce was the best I have tasted, and wanted more!!" 
Making sure to eat around the teeth, the yellowtail fish is one of the most unique dishes you can find at the park. With so many food options at the parks, the yellowtail is a fun try, but there are foods you should absolutely never eat at Disney World.