We Tried Disney's Popular Holiday Cookie Stroll. Here's How It Went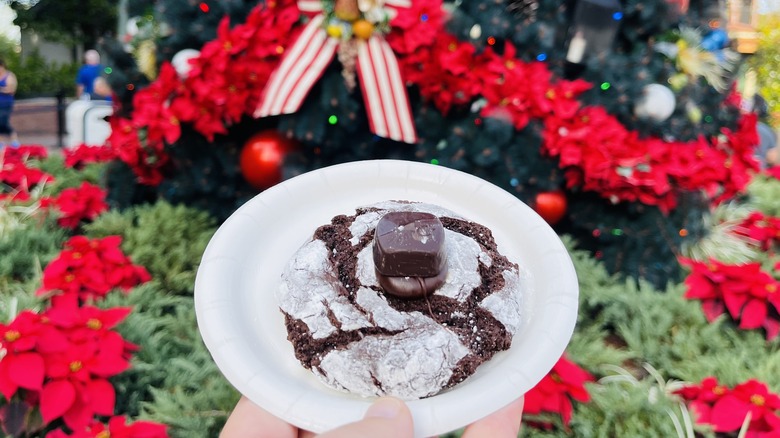 Carly Caramanna/Mashed
We are never one to shy away from a good old fashioned challenge, particularly when it involves eating. And that's especially true when the food of choice is cookies and the venue happens to be EPCOT! 
There is no shortage of delicious eats when visiting Walt Disney World, from upgraded versions of classic theme park fare to the otherworldly options in Galaxy's Edge and Dole Whip well beyond the standard pineapple — Care for a mango swirl with chamoy and chile-lime seasoning, anyone?
EPCOT is always our first choice when the hunger pangs strike at the House of the Mouse. Their year-round options shine, but we are partial to their festivals that celebrate the sips, sounds, and tastes of the season. We headed to the park to make the rounds at their annual Holiday Cookie Stroll and spoiler alert: All of our sugary-laden dreams came true. 
Here is what it was like to sample all the baked goods at Disney's popular cookie crawl.
The Cookie Stroll is part of EPCOT's Festival of the Holidays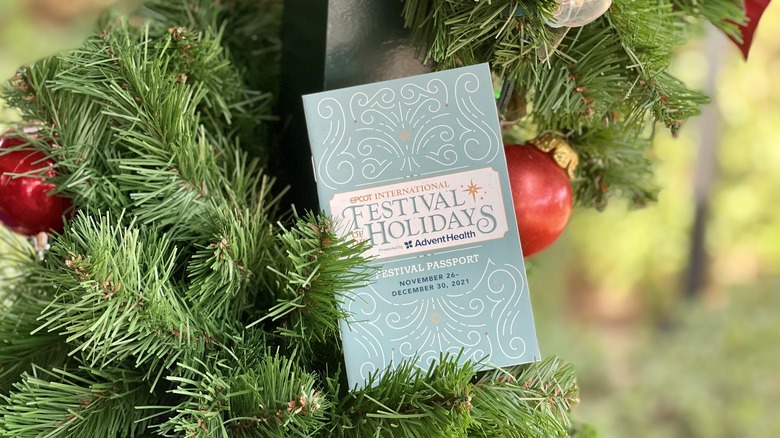 Carly Caramanna/Mashed
Taking place around World Showcase, EPCOT's International Festival of the Holidays (which runs through December 30) shows us the reason for the season with incredible bites, live entertainment, and more. It's a flurry of wintery fun at the daily festival that brings over a dozen freestanding holiday kitchens to the park. You'll experience holiday food traditions that span the globe as you feast on a selection of cross-cultural dishes from a Bûche de Noël Chocolat Blanc in France to a classic turkey dinner with all the usual fixings in the American pavilion. Everything is served small plate style and meant to be shared with your nearest and dearest. 
With a mix of savory and sweet, it has become our personal favorite of all the park's festivals. Beverages are also a part of the festivities with plenty of holiday libations including specialty cocktails, wines, and beers from local craft breweries.  But, one of our favorite things to do at the festival also happens to be its sweetest attribute (pun very much intended) — the Cookie Stroll.
There are 5 cookies found throughout the festival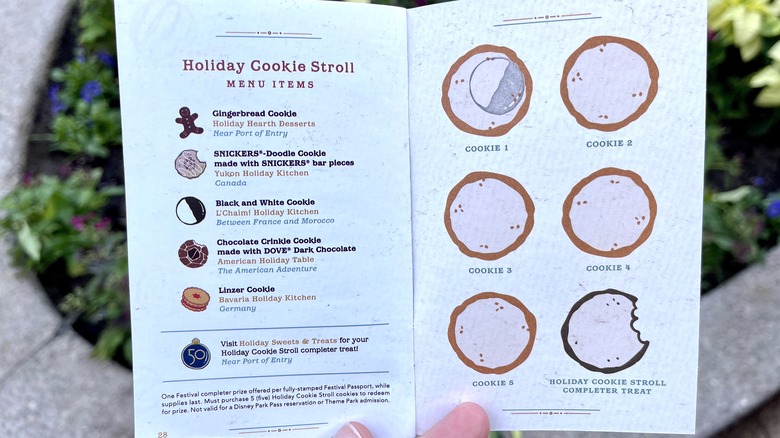 Carly Caramanna/Mashed
There is no shortage of tantalizing desserts — from a peppermint sundae to an egg-nog cream filled donut — to be found at the fest. But our pick for the ultimate sugar rush is the Cookie Stroll. Before you can say "oh, what yum!" you are probably asking yourself what exactly a Cookie Stroll is. Here's the 411: There are five designated cookies found at the holiday kitchens around the fest that are part of the Cookie Stroll: a black and white cookie, a gingerbread cookie, a Linzer cookie, a chocolate crinkle cookie, and a Snickers-Doodle cookie.
The mission is clear: When you get to the park, grab a festival passport, and as you hop around to acquire each cookie, you will receive a coordinating stamp. After you obtain all five, you'll be awarded handsomely with .... another cookie called the completer. All cookies cost $2.50, making the grand total just $12.50 for an all-around joy of a time and a generous amount of quality treats. Now, let's get into specifics! 
Black and White Cookie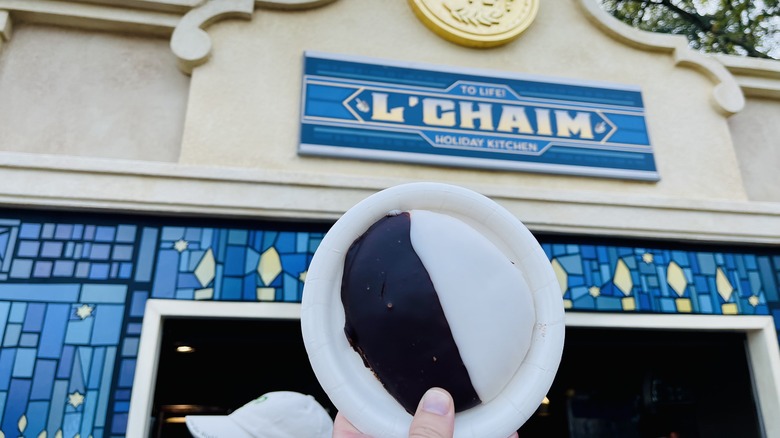 Carly Caramanna/Mashed
The L'Chaim Holiday Kitchen is a returning favorite to the festival and will have you joyously belting out "to life!" after a bite of their pastrami on rye with the most delicious house-made pickles ... but we digress. We began our stroll here with a traditional black and white cookie, which also happened to be a plant-based option for our friends out there with dietary restraints. After just one bite we were absolutely hooked and could swear we were instantly transported back to our favorite bakeries in New York City. This was incredibly fresh and soft, exactly what you want from a black and white cookie. 
The base of the cookie was vanilla with a very soft, almost cake like texture, while still being firm enough to pick it up. The icing flavors were chocolate and vanilla, and if we got both in a bite, it was truly a moment of bliss. We must add that it was also the perfect amount of icing without it being too overbearingly sweet, and the double-flavor pairing compliments its vanilla base just right. Mazel tov to the chefs! We were off to an incredibly strong start and excited for what was to come in our cookie journey.
Chocolate Crinkle Cookie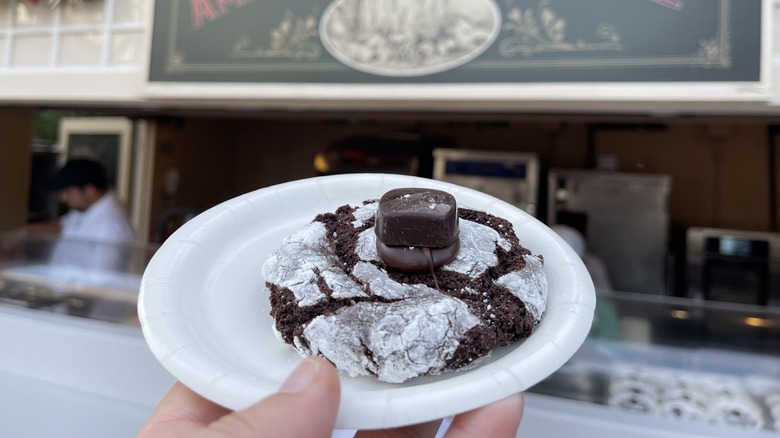 Carly Caramanna/Mashed
After starting at L'Chaim, we continued counterclockwise around World Showcase and found ourselves at the American Pavilion. We bee-lined it straight past Santa Claus and made our way to the American Holiday Table. This is a fan favorite booth with beloved holiday classics like a slow-roasted turkey with stuffing, mashed potatoes, green beans, and cranberry sauce, as well as a few twists like a plant-based pot pie. Their entry into the Cookie Stroll is a chocolate crinkle made with Dove dark chocolate.
This, our dear friends, is cookie perfection. The base was the most unbelievably soft and fresh cookie we had ever tasted. It was doughy in the center with just a bit of crunch around the exterior. The level of chocolate was just sweet enough without it being too much and had us instantly singing its praises. It was topped with a bit of confectioners sugar and a slightly melted Dove chocolate piece. We devoured this one in seconds and actually considered immediately getting in line for seconds. If you try one thing at the festival, make it this cookie.
Linzer Cookie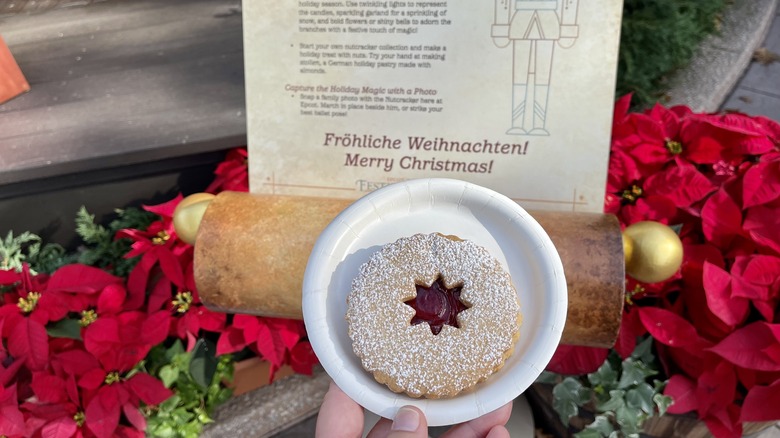 Carly Caramanna/Mashed
We were riding a nice high at this point — maybe a sugar high. We continued our journey to the Germany pavilion for a visit to the Bavaria Holiday Kitchen. It was difficult to resist the pork schnitzel and the beer, to be completely honest, but our scavenger hunt of sorts continued with the aesthetically pleasing Linzer cookie. A returning entry, this traditional Austrian pastry was almost like a tart. The exterior was made up of two shortbread cookies and we are pleased to say their interpretation was excellent. The shortbread was extremely fresh and soft giving way to a raspberry preserves-filled center that offered a welcome sweetness that complimented the buttery cookies. 
It was finished off with a lattice design on top along with some powdered sugar. It was almost refreshing after having two chocolate cookies in a row, and something we would absolutely get again. Happy to say, we were three for three at this point. Prost!
Gingerbread Cookie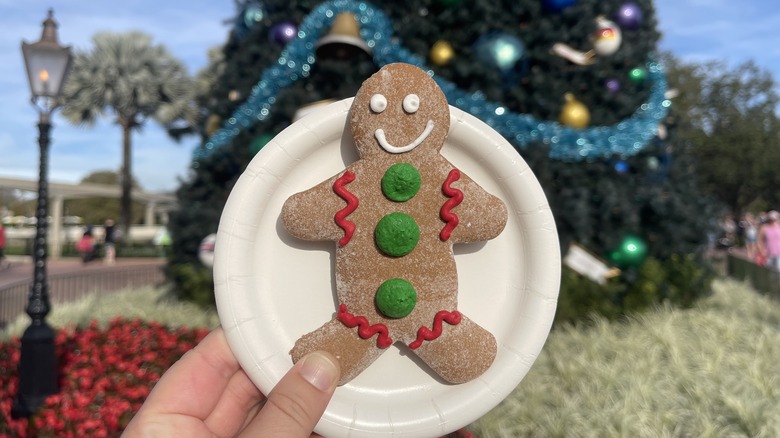 Carly Caramanna/Mashed
Things took a bit of a nosedive as we continued on our calorie-laden adventure, but we remained in good spirits throughout. 'Tis the season! The Holiday Hearth Desserts Kitchen is the premiere spot at the fest for sweet treats, including the divine Cocoa Candy Cane (hot cocoa topped off with peppermint schnapps). They offer fun desserts too like peppermint bark and a festival favorite, the red velvet mini bundt cake with cream cheese icing. Their offering for the Cookie Stroll was the quintessential holiday snack, a classic gingerbread cookie. 
The cookie was absolutely adorable and made for a good photo shoot, but it fell flat when you finally took a bite. It was dry, hard, and tasted like it had been left out in the Florida humidity far too long. The strong flavors of gingerbread were present, but we have had much better versions throughout the parks. We would have loved to try this one when it was fresh. Sadly, this booth was not sugar, spice or anything nice. That's just how the cookie crumbles sometimes ...
Snickers-Doodle Cookie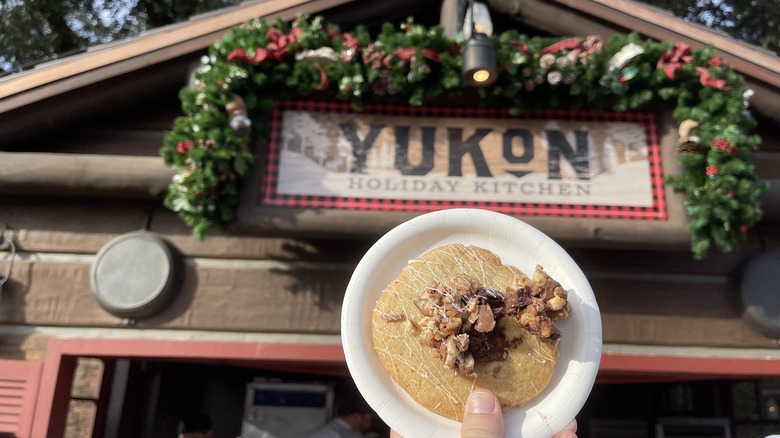 Carly Caramanna/Mashed
Our final stop was in the Canada pavilion at the Yukon Holiday Kitchen. The savory items are very popular here — highlights include a seared scallop dish with silky parsnips and a standout beef bourguignon, as well as interesting beverage selections like a maple cookie blonde ale and peanut butter and banana porter. With just one more until the culminating taste of victory, we grabbed their Snickers-Doodle cookie made with candy bar pieces. We love a good snickerdoodle, but this one just didn't wow us. The flavors were far too delicate for us and we even got an unwelcomed lemon-y taste.
The addition of the crumbled Snickers bar pieces on top did add some flavor, but it just wasn't enough. Considering how great several of the other offerings were, the potential was there but the overall execution wasn't enough to draw us in. To quote our Canadian neighbors, this was a bit loonie and left us feeling eh.
The Completer Cookie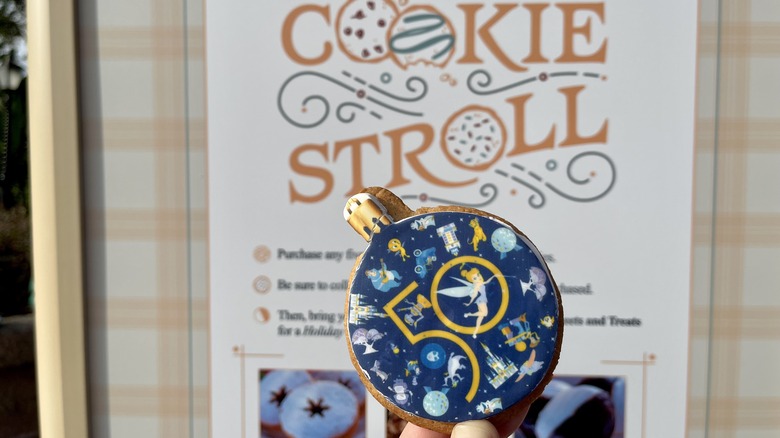 Carly Caramanna/Mashed
Victory, indeed, tastes oh so sweet! Our efforts were rewarded by visiting the aptly named Holiday Sweets and Treats booth. Here, we proudly showed our stamped passport and were presented with the completer cookie. This was a vanilla sugar cookie that was shaped like an ornament that would normally be adorned on your Christmas tree — but this was edible! It was emblazoned with various Disney icons including Tinker Bell and Figment, along with a  giant gold 50 in the center as a nod to Walt Disney World's current anniversary celebration. 
While this cookie was complimentary for completing the Cookie Stroll, it is also available as a stand-alone purchase for $3.00, but where is the fun in that? This was your standard vanilla sugar cookie, albeit done very well. The sweetness shined through just enough without it being way too overpowering after all the treats we had consumed.
Should you try the cookie stroll?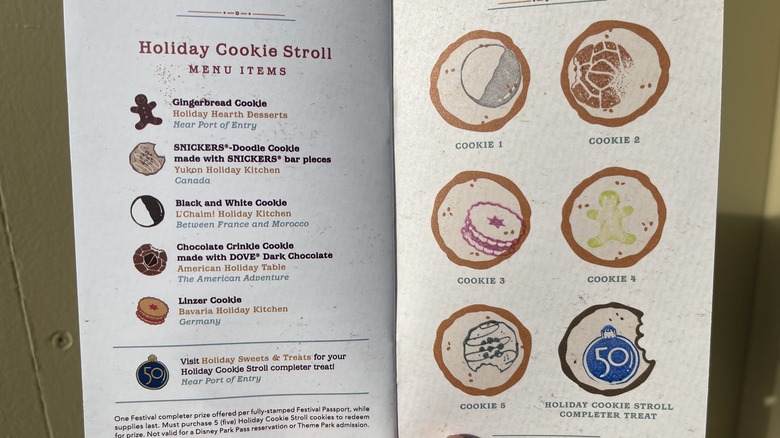 Carly Caramanna/Mashed
We give this experience two very enthusiastic thumbs up! There are many reasons why this experience is an absolute win when visiting EPCOT. First off, it was an excellent value as the price was very reasonable for the products that we received, which were gourmet level cookies. This was also just all-around fun while taking in all the holiday festive-ness. While we will gladly run from attraction to attraction any day at Disney, it's the little things that set them apart from the countless other theme parks in the world. 
This activity took us a few hours to complete and we soaked up every glorious-filled minute of it. We would also like to mention that this is equally as fun for kids as it is for adults — each booth is fully stocked with booze after all. The cookies were all completely different and never once felt repetitive. We are happy to have a new holiday tradition. If Disney keeps on doling out the cookies, we will keep on returning.