Disney World's Most Popular Holiday Foods, Ranked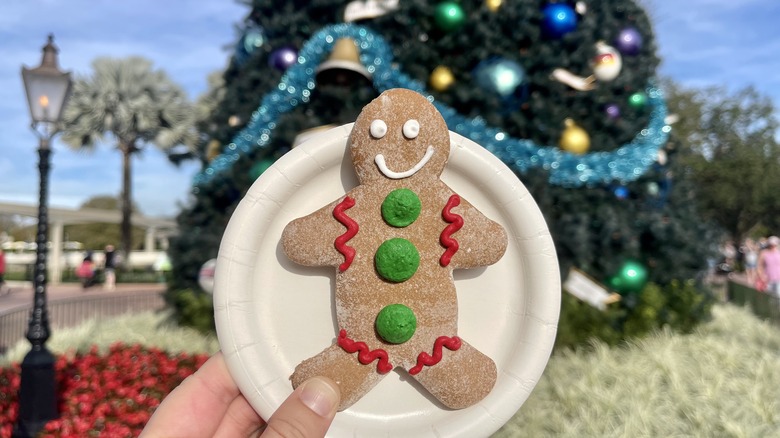 Carly Caramanna/Mashed
They say there's no place like home for the holidays. We say there's no place like Walt Disney World. Located in Central Florida, the four theme parks and dozens of resorts are transformed with a flurry of festive fun for the ultimate in holiday splendor. There's elaborate décor, live entertainment, and your favorite characters in their seasonal best garb. But, of course, here at Mashed, our reason for the season is the loads and loads of delicious yummies. Across the over 27,000 acres of property, all of your sugar plum fantasies can come true. There are dozens upon dozens of sweet and savory goodies that embrace our favorite time of year in each and every bite. From popular gingerbread cookies shaped like the mouse himself to inspired options like a peppermint cream cheese mousse, you can't go wrong.
Sadly, the above gingerbread man did NOT make the cut this year. He's on the naughty list after our EPCOT Holiday cookie stroll. But moving on. We set out on our calorie-heavy adventure to find the very best of the popular holiday food offerings at Disney World, and we weren't disappointed. Here are Disney World's most popular holiday foods, ranked.
15. Holiday Mickey Cinnamon Roll: Magic Kingdom
Let us begin by saying, with dozens of options, to even land on our list, a treat has to give us that wow factor. 
Cinnamon rolls are an absolutely iconic eat at Walt Disney World. Most popularly, guests flock to Magic Kingdom Park to get their day going with the warm cinnamon rolls from Gaston's Tavern or the coveted, classic Mickey head cinnamon roll from Main Street Bakery — both of which are available year-round. We will be frank with you. The latter may not be the best cinnamon roll you have ever had, but it is downright adorable and makes for the perfect photo opportunity just steps away at Cinderella Castle.
Throughout the season, this famous treat is given a colorful update and is transformed into the holiday Mickey cinnamon roll. The makeover sees the addition of red or green icing atop the massive Mickey-shaped pastry. It is positively cute and without a doubt big enough to share with a small army, but we wish it had more of that ooey, gooey texture that made us fall in love with cinnamon rolls. For looks alone, it has earned its spot on our list.
14. Christmas Cookie Sundae: Magic Kingdom
We are sticking around Magic Kingdom Park not for any of their outstanding attractions or even fireworks but for another classic treat. There's perhaps nothing more American than a good old-fashioned ice cream sundae. Over at Auntie Gravity's Galactic Goodies, they are dishing out smoothies and floats year long, but during this holiday season, you can feast your fancies with the Christmas cookie sundae. This sundae sweetens the ante (pun intended) by combining what we know and love about sundaes with cookies. Cookie soft serve ice cream is loaded into a bowl and then topped with hot fudge and whipped cream. The festive addition of green and red holiday sprinkles takes this good looker and makes it a total holiday showstopper.
We love the combination of ingredients and this twist on the average sundae, but this dish ranks lower on our list because simply this is pretty standard store-bought-tasting ice cream. While there is nothing wrong with that, there are plenty of spots on property serving up gourmet, handcrafted ice cream, like L'Artisan des Glaces. Located at EPCOT, this artisanal French ice cream shop scoops absolutely delicious flavors year-round.
13. Holiday Lunch Box Tart: Disney's Hollywood Studios
At Disney's Hollywood Studios, Toy Story Land opened in 2018 to great fanfare. This is where your favorite characters from the hit movie franchise come to life through incredible attractions — we are looking at you, Slinky Dog Dash — and of course, delectable bites. Woody's Lunch Box is the cuisine maison in the land — a walk-up counter serving up breakfast, lunch, and dinner in an atmosphere that will make you feel like you have been shrunk down to the size of a toy. As you belly up to the table while sitting on Babybel cheese wedges that act as your seat (for real!), you can devour a tangy BBQ brisket melt and their house specialty, lunch box tarts — a sort of elevated version of the childhood staple, the Pop-Tart.
The tarts range from lemon-blueberry to a savory-meets-sweet chocolate-hazelnut with candied bacon. This holiday season, we sung, "Oh, what yum!" for their holiday lunch box tart. The tart is filled with apple pie and frosted with cinnamon icing, sugar snowflakes, and holiday sprinkles. It is delicious and truly like eating a gourmet freshly made Pop-Tart. It pales in comparison to some of the most interesting goodies on our list, but it is executed well and perfect for the more vanilla of sweet tooths.
12. Frozen Salted Caramel Hot Chocolate: Disney's Hollywood Studios
Without a doubt, no beverage is as synonymous with the holidays as hot chocolate. As the children are nestled all snug in their beds, we are huddled around the fireplace, plaid pajamas adorned, sipping on a cup of the warm and oh-so-soul-soothing beverage. At Disney, they bring this classic beverage to the next level — so much so that the Ancient Mayans who invented the drink would certainly be baffled with its current form.
Throughout Disney's Hollywood Studios, you can sip on frozen salted caramel hot chocolate. It's a mouthful to say and to drink. They combine frozen hot chocolate mix with a salted caramel beverage syrup for the ultimate in holiday mashups. The creation is blended to perfection and then topped with marshmallows and chocolate syrup. You can even throw in some black cherry bourbon into the mix because 'tis the season, as they say.
The frozen drink works well in the humid tundra that is Florida, but we still prefer the classic hot variety. Salted caramel serves as the star of the show here, with its flavors being quite prominent. With the addition of cherry-flavored bourbon, it adds another bold flavor to the mix, and frankly, there's just a lot going on. This one does have the potential to be great, but we'd prefer an unflavored bourbon.
11. Menagerie Cupcake: Disney's Animal Kingdom
We should probably first explain what menagerie means at Walt Disney World. Over at Disney's Animal Kingdom, it is an Earth Day celebration 365 days a year, as the theme park is dedicated to the conservation of animals and the education of the public on such pursuits. This is done through both meaningful and downright fun ways, like the Merry Menagerie. This holiday entertainment transforms your favorite wintertime animals, including penguins and polar bears, into life-size puppets that mingle with guests. It is downright entertaining and done beautifully with handcrafted puppets that serve as works of art.
Much like the beautiful puppets, Disney has whipped up a stunning cupcake to go along with the celebration. Available from Flame Tree Barbecue, the Menagerie Cupcake is a gingerbread cake base filled with cream cheese and topped with frosting and an edible white chocolate polar bear decoration. For us? It was incredibly sweet — maybe too sweet. We also wish the ginger of the cupcake shined through a bit more, as that would have helped level out the flavors. Is this the best cupcake you will ever have? Probably not. But, it is adorable, and we love the way it is thematically tied into the park.
10. Red Velvet Whoopie Pie: Disney's Hollywood Studios
Disney's Hollywood Studios encompasses a long bygone era of the city of angels through immersive experiences and attractions. It is also home to some of our favorite sweets, like the luscious grapefruit cake from the Hollywood Brown Derby and the downright iconic, fan-favorite carrot cake cookie. It is only fitting that they would make a near-perfect execution of one of America's most beloved baked products. During the holidays, guests can take delight in the red velvet whoopie pie at both the Backlot Express and Trolley Car Café. Two round pieces of red velvet cake are stuffed with cream cheese frosting. Red and green sprinkles adorn the icing as powdered sugar is lightly placed on top, almost like a drizzling of snow.
This may not be winning any superlatives for the "best dessert ever," but it is done so well it is worthy of the position on our list. The cake portion is light, fluffy, and incredibly moist — basically, everything we want from a cake. The cream cheese frosting acted as the perfect accompaniment, offering just the right level of denseness. This is a straightforward, sharable dessert that's perfect for your entire family.
9. Turkey Poutine: EPCOT
EPCOT is the mecca for foodies looking to delight their gastronomical senses with the culinary creations of the globe. From an omakase tasting experience in Japan to a homemade brioche ice cream sandwich, this is where we head when we're hungry. Over at the Refreshment Port near Canada, they've been whipping up creative versions of poutine for years. The Canadian export has been given inspired updates like a braised beef with Boursin cheese and even a lobster version with pickled jalapenos.
They've turned to our favorite bird for their current holiday offering of turkey poutine. Unliked the traditional version that tops French fries with beef gravy and cheese curds, this version gets a seasonal twist with turkey, gravy, cranberry relish, and crispy onions. They may be using the term "poutine" quite liberally, but we don't care because this dish is downright delicious. Juicy, shredded turkey is piled high on top of the fries and works in tandem with the rich gravy, tangy cranberry sauce, and a welcome crisp from the onions. The fries are thin and crunchy, not too far off from those of the McDonald's variety, and act as the perfect purveyor for all the ingredients. This is an absolute win and one of our favorite savory items of the holiday bunch.
8. Pastrami on Rye: EPCOT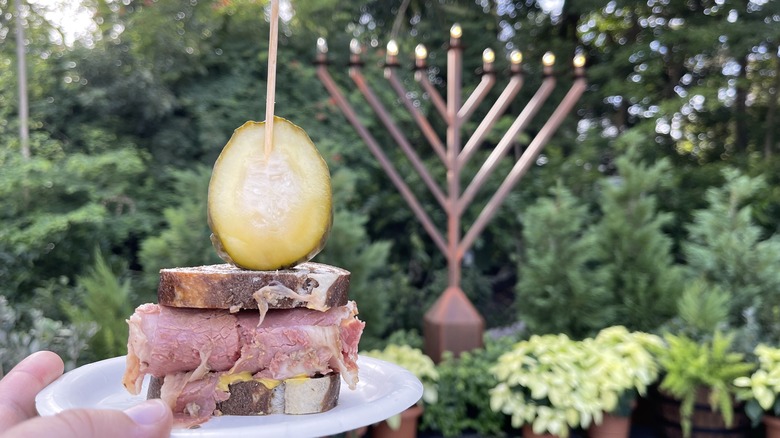 Carly Caramanna/Mashed
EPCOT is having a bit of a moment on our list, but it is all for good reason: Some of the best holiday eats you will find at Walt Disney World happen to be at their award-winning food and drink festival. This next one is a bit of a sleeper hit and probably not what you were expecting on our list of holiday foods. As we mentioned, the festival is a celebration of diverse cultures, and one of our favorite holiday kitchens year after year continues to be L'Chaim. Embracing the Jewish holiday of Hanukkah, you can sample delicious bites alongside a gorgeous Menorah and take in a performance from one of the festival storytellers.
While their smoked salmon potato latke is a knockout, our savory item of choice here is their pastrami on rye. Sounds straightforward? Well, sort of. This slider is piled high with incredibly fresh pastrami that's so good you will swear you are at a top deli in New York City. As if the meat weren't enough, it is topped with a tangy, albeit slightly spicy deli mustard and absolutely delicious — like the best ever — house-made pickles. We do wish the rye was slightly fresher on our visit, but otherwise, this baby may have cracked the top three.
7. Everything at Jock Lindsey's Holiday Bar: Disney Springs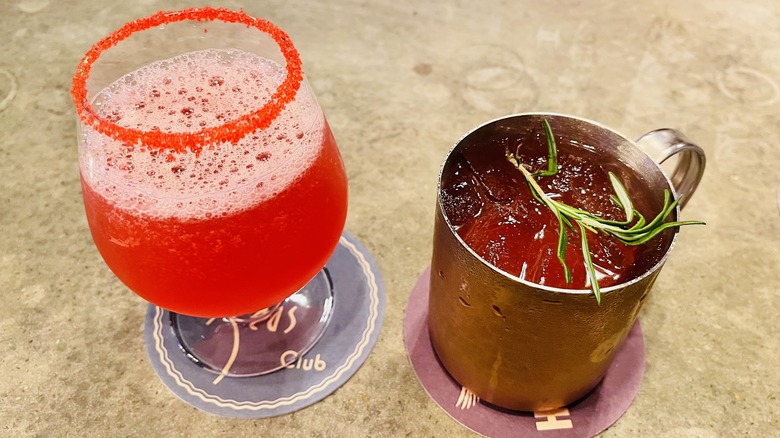 Carly Caramanna/Mashed
We now head to the foodie hotbed that is Disney Springs for a little more holiday spirit — if you know what I mean. The dining and entertainment district is where the in-the-know go for some of the best bites and sips at Walt Disney World, from the incredible pours at Wine Bar George to A5 Japanese wagyu at Morimoto Asia. For the ultimate in immersive watering hole experiences, we head to Jock Lindsey's Hangar Bar. The vintage airplane hanger-inspired bar is themed to the wildly popular Indiana Jones and his pilot. For the holidays, it becomes Jock Lindsey's Holiday Bar with the kitschy, dive-like bar outfitted with sparkling lights and loads of festive décor.
As part of the makeover, the already standout menu receives some holiday additions, like a ham and brie flatbread and a twist on classic cookies and milk with a spiked Coquito. You really can't go wrong with any of their holiday offerings, but our two favorites drinks are the Yule Mule — a twist on the classic mule upgraded with some rosemary — and a sparkly twist on the Cosmopolitan, aptly named the Claus Mo. The experience is properly capped off with their chocolate lumps of coal dessert, complete with a table-side smoke show. If you find yourself at Disney World during the holidays, a stop here is an absolute must.
6. Mickey-Shaped Gingerbread Cookie: various locations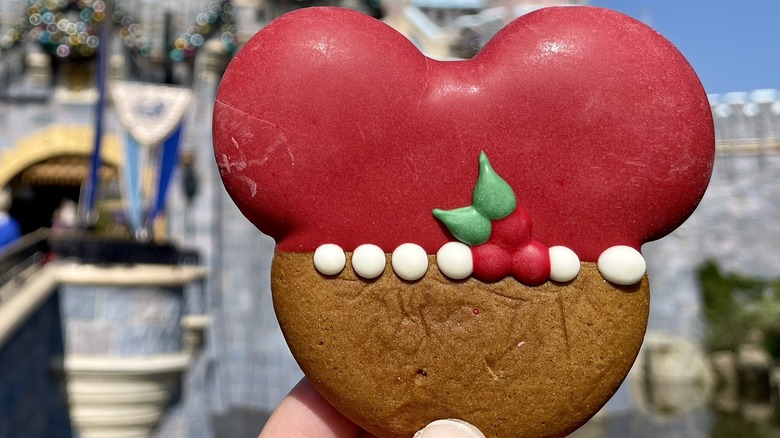 Carly Caramanna/Mashed
Sometimes simple is best, and that couldn't ring more true than for the iconic holiday dessert that is the gingerbread cookie. You know it, you love it, and during the holidays, you just can't get enough of it. The nutty flavor of the gingerbread makes for the ultimate treat, and when it's soft and fresh, it is Christmas perfection. At Disney, they do things a little differently. Gingerbread is big business here. In fact, you can visit many of their resort hotels to see larger-than-life edible gingerbread houses that double as works of art. They are truly a sight to be seen.
While we are resort-hopping to get a glimpse of these incredible structures, you can find us nibbling on a Mickey-shaped gingerbread cookie. Found throughout the parks, resorts, and even across the country at Disneyland, this treat is utterly adorable and a longtime family tradition for many who visit annually. Luckily, this is much more than just a beautiful cookie — it is also incredibly delicious. The cookie is sturdy but incredibly soft and fresh with notes of cinnamon, nutmeg, and, of course, gingerbread shining through. It offers that right amount of chew you want from a gingerbread. Bravo!
5. Chocolate Crinkle Cookie: EPCOT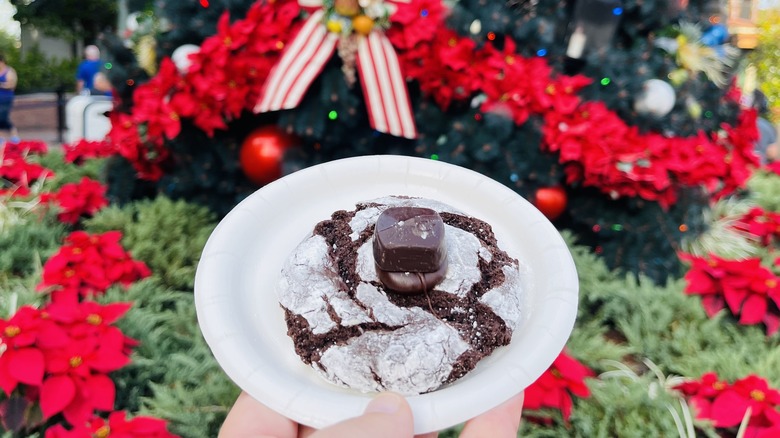 Carly Caramanna/Mashed
We now head to EPCOT's American pavilion for one of our favorite offerings from the park. Each winter, the park plays host to the EPCOT International Festival of the Holidays. Holiday traditions of the world are celebrated through live entertainment, décor, and of course, food. During the festival, you can dine at over a dozen holiday kitchens serving up sample sizes of traditional dishes each culture serves during the holidays. In America, that means a play on some of our favorite dinner table delights, like a slow-roasted turkey with all the fixings and a holiday pot pie. But it is their chocolate crinkle cookie that serves as the star of the bunch. We discovered this one while partaking in the park's holiday cookie stroll, and boy, were we glad we did.
The chocolate crinkle cookie is made with Dove dark chocolate and topped with a bit of confectioner's sugar. We said it once, and we'll say it again, this is cookie perfection. It's incredibly soft and fresh with a doughy center and slightly crunchy edges. This was not only the best cookie we had on our stroll but quite possibly the best cookie we've ever had. Don't think, friends, just get it.
4. Peppermint Cream Cheese Mousse: Disney's Animal Kingdom
As we crack the top four on our holiday treats adventure, we have reached true perfection in vision and execution. Disney's Animal Kingdom may be home to all of our favorite creatures, but it also offers up some of the most interesting, globally inspired bites in all of Walt Disney World. Many flock to Pandora — The World of Avatar for the atmosphere and e-ticket attractions, but we head there for the food, specifically Satu'li Canteen. This place will take everything you thought you knew about quick-service theme park food and utterly smash it. Their slow-roasted and wood-grilled meat creations serve as some of our favorite foods on property. Go there now — you're welcome in advance.
It's no surprise then that their holiday offering would be a total winner. The peppermint cream cheese mousse is both delicate and delicious. This dish features a white chocolate peppermint cream cheese mousse topped with a peppermint sauce and chocolate cookie crumbles. The plating is perfection even with the deconstructed nature of the dish. All ingredients work in harmony, and the peppermint flavor isn't too overbearing. Don't let the white chocolate in the title turn you away, as this dessert was not one bit too sweet. It was creamy, full of flavor, decadent, and almost refreshing.
3. Werther's Original Gingerbread Caramel Cookie Sandwich: EPCOT
You've likely been summoned to Karamell-Kuche thanks to the smell of fresh caramel beckoning you inside for a peak. Located in the Germany pavilion of EPCOT's World Showcase, this cozy bakery serves up some of our favorite sweet treats all year long, including the fan-favorite Werther's original caramel popcorn amongst other sinful delights. Their holiday offering may take the cake for one of the best creations they have dreamed up yet. Run, don't walk, people!
The Werther's Original gingerbread caramel cookie sandwich takes two of their standout gingerbread cookies and stuffs them with buttercream icing and a layer of Werther's Original caramel. The cookies are incredibly soft and bursting with gingerbread flavor. There is just the perfect amount of sweet icing in the center, and the drizzle of fresh caramel round out this gooey delight. It is unlike anything we have experienced before, and for that reason, it's a standout option at number three on our list.
2. Mele Kaliki Mai Tai: Disney's Polynesian Resort
When we are looking to feel a little holly and a whole lotta jolly at Walt Disney World, we head to one of the property's OG resorts, Disney's Polynesian Village Resort. For the ultimate in escapism, the resort embraces the vibes of the Southern Pacific with tropical palm décor and sights and sip of the seashore. Trader Sam's Grog Grotto is the East Coast outpost of the popular Trader Sam's Enchanted Tiki Bar. They are serving up well-balanced, classic tiki-style drinks in an immersive and interactive atmosphere. For the holidays, we can not get enough of the appropriately named Mele Kaliki Mai Tai — try saying that three times after having one.
The cocktail is expertly crafted by a skipper (of course) with rum, allspice dram, cranberry juice, orgeat, cinnamon, and a splash of freshly squeezed lime juice. It is booze-forward (a must for the holidays) and perfectly balances sugar, spice, and everything nice, as any good tiki drink should.
Pro tip: It can get pretty hectic inside, so we prefer the cozy and calming outdoor terrace. Here, you can sip on your libations in style next to the flickering lights of tiki torches set to the soothing sounds of a guitar player. Magic Kingdom's Cinderella Castle in the background further sets the scene for utter joy at the most magical place on earth.
1. Reindeer Peppermint Mousse: Disney's Riviera Resort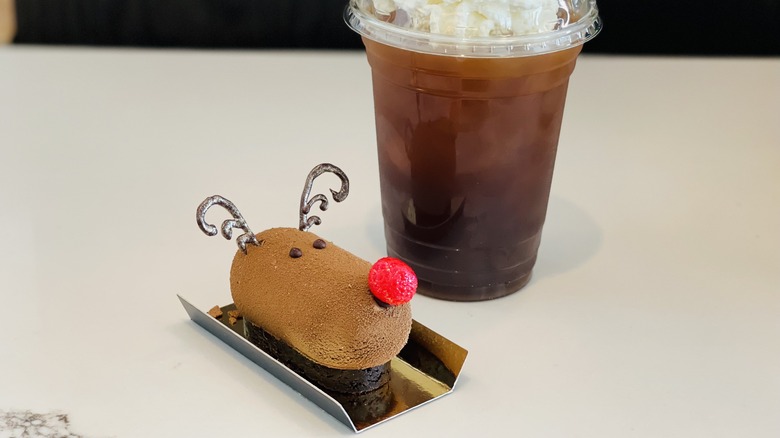 Carly Caramanna/Mashed
One of Disney World's newest properties, Le Petit Café, has quickly become a favorite spot. The tranquil grounds of the Mediterranean-inspired resort are the perfect place to relax the day away. With a number of standout dining options, we choose to get our daily caffeine fix from Le Petit Café. In addition to hand-crafted coffee drinks like their house-made honey-almond whipped cream cold brew, they also offer a selection of outstanding fresh pastries and artisan cheeses.
Their holiday offering this year simply dazzled us and left us feeling fa la la la la-bulous. The reindeer peppermint mousse was made of dark chocolate and filled with a peppermint white chocolate mousse. The flavors were pronounced while being delicate, each bite with just the right amount of richness. The texture was spot on and oh-so-creamy. Plus, there's the atmosphere. Attached to Le Petit Café is The Voyageurs' Lounge, a cozy wooded nook filled with seating and adorned with photos from Walt Disney's own travels through Europe. Even though this spot is just a short ride from the parks via their in-the-air gondolas, you will feel worlds away in the best possible way.