We Tried McDonald's New Halloween Bucket Happy Meals. Here's How It Went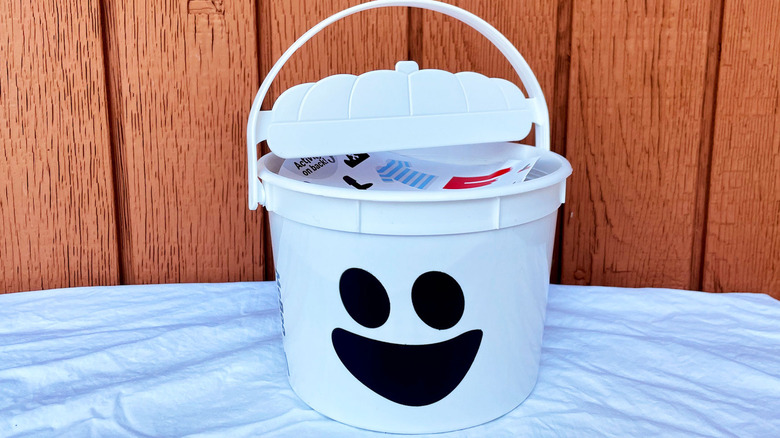 Crawford Smith/Mashed
The whispers on the internet, this time at least, weren't telling us lies: McDonald's Halloween Pails have risen from the dead to again walk the earth. If you're a child of the '80s or '90s, there's a good chance you'll remember these buckets, but their appearances have been somewhat sporadic in the new millennium. In fact, the Halloween Happy Meals served in pails haven't been resurrected since 2016 (via Dread Central). Perhaps the Golden Arches saw that Disney was releasing a new "Hocus Pocus" movie and decided the culture was ready for the return of another beloved piece of '90s Halloween popular culture.
Of course, we here at Mashed can't let any major fast food launch go by without testing it ourselves, so we had to stop at McDonald's to see what the fuss was about. Should you buy the Halloween Bucket Happy Meal for your kids (or yourself, we won't judge), or should you save that money for your Halloween candy budget? You'll have to keep reading to find out.
What's in the McDonald's Halloween Pails?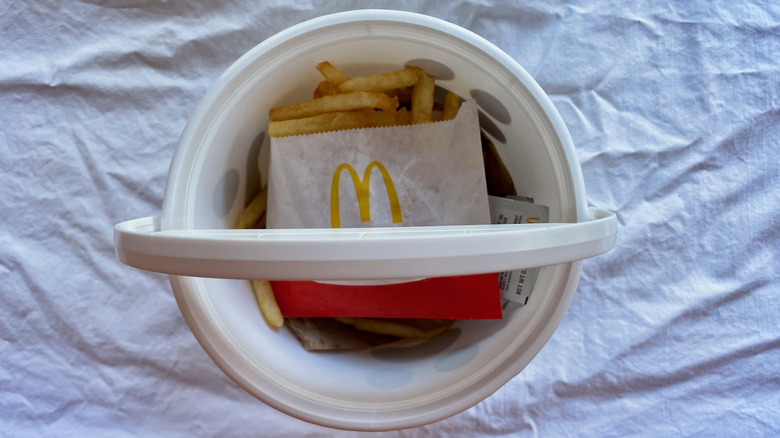 Crawford Smith/Mashed
The spooky buckets come in three designs that look very similar to the classic 1989 Halloween Pail lineup: a green witchy character called McGoblin, an orange pumpkin called McPunk'n, and a white ghost named McBoo (via McDonald's). We didn't express a preference about which character we received, and we ended up with McBoo, who looked pretty cute.
The pails could be repurposed as candy buckets for trick-or-treating, though they're a little bit small for that purpose. We remember filling up pillowcases with candy back in the day, and these buckets aren't nearly as big as a pillowcase. The press release announcing the Halloween Pails also included some suggestions for reusing them as planters, parts of a Halloween costume, or even musical instruments.
As for what's inside, that's up to you, as long as it's a Happy Meal. You can get any Happy Meal offered by McDonald's in your Halloween Pail, but don't expect a toy — the bucket counts as the toy. There is a little activity where you can dress up paper doll skeletons, but that's not really a toy. Right now, the options are a hamburger, a 4-piece McNugget, or a 6-piece McNugget. Each Happy Meal comes with a choice of kid's drink (milk, chocolate milk, apple juice, or water), apple slices, and fries.
How much do the Halloween Happy Meals cost?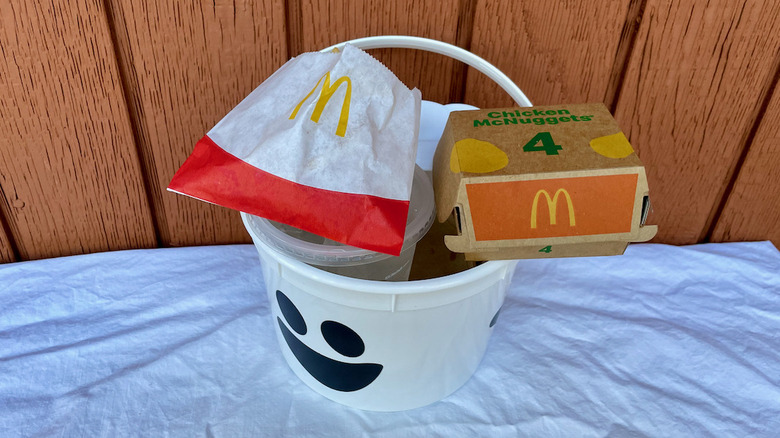 Crawford Smith/Mashed
The Halloween Happy Meals cost the exact same as any other Happy Meal. We went with the 4-piece Chicken McNugget meal, which at our local McDonald's costs $6.09 ($6.77 with tax). That bumps up to $7.29 for the 6-piece McNugget. The hamburger Happy Meal is the cheapest at $5.39.
If that seems like kind of a lot to you, you're not alone. Suffice it to say that if you haven't been to McDonald's in a while, it's probably a fair bit more expensive than you remember. Even the $1 $2 $3 Value Menu didn't offer much in the way of deals, with a $3.59 McDouble, a $3.79 4-piece McNugget (just the nuggets, not a meal), and $2.89 French fries. 
Many of the meal combos for adults were well over $10. In comparison with those prices, the Halloween Happy Meal seems like a pretty good deal, especially since you get a toy (even if that toy is just a few cents' worth of plastic). The McDonald's we ordered from is in an area where food is generally expensive, so prices could be slightly lower depending on where you are located.
Where are the Halloween buckets available, and for how long?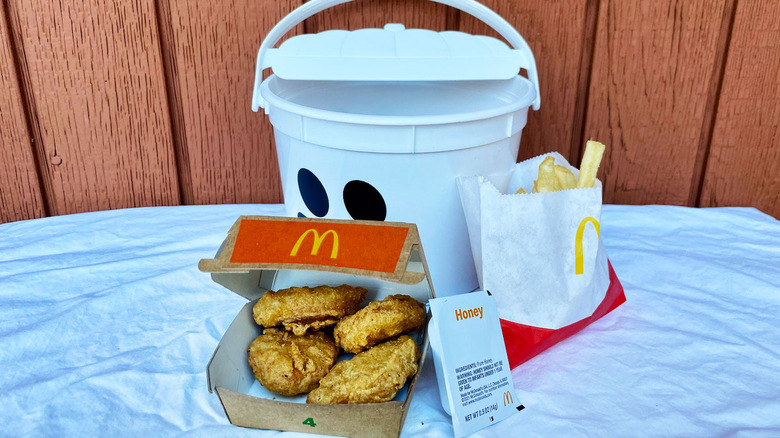 Crawford Smith/Mashed
Per a McDonald's press release, the Halloween Pails will be available only from participating McDonald's locations, and only for a limited time: the chain started selling the bucket meals on October 18, and they'll be phased out on Halloween. We weren't sure if our closest McDonald's was participating, as it didn't have any signs promoting the Halloween Pails out front, but we asked the person taking our order about them and were able to snag one.
If you're thinking of waiting until closer to Halloween to pick up a Halloween Bucket Happy Meal, you may be out of luck — there's no guarantee the supply of spooky pails will last that long. Once they're sold out, they're sold out. These toys have been receiving coverage online and they're a nostalgic item for many people, so we predict that they'll be popular. Especially if you have strong feelings about which character you want (or if you want all three), we'd recommend visiting the McDonald's drive-thru sooner rather than later.
How does it compare to similar items from McDonald's?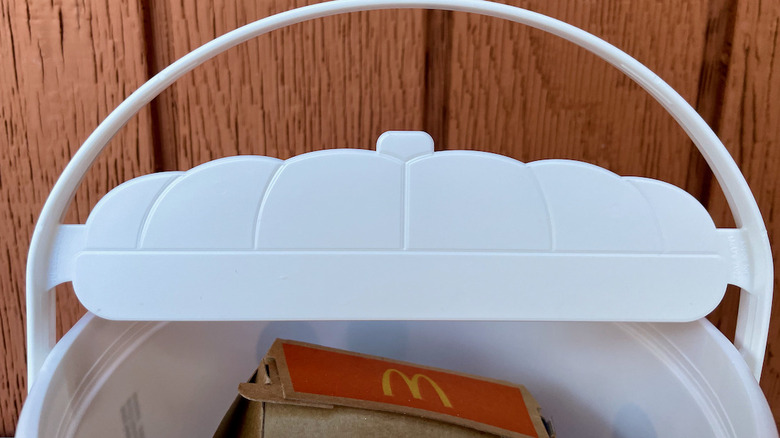 Crawford Smith/Mashed
As we've already mentioned, the Halloween Happy Meals are just regular Happy Meals in a special container. The lack of a Halloween theme in the meal itself feels a little bit like a missed opportunity. What if they came with some kind of Halloweeny beverage, or a burger with black buns like Burger King did once? Bat-shaped nuggets could be cool too. We just didn't feel much spooky season energy from this meal. It was the same as getting a McDonald's Happy Meal at any time of year — tasty, safe, and just a little boring.
Compared to the other meals on the McDonald's menu, Happy Meals are much smaller (which makes sense, since they're for kids). The kids-sized fries come in a very small bag, and the drinks are petite as well. The burger and McNuggets are the same sizes as the adult versions, however.
Happy Meals have side and drink options that aren't standard for adult meals, such as milk and apple slices. If you really want those items without getting a Happy Meal, you can order them a la carte.
Nutrition facts behind the Happy Meal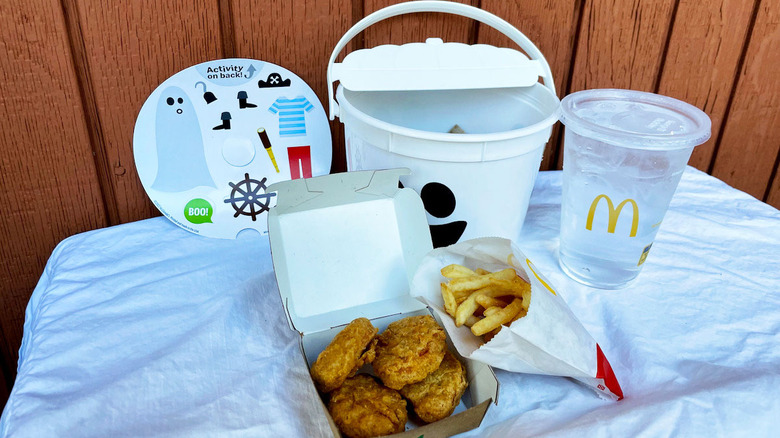 Crawford Smith/Mashed
Of course, the nutrition facts for the Halloween Happy Meals differ depending on which entree and drink you choose. McDonald's bases the nutrition facts listed on its website on a Happy Meal with 1% milk, fries, and apple slices. We were actually asked to choose between fries and apple slices instead of receiving both, interestingly (of course, we went with fries).
If you want a meal at McDonald's that won't bust your gut, then a Happy Meal might be the way to go. It might not fill you up, but it won't give you a whole day's worth of calories either. A Hamburger Happy Meal comes in at 475 calories, 16 grams of fat (5.5 of which are saturated), and 20 grams of sugar. The 4-piece McNugget Happy Meal delivers a shockingly low 225 calories, 7 grams of fat, and 14 grams of sugar. The 6-piece is 475 calories and has a fairly similar nutritional profile to the hamburger meal.
The totals for saturated fat, sodium, and other potentially unhealthy nutrients don't exceed 30% of the recommended daily value in any of these meals. However, that calculation is based on a 2,000-calorie diet. According to the U.S. Department of Health & Human Services, unless they're very active, small children need much fewer than 2,000 calories. Thus, the saturated fat, sugar, and sodium content of a Happy Meal might end up being a large percentage of what your child should consume in a day.
Verdict: Is it worth it?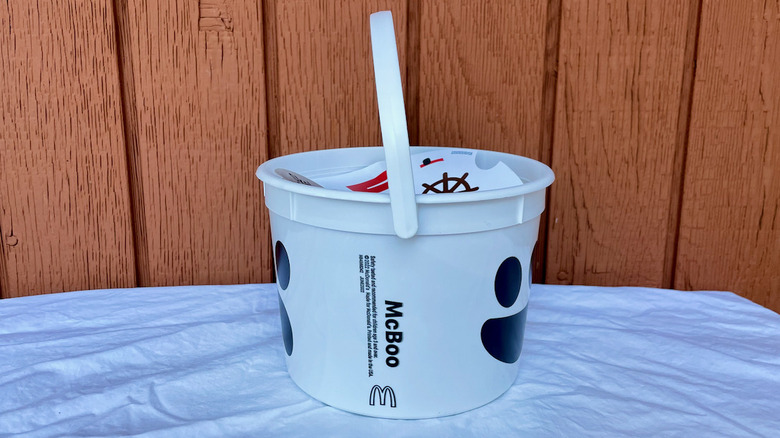 Crawford Smith/Mashed
Whether or not the Halloween Bucket Happy Meals are worth it depends on how much you (or your kid) want the Halloween Pail. We could imagine some kids being disappointed that these meals don't come with an additional toy, and as we've mentioned, there's nothing about the meal that screams Halloween besides the bucket.
The food is as dependably tasty as anything else from McDonald's. There's a reason the chain did well in our fast food chicken nugget ranking and earned a convincing victory in our fast food French fry poll. Chicken McNuggets are the perfect chicken nugget. The meat filling is well-seasoned and tender, and the breading is light and crispy without being greasy. McNuggets taste deliciously savory, with notes of garlic powder, onion powder, and black pepper. And we don't think we need to sell you on McDonald's fries. They need to be hot to be at their best, but when they're good, no other fast food French fry can compare. We feel a bit cheated by not getting the apple slices, though.
In conclusion, if you want a Happy Meal, there's no reason not to get it served in a spooky bucket. Just don't expect to be blown away by some kind of special Halloween magic.