The Unusual Sushi Topping That's Gained A Cult Following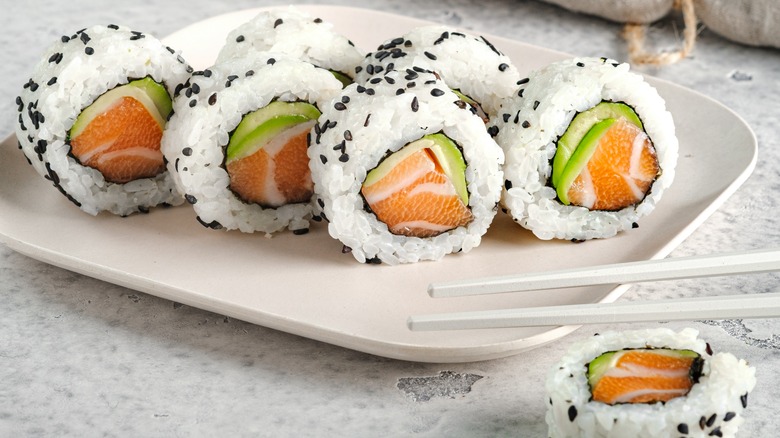 Andrei Iakhniuk/Shutterstock
When it comes to sushi, there's no shortage of choices. You can pick from traditional flavors such as eel, salmon, and tuna, or branch out and opt for something a little more unique like arctic char roe or marinated mackerel. And if you're really adventurous, there's always the chance to try insect sushi, or even fugu (blowfish), which is prepared by chefs who are specifically licensed to slice, dice, and serve fugu that is safe to eat.
Even further off the beaten path, you can try specialty rolls like one Instagrammers "Santa Sushi," which features a roll that is shaped to look like Santa Clause — a fun addition to any holiday meal. And then there's the Oreo sushi roll, which is arguably more of a dessert than it is sushi.
If you do have a hankering for sweet tooth-approved sushi, though, Japan may have exactly what you need (if you're lucky enough to find it).
Break me off a piece of that sushi roll
Per CNN, what started off as an April Fool's Day joke is actually a real thing in Japan, and Esquire reports that people are eating it up.
Sushi is being topped with different flavors of KitKat bars in Japan, and the results are nothing short of incredible. While this may sound like just a novelty flavor trend, it's actually quite popular with KitKat fans and sushi lovers alike.
Some variations of the nigiri piece include a raspberry chocolate KitKat bar on top of puffed white chocolate rice, a seaweed-wrapped Hokkaido Melon and mascarpone cheese KitKat bar, and puffed white chocolate rice topped with a pumpkin pudding-flavored KitKat. The three dessert-style sushi rolls are named after the type of sushi they resemble — maguro (tuna), uni (sea urchin), tamago (omelet), respectively.
These rolls were originally released in 2017 to celebrate the opening of the Itami Osaka International Airport Nestle store and were re-released in 2018 for a limited time.
Not everyone is a fan of the special rolls (per YouTube), but it seems that those who like both sushi and KitKat bars certainly can't resist trying the unique creation. The limited-edition bars were exclusive to Japan, unfortunately, but perhaps they will make a comeback soon, and even expand to other countries.