You'll Never Guess How Duff Goldman 'Glues' Fondant Decorations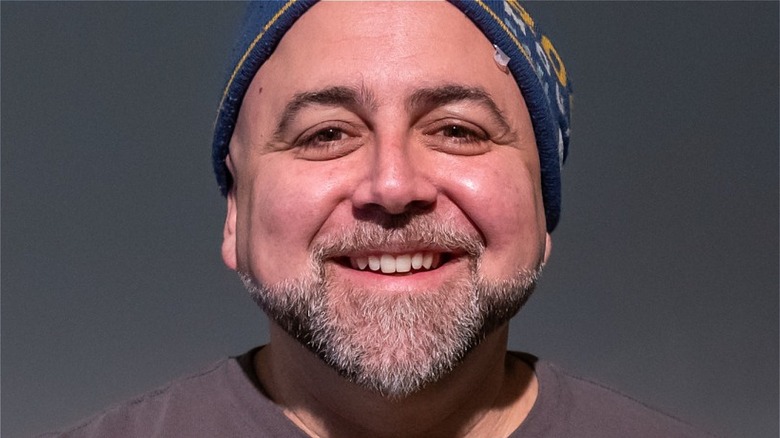 Mark Sagliocco/Getty
Duff Goldman, aka, the "Ace of Cakes" is known for creating stunningly beautiful and realistic cakes. While Goldman was filming his show about his Baltimore bakery, fans got a behind-the-scenes look into the magnificent cakes his team created. According to Food Network, some of his most outstanding cakes include a replica of the U.S. Open stadium, complete with sprinkles as audience members, and an antique police car. For many of the cakes, Goldman and his crew rely on using fondant and gum paste to sculpt their intricate designs.
Fondant is a controversial ingredient, with many people hating the taste and texture. Bob's Red Mill describes fondant as similar in texture to clay and made with sugar, water, corn syrup, and glycerin. While the ingredients technically make fondant edible, many people are not fond enough to bother eating it. While fondant may not be the tastiest, it is essential to creating smooth surfaces to cover cakes and create designs. Goldman has used fondant in the past to create Storm Trooper helmets, giant hamburgers, and even the DeLorean car from "Back to the Future" (via Eater). While he and his crew make it look easy, there are some tips and tricks for making fondant easier to work with.
The secret is hiding in your liquor cabinet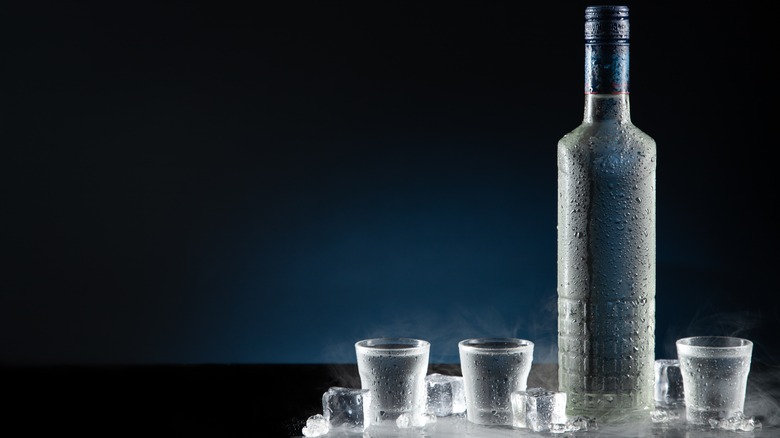 Miguel Tamayo Fotografia/Shutterstock
In a video demonstration with PopSugar, Duff Goldman teaches the audience how to make sparkly fondant flowers. Goldman's secret for making fondant flowers stick together is not a glue-like substance at all. Goldman uses run-of-the-mill vodka as his sticking agent. According to Sweetness & Bite, a little dab of vodka allows the fondant to stick to itself. The fondant dries quicker than water, making it perfect to use for intricate decorations. The high alcohol content in vodka means that it doesn't dissolve the sugars in the fondant as fast as water. Plus, the vodka dries clear, meaning no leftover spots. For those worried about having a cake that smells like alcohol, don't worry; the vodka dries completely odorless.
If you're worried about using alcohol, or you simply don't have any, Rose Bakes suggests using water. The one caveat is that water can easily drip, and leak onto other finished parts of the cake. She suggests using a tiny brush to gently sweep or dab the water onto the part that needs sticking. Goldman has used water before when making fondant flowers and even shared a hack using a hygiene product (cotton swabs) to disperse the water. The swab acts as a small brush, allowing the water to stay in a specific location.