Doritos Screamin' Sriracha Flavor Just Made A Spooky Comeback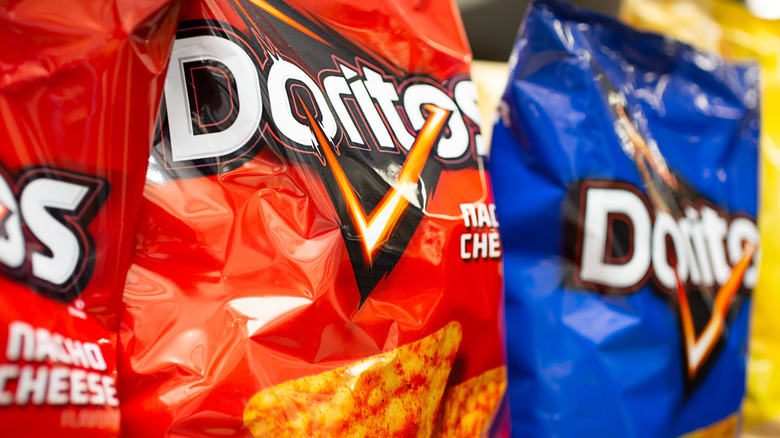 Doritos are crunchy, salty, and packed full of flavor. The iconic triangle chip debuted its first flavored chip in 1966, but it was not the nacho cheese flavor that is known and loved today. The tortilla chips were dusted with taco seasoning until 1974 when Nacho Cheese Doritos made their debut (per Consumerist). According to Snack History, Doritos, which is owned by Frito-Lay, has been surprising customers with new flavors since 1986, when Cool Ranch Doritos were shared with the masses. Over the years, Doritos has released over 100 different flavors of the chips, with some flavors faring far better than others. Some of the more unique flavors have included Mountain Dew Doritos and Spicy Mustard Doritos.
Depending on where you are in the world, you can experience a variety of different Doritos flavors. In Japan, customers can snack on garlic-flavored Doritos and chips that taste like sesame chicken (via The Travel). The Richest notes that in Europe, Doritos flavors include flame-grilled steak and habanero guacamole. The brand also likes to turn up the heat by offering several spicy chips, including their Flamin'-Hot line of chips (per Doritos). This year, Doritos is bringing back a particular type of chip that brings the sweet heat just in time for Halloween.
Scare your tastebuds with fiery heat
Spooky season is upon us and Doritos announced on Twitter it would re-release Screamin' Sriracha Doritos. According to Delish, Screamin' Sriracha Doritos last hit the market in October 2019. Halloween is all about being scared, so it makes sense that the screamin' hot snack gets your tastebuds involved in the fun. The Sriracha Doritos use the same nacho cheese chip, but coat it with the sweet and spicy flavor of Sriracha. Customers who have tried the chips have mixed reviews, and unfortunately, it came in at 15 out of 17 in a Mashed ranking of worst to best Doritos. Delish compared the flavor to ketchup and a spicy barbecue sauce.
For those who are unfamiliar, Sriracha is a Thai-style hot sauce made from red and orange jalapenos. While its original use was to spice up a bowl of pho, it's now used as a condiment on just about anything that needs a fiery kick. In 2020, grocery store Sam's Club even released a line of Sriracha-flavored almonds.
There's no word on just how long the Screamin' Sriracha Doritos will be around, so fans should probably stock up sooner rather than later.