Costco Fans Are Split On Its Strawberry Belgian Waffles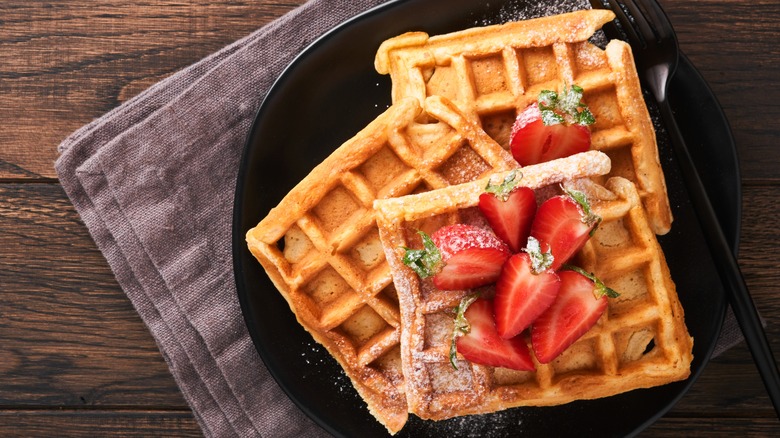 Katarzyna Hurova/Shutterstock
Costco is a wholesale club grocery store, so when a lot of people think of shopping there, they might think about getting things like family packs of chicken, gallons of laundry detergent, and enough toilet paper to last through another pandemic. But Costco doesn't just sell barrel-sized editions of household staples. It also has a surprisingly varied selection of baked goods and snacks. Fans raved when Costco brought back its pumpkin spice loaf this fall, and their sweets and treats are so good, Reddit has even accused some bakeries of just reselling Costco desserts.
But, just as with any store, not every product at Costco is a hit with all customers. Its chicken flautas divided shoppers, and fans weren't so sure about its poke bowl kits, either. Now, an eye-catching new item is dividing Costco fans on the internet yet again: individually packaged Strawberry Belgian Waffles. It sounds like a pretty universally appealing food (who doesn't love sweet carbs?), but some customers online had issues with the new waffles.
Costco's waffles have fans divided
If you've ever looked at the comments under an Instagram post about a new Costco item, then you know people are not afraid to share their true opinions. Never has this been more true than in the case of a recent post by @CostcoBuys, a popular Instagram account that simply shares photos of cool finds at various Costco locations.
When the account shared a video about Costco's new Strawbery Belgian Waffles from Universal Bakery, there was a balance of negative and positive feedback that might leave indecisive shoppers feeling more confused than ever. "Ok when toasted, but wouldn't buy again," said one commenter. Approximately two hours later, another Instagram user replied, "These taste nasty." The negative reception from those comments is apparent enough, but other respondents make the general shopper's impression decidedly less clear. 
Another user raved, "These had me in a chokehold," while another wrote, "These straight out of the fridge are fire." Once again, these comments would seem to indicate strong feelings on the part of shoppers. Funnily enough, at least one person had mixed feelings about the brand as a whole. "The regular waffles are better," this person wrote. "Those suck!"
The mixed feedback makes it hard to know if the Strawberry Belgian Waffles at Costco, which cost $8.99 for a pack of 12, are worth it. Some people like them cold from the fridge, some people say they are only good when toasted; some say they're delicious, others think they're dry. After all that waffling in the comments, we still don't even know what to think about this new Costco treat.