Costco Just Brought Back Its Pumpkin Spice Loaf And Fans Are Raving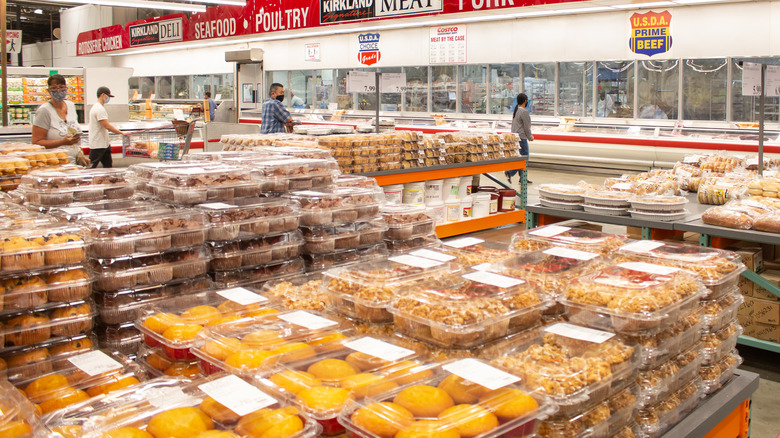 The Image Party/Shutterstock
The weather is turning crisp and the leaves are falling, which can mean only one thing — tons of pumpkin spice delicacies are hitting store shelves. Just go ahead and blame Starbucks for this phenomenon, as the coffee chain concocted their first-ever pumpkin spice latte in 2003, and the rest is history. In fact, Newsweek reports that more than 600 million cups of the steamy stuff have been sold since, to the tune of 20 million per year!
There has naturally been a lot of spillover into other retailers, thanks to Starbucks's success. Dunkin' has an entire fall lineup of pumpkin spice menu items, including their pumpkin cream cold brew, nutty pumpkin coffee, and a pumpkin spice signature latte, along with a number of flavored bakery options. And according to the company's site, Trader Joe's even sells honey-roasted pumpkin ravioli as part of its slate of pumpkin-flavored products!
Costco's pumpkin pies are a huge hit, too, but that's not the only bit of pumpkin-y goodness the price club has to offer. One, in particular, is really setting tongues wagging (and mouths drooling, for that matter).
Costco's pumpkin spice loaf is getting people ready for fall
If public response to Costco's Kirkland brand pumpkin spice loaf is any indication, people are past ready to trade popsicles for this breakout product. Instagrammer Costco Buys recently posted a video of the dessert, a pumpkin spice loaf garnished with a rich, thick layer of cream cheese icing, as well as a liberal sprinkling of white chocolate shavings.
Feedback on the product has been largely positive, with one commenter calling it, "So delicious," and also noting that it, "stays moist and fresh a long time." Another person said that the pumpkin spice loaf is their "favorite bakery item with the cinnamon sugar loaves right behind it." 
However, at least one person is holding out for a sample before making the purchase, and another one said, "Just got this on Sunday...not what I was expecting." Still, with more than 3,100 likes in pretty short order, the pumpkin spice loaf seems to be making an impression on fall-minded Costco shoppers.