The Croatian Seasoning That Turns Anything Into Pure Deliciousness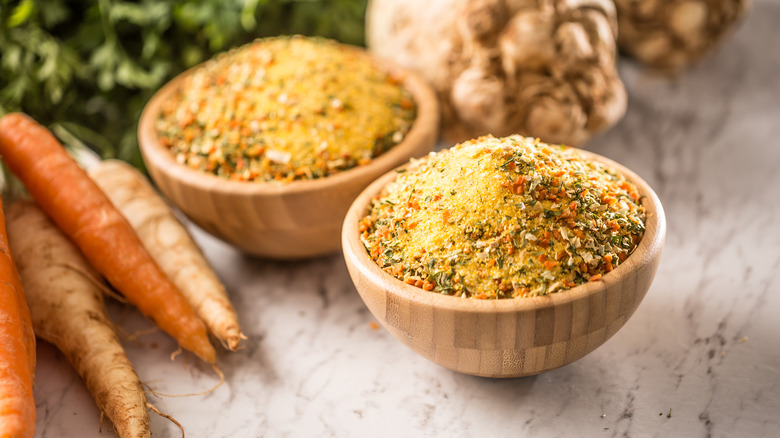 Marian Weyo/Shutterstock
Croatia is a European country well-known for its picturesque beaches, historic sites, and lavender and iris fields, as well as for providing the film setting of the "Game of Thrones" TV series and for introducing the Dalmatian dog breed to the world. 
The Land of a Thousand Islands is also famous for its culinary distinction. When you think of traditional Croatian cuisine, a few foods may come to mind, such as truffles, Pag cheese, peka (a dish with various vegetables and meats), brodetto (a fish stew), and fuži (a style of pasta), per BBC Good Food.
Croatia is the rightful birthplace of numerous grocery brands, including an iconic product that is considered a kitchen staple to natives and many others around the world. One seasoning, in particular, was designed to enliven the flavors of any meal it touches and boasts a blend of various savory veggies and nourishing spices.
Vegeta is a versatile condiment with Croatian roots
Over the years, an impressive number of products have gained cult followings, and Vegeta is certainly on that list. Vegeta is a simple yet impactful Croatian dressing made from a gourmet blend of dehydrated carrot, parsnip, onion, celery, potato, and parsley, plus sugar, cornstarch, black pepper, and nutmeg. Invented in 1959 by Zlata Bartl, a professor and the head of research at Podravka, the brand's parent company, the all-purpose seasoning has remained a must-have for decades, according to Croatia Week.
What can you add Vegeta to, you ask? Well, just about anything. "[Vegeta] is perfect for those times you find yourself wishing there was a quick fix for your bland Sunday roast or your flavorless fish filet," says Food Network contributor Michelle Baricevic.
The official Vegeta website offers up plenty of authentic Croatian and international recipes, including risotto, pizza, pastas, soups, snacks, and more. Most importantly, the brand suggests, "Don't sacrifice flavor in the interest of health," implying that wholesome foods can — and should — taste as indulgent as any comfort dish. Živjeli!