Every 2022 Dunkin' Holiday Item, Ranked Worst To Best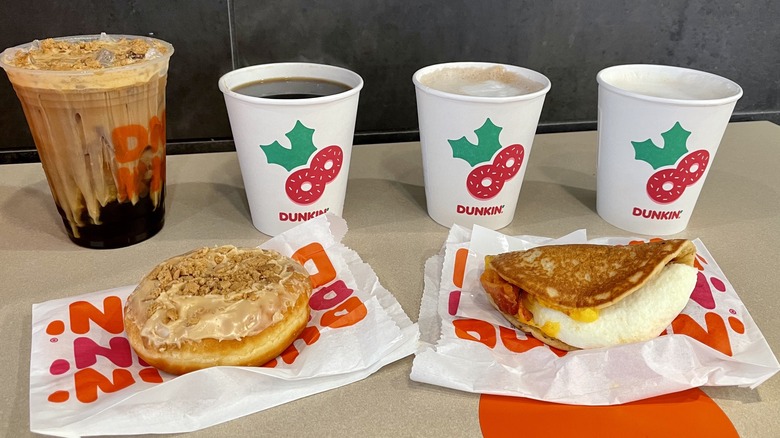 Helena Nichols/Mashed
The year is ending, and the holidays are coming up. That means shopping, cooking, parties to attend, and people to see. It is the most wonderful time of the year but also the most exhausting. To help you get through these festive and fatiguing times, Dunkin' has released its 2022 holiday menu. The new line premiered on November 2 and will be available through the holiday season. Dunkin' has not yet announced a specific end date for this menu. On the list of items, we see the return of old favorites like the Cranberry Orange Muffin and new items featuring cookie butter.
The holiday bag of treats from Dunkin' is somewhat mixed, with some items not quite "sleighing" the theme as much as they could. So that you do not have to add one more thing to your already crowded holiday to-do list, we have tried all the 2022 holiday menu items and ranked them from worst to best. Read on to find out which treats are on the naughty list and which are on the nice.
7. Peppermint Mocha Signature Latte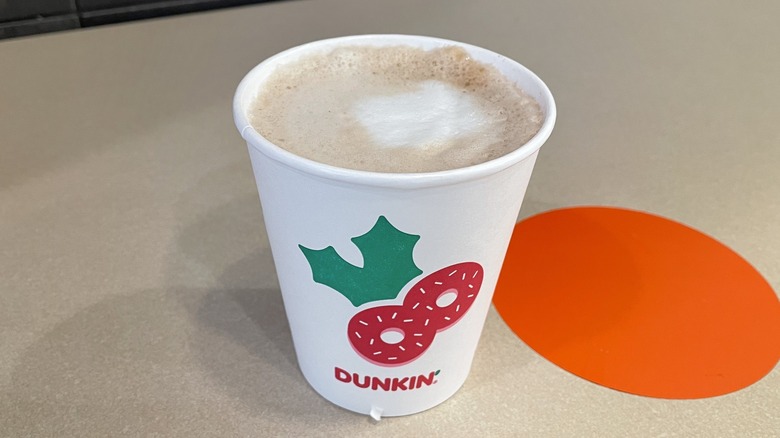 Helena Nichols/Mashed
The Peppermint Mocha Signature Latte from Dunkin' should be a lovely holiday find. Mint and chocolate are quintessential holiday flavors, thanks partly to the prominent Starbucks variety, and a small one here costs just $3.29. While they say imitation is the sincerest form of flattery, we are not going to mince our words. The Dunkin' Peppermint Mocha is not good. According to Dunkin', the peppermint mocha is a coffee base mixed with mocha sauce and peppermint syrup, topped with mocha sauce and a sprinkling of cocoa powder. As good as that sounds, the only flavor that comes through is peppermint. This latte tastes like someone took a cup of coffee and dissolved some Altoids in it.
It is particularly disappointing when you consider other peppermint mocha lattes, such as the famous Starbucks one, which balances the chocolate and mint flavors so beautifully. Unfortunately, this latte does not. While it comes in both a hot and cold variety, this latte feels like a cheap knock-off of a better product.
6. Pancake Wake-Up Wrap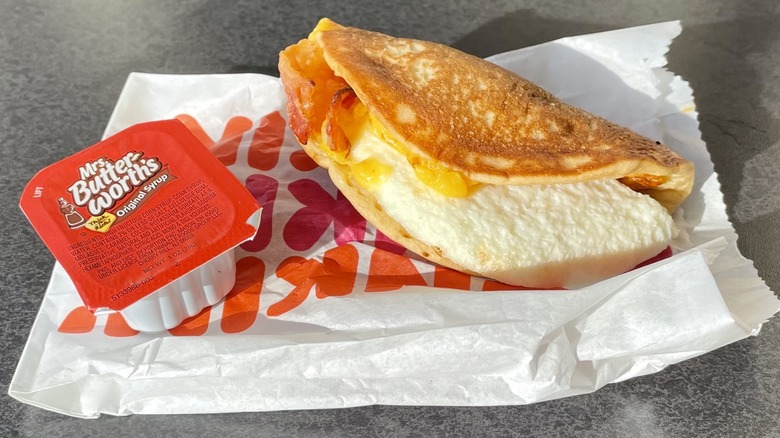 Helena Nichols/Mashed
Dunkin' was really stretching the holiday theme on this one. In the company's own words, this breakfast is "the best way to bundle up this season" (via Dunkin'). The Pancake Wake-Up Wrap certainly bundles breakfast together. If you have ever thought, "Gosh, this full pancake breakfast is good. I just wish I could eat it all in one bite," then you are in luck. For the rest of us, though, the Pancake Wake-up Wrap does not mesh. The wrap itself is a maple-sweetened pancake; inside, you will find eggs, cheese, and your choice of either sausage or bacon. (We ordered the version with bacon.) A package of Mrs. Butterworth's Original Syrup is served on the side. 
The big issue with this breakfast is the taste. The sweetness of the pancake, which would work with the bacon, does not work with the eggs. The savory eggs and cheese work with bacon but not with the maple pancake. There are so many flavors that your taste buds begin to lose track of things.
On top of that, there are some structural issues. The pancake is relatively soft, and it becomes slightly tacky if you attempt to eat it with your hands. This matter is only made worse if you use additional maple syrup. On top of that, nothing about this breakfast says "holidays" to us. While $2.69 seems reasonable for breakfast, we will not be returning for seconds.
5. Holiday Blend Coffee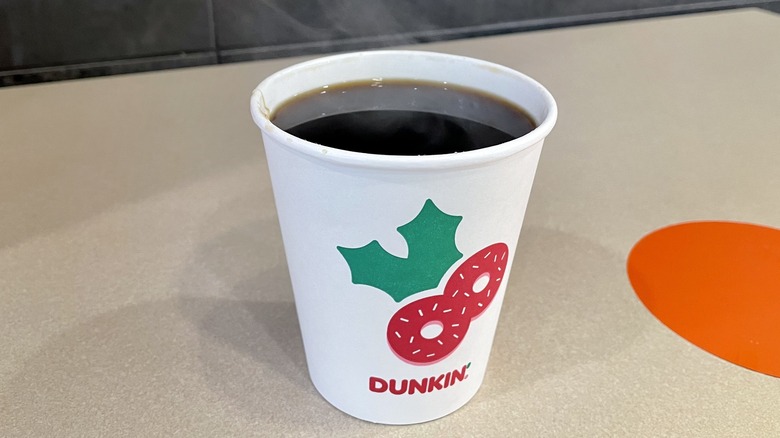 Helena Nichols/Mashed
Dunkin' first debuted its holiday blend coffee in 2021. Now it is back for year two. Dunkin' describes the coffee as being inspired by holiday desserts around the world. The company says it has notes of dried fruit and molasses and is made from a combination of Ethiopian and Colombian beans, which are medium-roasted. 
This is a straightforward holiday menu item, just a black cup of coffee at its base, and for those who do not want to go overboard for the holidays, it is a good option. We found it to be very acidic, which is not everyone's cup of coffee, and while we definitely got notes of dried fruit, we did not get much molasses. This is a menu item for those who enjoy the natural flavors of coffee and want it unaltered, although milk and sugar can be added on request.
If this sounds like the kind of coffee you enjoy, the holiday blend can be purchased in stores where a small is just $1.99, or bags can be purchased for home consumption from now through January.
4. Toasted White Chocolate Signature Latte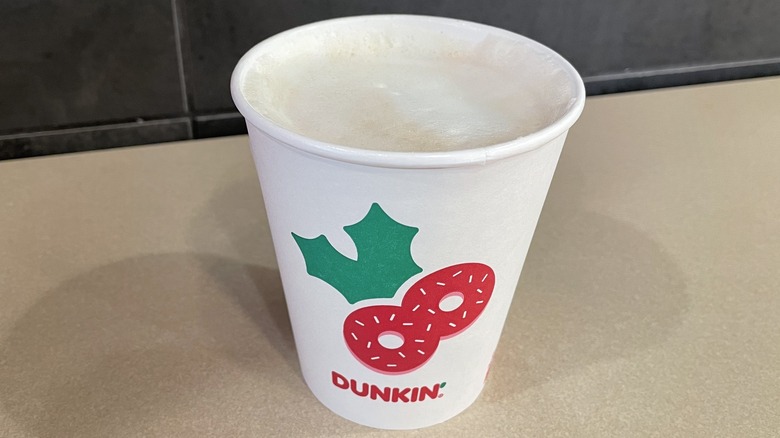 Helena Nichols/Mashed
Dunkin's Toasted White Chocolate Signature Latte is creamy heaven. One sip of this, and the drinker is instantly transported to snowy days and warm sweaters. The latte starts with a coffee base, then milk and white chocolate sauce are added, and the whole thing is topped with whipped cream. The white chocolate sauce gives the latte a velvety feel — both sweet and smooth. The round roasted notes of the coffee come through to give this drink a hint of toasted flavor, balancing out some of the sweetness and delivering an almost caramelized tone. 
If you want to deck the halls or breakfast with some white chocolate goodness, a small latte costs $3.29 at Dunkin'. But that is not all. This drink comes iced, hot, or as hot chocolate. And let us tell you, this makes a decadent hot chocolate, perfect for anyone to "toast" the holidays with.
3. Cookie Butter Donut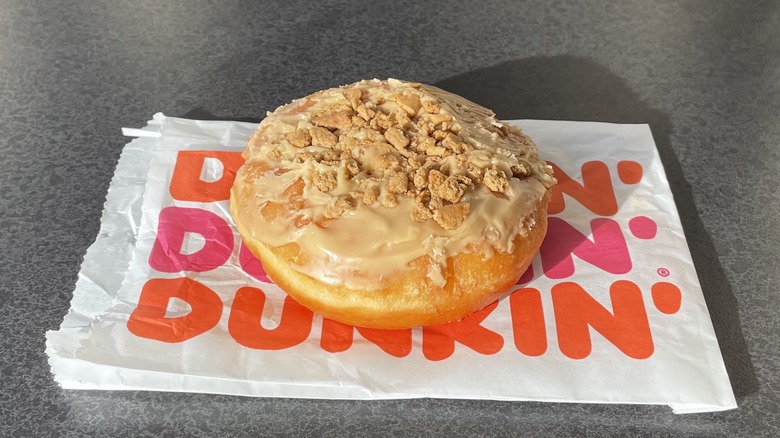 Helena Nichols/Mashed
While this year's Dunkin' holiday menu saw the return of many seasonal favorites, Dunkin' also rolled out a new treat this year in the form of the Cookie Butter Donut. Cookie butter is truly an unsung flavor hero, and we are so excited to see Dunkin' taking advantage of this fantastic option this holiday season.
This yeast donut is filled with a cookie butter buttercreme, covered in maple frosting, and then sprinkled with little bits of crushed cookie. The cookie butter gives the filling a molasses flavor with just a hint of spices. This buttercreme is ultra-rich and provides a silky smooth texture that pairs beautifully with the crushed pieces of cookie, which add texture to the whole thing. Our only complaint is that the maple frosting, while delicious, does tend to overpower the more subtle flavor of the cookie butter, and there was no need for that. Cookie butter is delicious on its own. Sending in another flavor overcomplicates the matter.
Still, it is a delicious donut that can be purchased for $1.29 from Dunkin' or for less as a part of a larger donut order. As they say, the more, the merrier.
2. Cranberry Orange Muffin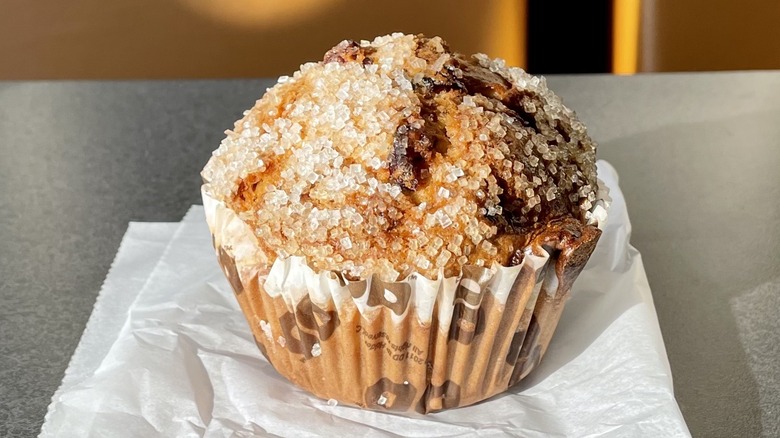 Helena Nichols/Mashed
There is a reason this holiday classic has been brought back this year. Once again, Dunkin' is taking advantage — and very successfully, we might add — of a classic holiday flavor pairing. The Cranberry Orange Muffin beautifully combines its orange-flavored base with pops of bright, dried cranberries. The cranberries are well distributed, so the consumer gets both flavors throughout the muffin. In addition, the muffins are topped with sanding sugar, which adds a pleasant crunch.
While you might get the image of a holiday fruit cake, frankly, this muffin tastes much better. It is light and fluffy, not dry like some other muffins. In addition, these muffins are generously sized, meaning they can be split as a treat between two people or heartily enjoyed by someone during a holiday shopping break. Finally, a single muffin is just $2.29, and you get a little holiday cheer in every bite.
1. Cookie Butter Cold Brew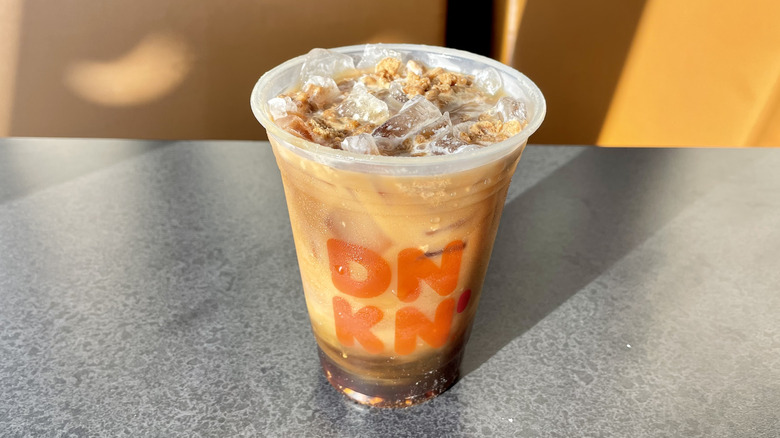 Helena Nichols/Mashed
Finally, we have the star of the Dunkin' holiday menu, gleaming bright and guiding you through your busy day. Yes, it is a cold drink, but that just makes it all the more filled with holiday magic. One sip of the Cookie Butter Cold Brew, and it will make any Grinch's heart grow three sizes. The base of this Dunkin' drink is cold brew, which offers notes of cookie butter; it is then topped with a cookie-butter cold foam, which is then topped with cookie crumbles. But, honestly, it is the foam and crumbles that steal the show. The foam adds a perfect infusion of cookie-butter flavor and sweetness, and the crumbles add just enough texture to keep it interesting but not too much to disrupt the consistency of the drink. This drink delivers a superb mix of holiday cookie flavors with a caffeine kick. Drinking one is like being hooked up to an IV of holiday cheer.
What truly makes this drink shine is that while there are sweet cookie elements, the robust flavor of the cold brew never gets lost. It is mellowed but not washed away, which sometimes happens with lattes. This is the most expensive of the holiday items at $3.79, but it is worth every penny.