The Holiday Menu For Dunkin' Is Here And It's Seriously Festive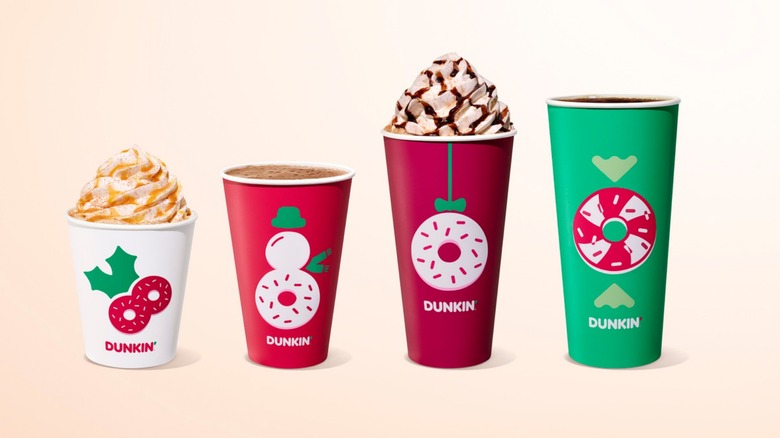 Dunkin'
In order to keep things interesting 365 days per year, Dunkin' switches up its menu each season. In the fall, it unsurprisingly released a slew of pumpkin products including a pumpkin spice signature latte (that in our survey, gave Starbucks a run for its money) and a pumpkin cream cold brew as well as seasonal maple bacon baked goods. Over the summer, the coffee shop served up iced beverages such as the mango pineapple refresher, the cake batter signature latte, and the sunrise batch iced coffee. These drinks were accompanied with cornbread donuts and a tomato pesto grilled cheese.
With the festive winter season fast approaching, Dunkin' unveiled its latest offerings in a press release. Not only is the coffee chain promoting several new menu items, it's also bringing back Free Coffee Mondays from November 7 to November 28. Coffees included in the promotion include the original blend, Dunkin' midnight, decaf, and a special offering that can only be found on the new menu. However, before you get too excited about what's different, it's a good idea to take a look at which favorites will be making a comeback.
These fan favorites are making a return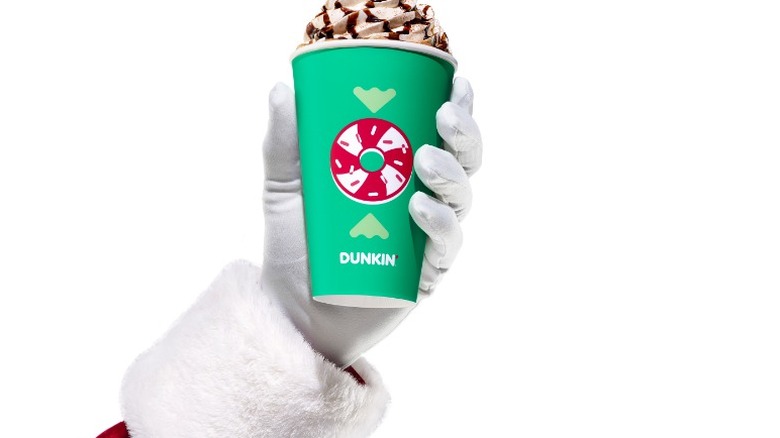 Dunkin'
According to a press release from November 2, several beloved menu items are returning to Dunkin' this week. One is the peppermint mocha signature latte, a hot or cold beverage topped with mocha drizzle, hot chocolate powder, and whipped cream. Another returning drink is the toasted white chocolate signature latte, which includes a caramel drizzle and cinnamon sugar. The beverage featured in the aforementioned Free Coffee Monday promotion, the holiday blend coffee incorporates flavors such as molasses and dried fruit. Finally, the sugar-topped cranberry orange muffin is also back for a limited time.
These special items seem to be returning for a good reason, especially the white chocolate signature latte. On a Reddit thread from last year, fans of the beverage were applauding it after someone asked how it was. Comments included "It is f*****g delicious," and "This year is my first year trying it and I'm ADDICTED." "I CANT BELIEVE ITS GONE ALREADY IM SO SAD," another person wrote nearly a year ago, and they may be pleased to know that's no longer the case.
The new items have Twitter pumped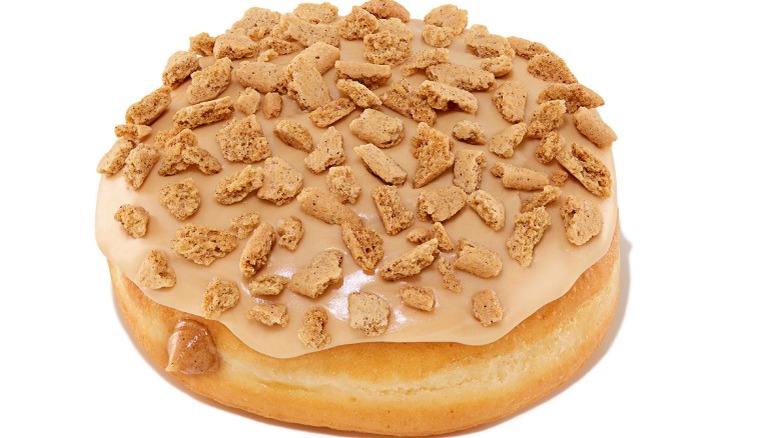 Dunkin'
Everybody loves when their favorite items make a return, but the holidays just wouldn't be complete without a few new offerings. Dunkin' announced on November 2 that one new beverage and two new treats are on their way. First is the cookie butter cold brew. This new offering will include baked cookie flavors and sweet brown sugar decorated with cookie butter cold foam and cookie butter crumbles. To accompany it, the menu will include a cookie butter donut filled with cookie butter cream, maple icing, and crushed cookies. The final treat is a Pancake Wake-Up Wrap — a pancake rolled up and stuffed with egg, melted cheese, and your choice of sausage, bacon, or no meat. It will feature a "maple flavor" and come with a side of maple syrup.
This release seems to have hit the nail on the head for loyal fans, many of them taking to Twitter to express their enthusiasm. "Dunkin holiday menu is insane omfg," read one tweet, with another calling it the "best day of the year." Even more impressive? One Twitter user thinks the menu even helped with their mental health. "When ur seasonally depressed but Dunkin's holiday menu just dropped," they wrote.