The Best Portable Gas Grills In 2022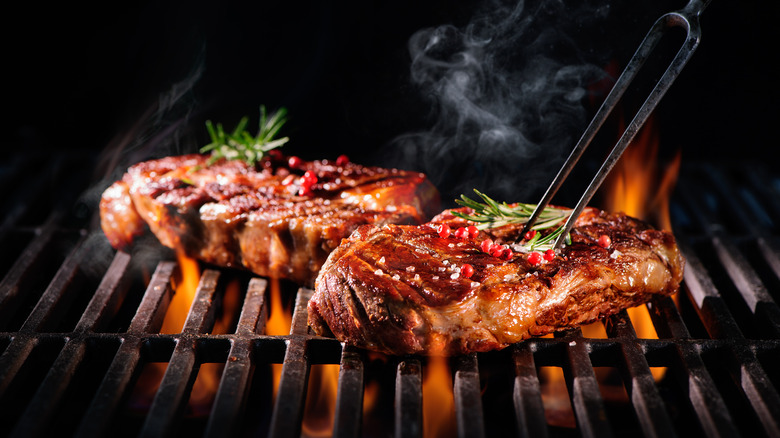 Alexander Raths/Shutterstock
We may receive a commission on purchases made from links.
There's something special about grilling outdoors. Feeling the warmth of the sun on your skin, breathing the fresh, crisp air, hearing birdsong mix with the alluring sizzle of fire-kissed food — there's a lot to love about cooking outside with Mother Nature, and there's no better way to experience its joys than with a portable gas grill.
That said, there can be a lot of variations in quality from model to model, depending on the design features. Some models might be a little heavy to carry, while others can take too long to set up and break down. If you're going to invest in a portable grill, it makes sense to go for a model that you can trust. But with so many grills to choose from, how should you know which ones are worthwhile? Luckily for you, we've taken the time to track down some of the very best models on the market.
How we selected products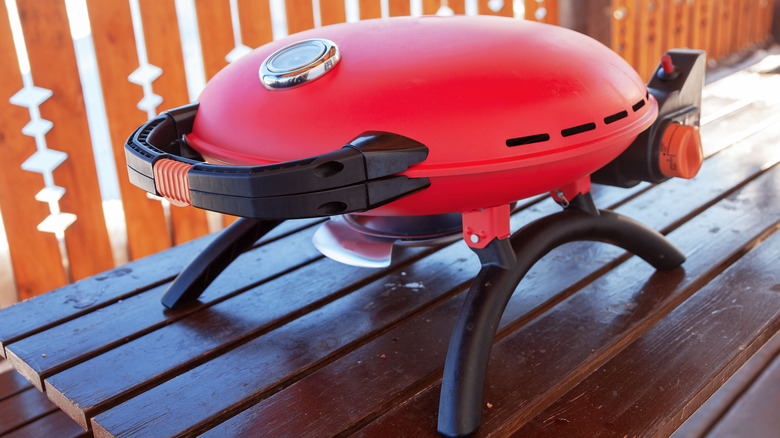 Alexander_IV/Shutterstock
In order to provide you with the best portable gas grills on the market, we took several factors into consideration during the selection process. Because user feedback offers so many valuable, honest insights into product performance, we combed through customer reviews with verified purchases to get a true sense of each model's quality. Taking careful note of each grill's reported advantages and setbacks, we whittled our selection down to include only the most highly rated portable grills.
To gain a more comprehensive perspective of each product, we also reviewed press coverage. Variety was another top priority. Even though all of these gas grills are portable, we made sure to provide a wide range of different options to suit an assortment of needs. Whether you're looking for a portable model with dual cooking zones or just one of the best grills to take camping, we've got you covered. Here are the best portable gas grills of 2022.
The best overall portable gas grill
If you're looking for a portable gas grill that checks all of the boxes, then this model from Blackstone might be just what you need. This grill comes equipped with a non-stick griddle, which we find to be highly efficient and ideal for a wide range of different dishes. Having a perfectly flat, hot surface to cook on often comes in handy and opens the door to everything from pancakes to cheesesteaks.
This particular model has enough cooking space for up to 12 burgers — plenty of room to feed a small crowd, making this grill a great choice to bust out for parties and get-togethers. At nearly 40 pounds, it's not necessarily the lightest portable grill around, but its solid construction makes it a durable grill that's built to last and ready for heavy-duty usage. With over 330 square inches of cooking space and a couple of burners to create two cooking zones, it's no wonder this portable grill has a 4.8 out of 5-star rating after nearly 6,000 reviews.
You can buy this portable Blackstone griddle grill on Amazon for $204.01 as of November 2022.
The best budget portable gas grill
While it's true that new grills tend to be kind of pricey, you might be pleasantly surprised at how inexpensive some models are. This portable gas grill from Char-Broil clocks in at only about 45 bucks — an absolute steal for a brand new piece of high-quality equipment.
While it's lightweight and only 24 inches long, don't mistake this grill's sleekness for weakness — it still has enough space to cook up to eight burgers at a time. Here's another sweet bonus: the foldable legs on this grill can swivel upward to double as clasps that help secure the grill shut when it's not in use. This model also comes with an 11,000 BTU [British thermal unit) burner designed for propane cylinders that are 14.1 ounces or 16.4 ounces. Between its rust-resistant, porcelain-coated grates, easy-to-use design, and affordable price tag, this is definitely one deal that you don't want to miss out on. You're just a few clicks away from one of the best bargains out there.
Purchase the Char-Broil portable gas grill on Amazon for $45.94 as of November 2022.
The best compact portable gas grill
When space is tight, every inch counts. If you're looking for a compact portable grill that you can depend on, then the Cuisinart Grillster should be right up your alley. At about 20 inches long and weighing only 10 pounds, this portable gas grill still has 146 square inches of cooking space — enough room to easily cook food for up to two people at a time.
Made with durable stainless steel, this grill features a hinged lid and an innovative three-wall layout that efficiently contains heat. It also earned high marks at Best Views Reviews for its porcelain-enameled grill grate and foldable legs. The cooking grate is dishwasher safe, the grill itself can reach up to 600 degrees Fahrenheit, and it folds up like a briefcase for easy portability. Sleek, convenient, easy to assemble, and the perfect size when you're only cooking for a couple of people, this compact gas grill from Cuisinart clearly proves that big things can come in small packages. The bottom line: If you have limited space but need to tap into your inner grill master, this compact portable gas grill from Cuisinart is one of your best bets.
You can buy the Cuisinart portable grillster on Amazon for $122.43 as of November 2022.
The best portable gas grill for camping
Spending time with Mother Nature is always a good investment. In fact, according to the American Psychological Association, exposure to nature can lead to less stress, improved attention, and mood boosts. And there's no better way to immerse yourself in nature than to go camping in the great outdoors, where you can grill up some tasty grub. There's only one potential problem: the grill situation at the campsite.
While many campsites have a fire ring or a public grill available, they're often grimy, rusted over from the weather, and severely neglected from not being properly cleaned on a regular basis — not exactly an ideal vessel for cooking. That's where having a high-quality portable grill comes in.
This portable gas grill from Cuisinart features wide feet to help stabilize the grill on different terrains, making it a great choice for camping. It also hooks up to a little 16-ounce propane cylinder, which means you won't have to lug around a big 20-pound tank. The adjustable legs on this model are also worth mentioning, since they can fold down or telescope out, offering different elevations to suit the unique needs of various environments. It has a porcelain-enameled cooking grate that can fit up to eight burgers at a time, and it also got a glowing review from Just Portable Grills for its clever design and sturdy construction.
Purchase the Cuisinart petit gourmet portable gas grill on Amazon for $156.86 as of November 2022.
The best portable gas grill for tailgating
There's no doubt that a big part of the fun in tailgating is grilling before the game with friends and family. But what kind of grill is best in a situation like tailgating? Because tailgating often takes place around other cars in a parking lot, we'd definitely recommend avoiding charcoal and sticking with gas just for the sake of safety. We'd also like to propose getting yourself a griddle instead of a traditional grated grill, since griddles are so convenient and versatile. Enter: the Royal Gourmet portable three-burner tabletop griddle.
Patty melts, cheesesteaks, seared ahi tuna — having a perfectly flat, hot surface to grill on opens the door to all kinds of easy-to-cook mouth-watering treats. This model comes with 312 square inches of cooking space, and the griddle is detachable, which makes clean-up a breeze. Having three separate burners is also beneficial for tailgating because you can have different cooking zones at various temperatures. This model even earned a top rating from Best Products Reviews for its temperature control and simple assembly. All things considered, this portable griddle is durable, well-designed, and spacious enough for a small crowd — perfect for tagging along on your tailgating adventures. Just make sure you have a stable surface to prop it up on, since it's designed for a table top.
You can buy the Royal Gourmet portable gas griddle on Amazon for $95 as of November 2022.
The best portable gas grill with wheels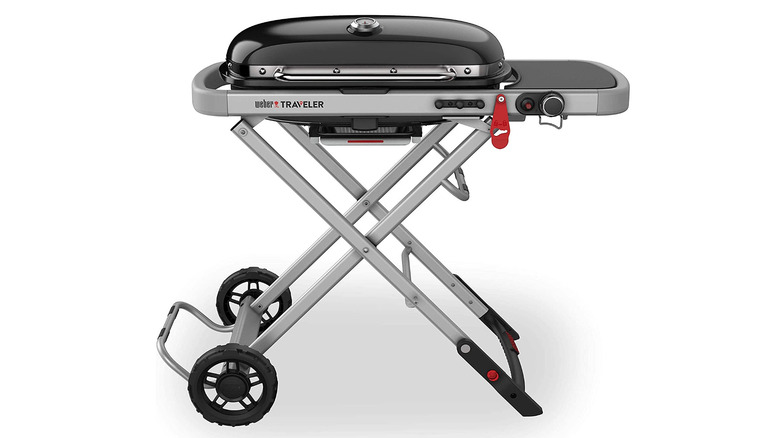 Weber
A good set of wheels are essential for easy mobility. While some portable grills are lightweight enough to carry by hand, more heavy-duty models need to be rolled to their destination. That said, not all wheels are created equal. Cheaper, smaller wheels tend to get easily stuck or might even break apart in transit, leaving you to awkwardly lug that big ol' grill around until it can be fixed or replaced. Here's a much better idea: Invest in a portable grill with wheels you can depend on.
This Weber traveler grill has two large, durable wheels designed with ridges along the edges to help with grip and traction. When you're done grilling and ready to pack up, this model folds down flat and can be carried like a suitcase, aided by its two sizable wheels. Designed to fit in the trunk of a car once folded up, this grill still packs a punch spacewise, with enough room to cook up to 15 burgers at a time. Smoked BBQ Source also praised this grill for its spaciousness and high-quality cast-iron cooking grates. Another bonus: This portable grill comes equipped with a mini side-table to provide a surface for plates or minor prep.
You can buy the Weber traveler portable gas grill on Amazon for $373.82 as of November 2022.
The best large portable gas grill with griddle
If you're looking for a portable grill that can easily cook for a crowd, then we have a great match lined up for you. This large, four-burner, gas-powered griddle features nearly 600 square inches of cooking space, which translates into enough room to cook for 10 or more people at a time. With a flat-top griddle this large, whipping up big batches of smash burgers or quesadillas is a breeze.
The grill is equipped with four foldable legs, is made with durable steel, and has protective burner covers to help shield the heating elements from the wind. The handles on this model are coated with foam to maximize the comfort of your grip. Since it doesn't have any wheels, this large portable grill is ideal for situations where it doesn't need to be carted around long distances. Featuring four independently controlled burners, this spacious gas griddle also makes it easy to create various cooking zones with different temperatures. At the end of the day, this griddle is well-built and easy to set up, and it has an impressive amount of space, which makes it great when cooking for a small crowd. If you need a big, portable gas griddle, this is the one to jump on.
Purchase the Country Smokers large portable gas griddle on Amazon for $149.78 as of November 2022.
The best two-zone portable gas grill
Having two separate cooking zones on any grill has its advantages. Being able to cook at different temperatures on the same grill allows you to take on various projects at once, like searing meat on one side while keeping finished food nice and warm on the other. This grill from Pupzo takes it a step further, beyond the mere temperature dials, by having a cast-iron griddle on one side and a burner with grates for pots and pans on the other.
This grill features 170 square inches of non-stick cooking space on the griddle, and it can fit a 12-inch pot or pan on the burner. A versatile setup like this offers more flexibility, opening the door to all kinds of exciting possibilities. Imagine being able to whip up burgers on the griddle while you simmer a fresh pot of chili on the burner to make a batch of scrumptious chili cheeseburgers. That's a seriously killer meal for a portable grill — and this model can totally pull it off. With a collapsible design to maximize mobility and wind-blocking panels along the sides to guard your food against the elements, this durable grill clearly has a lot to offer. But don't just take our word for it: Very Best Reviews also praised this particular model for its overall quality and the delicious results it can produce.
Purchase the Pupzo two-zone portable grill on Amazon for $130.99 as of November 2022.
The best portable gas grill for solo cooking
When you're cooking for one, it's always a good idea to keep the cleanup to a minimum. This portable gas grill from Coleman is a great choice for those of you who aren't cooking for a crowd every day for several reasons — one of them being that the griddle and grease tray are easily removable and dishwasher safe. Gadget Review also gave this grill a positive review, praising its lightweight design and impressive value.
At only 17 inches long and clocking in at about 8 pounds, this is easily one of the most modestly sized grills we've ever encountered — which is great news, since that means it's easy to move and sleek enough for discreet storage. The burner on this model is shaped like a horseshoe to assist with even heat distribution. The good news doesn't stop there, though: a 16-ounce cylinder of propane can last on this grill for over three hours on its highest heat settings — plenty of time to get several meals out of a single gas cylinder. Practical, simple to use, and conveniently designed, this portable gas grill is an ideal match for single portions and less involved meals.
You can buy the Coleman portable gas grill on Amazon for $95.94 as of November 2022.
The best stainless steel portable gas grill
There are plenty of reasons why stainless steel is such a popular choice for cookware. For starters, it is highly durable. When properly taken care of, stainless-steel tools can even become heirlooms that are passed down (via All Cookware Find). Stainless steel is also relatively low-maintenance and rust-resistant and has a professional gleam that's undeniably eye-catching. This stainless-steel portable grill from Cuisinart has a lot of features that make it worth your while — one of them being its convenient design and ease in carrying.
This portable grill comes with a heavy-duty locking lid. When shut and positioned to carry, the handle on the lid functions as a travel grip. Weighing only 18 pounds, this grill also has a wide grip that makes it easy to move from one place to another. It features a twist-start ignition, built-in thermometer, and 184 square inches of cooking space. Healthy Kitchen 101 also gave this model a great review, highlighting its sturdy construction and calling it the "perfect companion" for grilling on the go. Fans of this grill are happy to point out not only how fast it heats up, but also how quickly it cools down, with one customer reporting the grate cool enough to pick up after being off for only about 20 minutes. All in all, this modest but mighty portable grill is one of the best deals out there.
Purchase the Cuisinart portable grill on Amazon for $118.33 as of November 2022.
The best versatile portable gas grill
A lot of the grills on this list have versatility, but this model from Blackstone kicks it up a notch. This grill comes equipped with two sides — a grill and a flat-top griddle — but what sets this model apart from the pack is the fact that the grill side has a separate lid that fully closes. This makes it much easier to cook thick cuts of meat like steak or chicken, while also making it effortless to heat cheese for dishes like burgers, melts, and cheesesteaks.
With two separate burners for each side, this grill also comes with a custom-designed carry bag made with heavy-duty polyester and reinforced corners for extra support. Gadget Review also gave this grill a high rating, applauding its high-heat intensity and ease of use. With enough space to cook up for up to six people at a time, this grill is also a good size that can cater to a small group.
You can buy the Blackstone portable gas grill and carrying case on Amazon for $339.89 as of November 2022.