Seared Ahi Tuna Recipe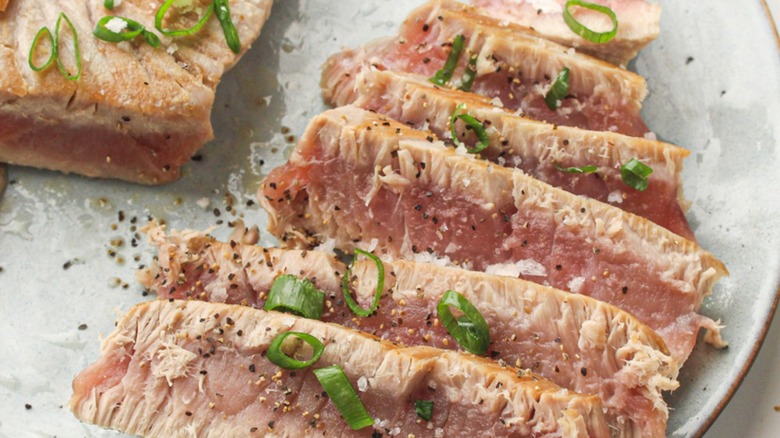 Susan Olayinka/Mashed
Recipe developer Susan Olayinka tells us ahi tuna "is known for its bright red color, which makes it a super attractive option for things like sushi and sashimi." But that's not what you're getting here. Ahi also has a firm texture and delicious, sweet flavor that make it just as tasty when cooked. Olayinka compares it to yellowfin, another type of tuna more common in the U.K. (where she lives). In fact, the recipe laid out here can be used on either.
The reason why pan-frying works so great with ahi (or yellowfin) is because while it develops a nice crust, the fish stays rare in the center. It also makes for a super simple preparation that is just as exciting for a special occasion as it is convenient for a weeknight meal. 
Olayinka also chooses an unusual cooking medium that adds some flavor of its own to this dish; rather than going with a neutral-flavored cooking oil, she uses sesame oil. Just be sure to grab an untoasted or raw variety — more on that shortly.
Gather your ingredients for seared ahi tuna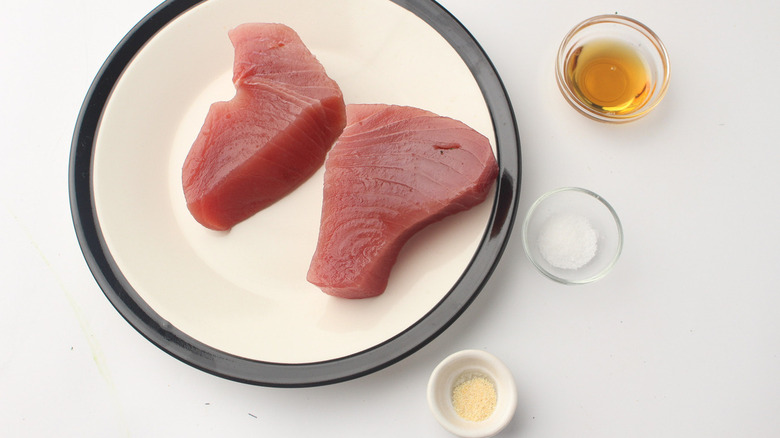 Susan Olayinka/Mashed
In terms of ingredients, this recipe couldn't be simpler. Olayinka cooks about ¼ pound of tuna per person. For seasonings, she keeps it minimal with garlic powder and salt. As previously mentioned, she uses untoasted sesame oil to sear the fish.
Heat up the oil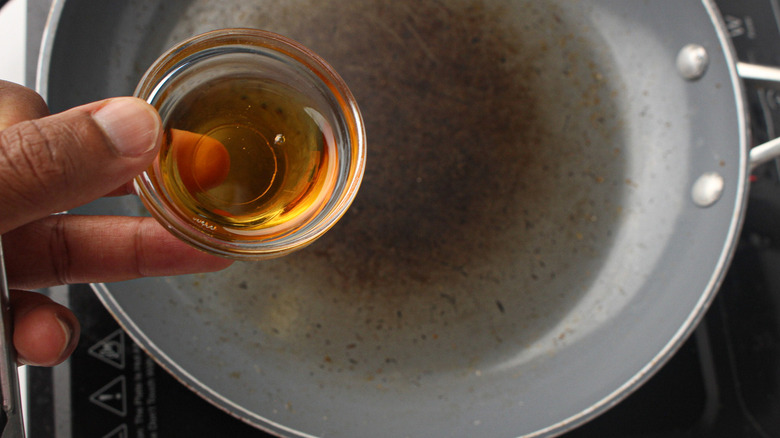 Susan Olayinka/Mashed
Heat a pan over medium-high. Once it's hot, add the oil and swirl it to coat the pan.
While toasted sesame oil, with its low smoke point and strong aroma, is more typically suited for sauces, marinades, and finishing touches, Olayinka loves cooking with a lighter, untoasted variety since, as she explains, "it adds an earthy, nutty flavor."
Season the ahi steaks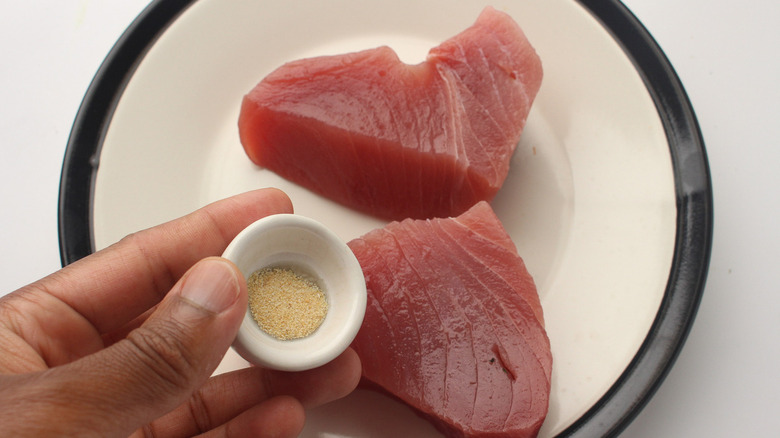 Susan Olayinka/Mashed
Mix together the salt and garlic powder and rub the spices over both sides of the tuna steaks. While Olayinka is keeping things simple here, feel free to add additional spices. "Smoked paprika [or] onion powder would work great, too," she suggests.
Quickly sear the ahi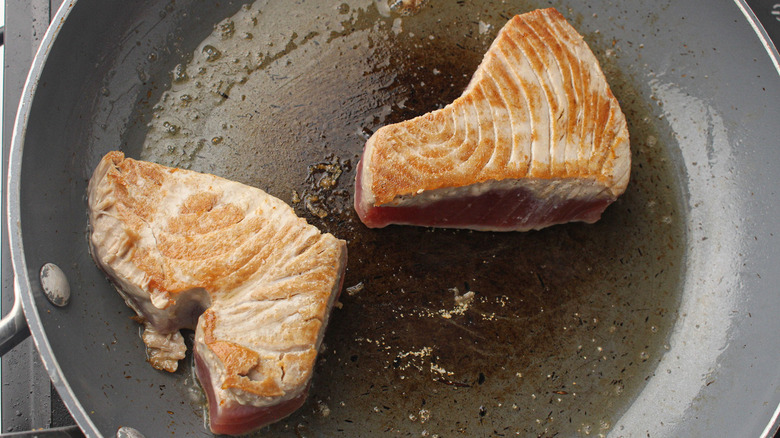 Susan Olayinka/Mashed
Add the seasoned tuna to the hot pan and sear it for about 1 minute on each side. That's it; you're done! Yes, it seems like a really short cooking time for anything, let alone fish. Keep in mind, though, that ahi tuna is often eaten raw, not only in sushi but also in poke and tuna tartare. It's a type of fish that's actually at its best with minimal cooking.
Olayinka suggests serving the ahi with a side of steamed rice. A simple salad of lettuce and sliced carrots, perhaps with a sesame-ginger dressing, would also make for a nice accompaniment.
Seared Ahi Tuna Recipe
A high-quality piece of fish doesn't require a lot of razzle dazzle to make it a stunning entrée. Take this ahi recipe, which comes together in 4 minutes.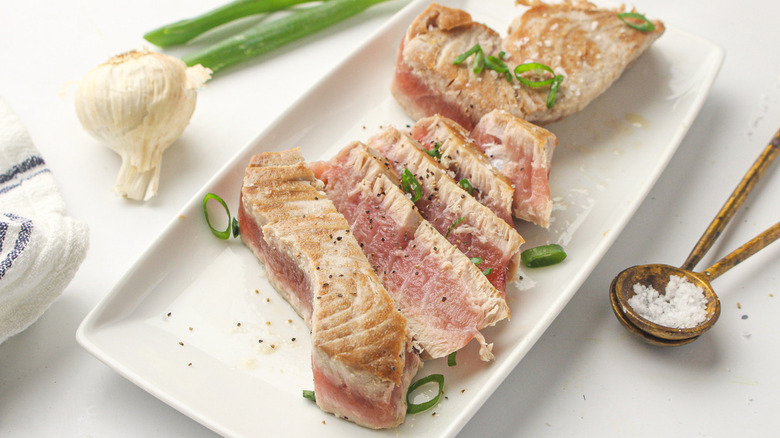 Ingredients
2 ahi or yellowfin tuna steaks, about ¼ pound each
½ teaspoon salt
¼ teaspoon garlic powder
2 tablespoons untoasted sesame oil
Directions
Heat a pan on the stove over medium-high.
Once the pan is hot, add the sesame oil and swirl it to coat the bottom.
Season the tuna on both sides with salt and garlic powder.
Place the tuna steaks in the hot pan and sear for about 1 minute per side. Remove from the pan and serve immediately.
Nutrition
| | |
| --- | --- |
| Calories per Serving | 245 |
| Total Fat | 14.2 g |
| Saturated Fat | 2.1 g |
| Trans Fat | 0.0 g |
| Cholesterol | 44.2 mg |
| | |
| --- | --- |
| Total Carbohydrates | 0.3 g |
| Dietary Fiber | 0.0 g |
| Total Sugars | 0.0 g |
| Sodium | 296.2 mg |
| Protein | 27.7 g |