Add These Adorable Pecan Cookie-Pies To Your Thanksgiving Dessert Menu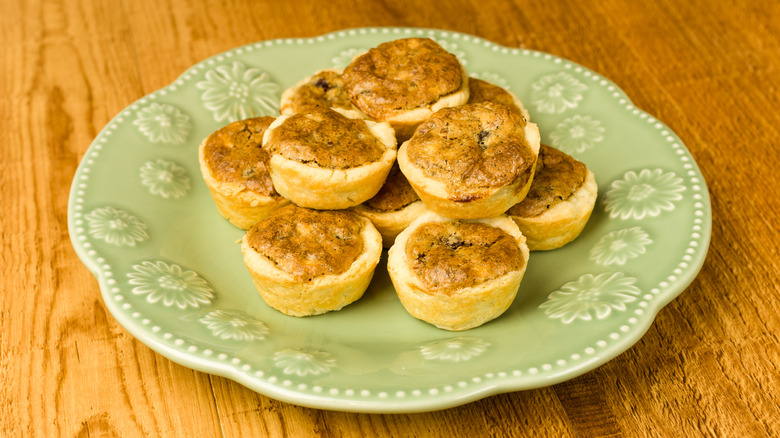 Zigzag Mountain Art/Shutterstock
When there are only a few days left until Thanksgiving, home cooks get all jittery and excited, and who could blame them? There's probably too much food to prepare and serve for the holiday, and it can be challenging to find the time to do a complete and classic Thanksgiving menu of roast turkey, delectable gravy, delicious stuffing, sweet and tart cranberry sauce, vegetables, mashed potatoes, and an array of tasty desserts. 
Yes, everyone loves a few slices of roast turkey and those savory accompaniments, but traditional Thanksgiving desserts always bring a smile to everyone's face. And there are a lot of them, ranging from the classic apple, potato, or pumpkin pies to apple fritters, jelly rolls, and chocolate chip cookies (per Serious Eats). 
Real Simple reports that, unsurprisingly, pumpkin pie is the number one Thanksgiving dessert in the U.S. And maybe you don't want to make a pie this Thanksgiving because cookies are simpler to prepare. Luckily, there's one Thanksgiving dessert that's actually a cross between a cookie and a pie, and it might just suit your needs, so forget all about those complicated pies and maybe try making something new this year.
Pecan tassies are a cross between a pie and a cookie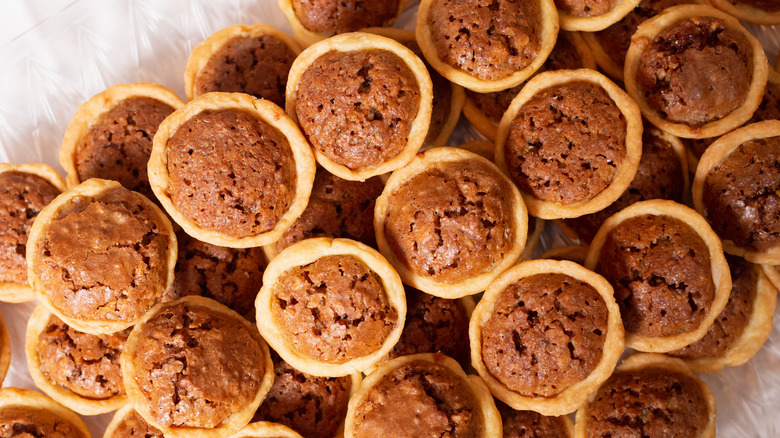 mary981/Shutterstock
Thanksgiving pies or Thanksgiving cookies? Why not both? Pecan tassies bring out the best of both worlds. MasterClass reveals that this Southern cross between a pie and a cookie is made up of small pie crust shells that have been enriched with cream cheese. In addition, the shells are filled with a sweet mixture of eggs, butter, brown sugar, and toasted pecans. Interestingly enough, these small, bite-sized treats are typically made in small muffin or cupcake tins for the best results. 
The Washington Post reports that pecan tassies taste the best on the day they are baked, but if you've got some leftover tassies, they can be kept at room temperature or chilled for up to two days. You can also freeze them, and they will keep up to a month in the freezer. 
Although this dessert originated in the Southern U.S., the word "tassie" is Scottish for "little glass" or "little cup," but the word is also derived from the French term "la tasse." 
If you're not into pecans, there are more tassie variations, so feel free to add cranberries, chocolate, lemon juice, maple syrup, or bourbon to your mini pies, and make this year's Thanksgiving especially sweet.