Sweet And Tart Cranberry Sauce Recipe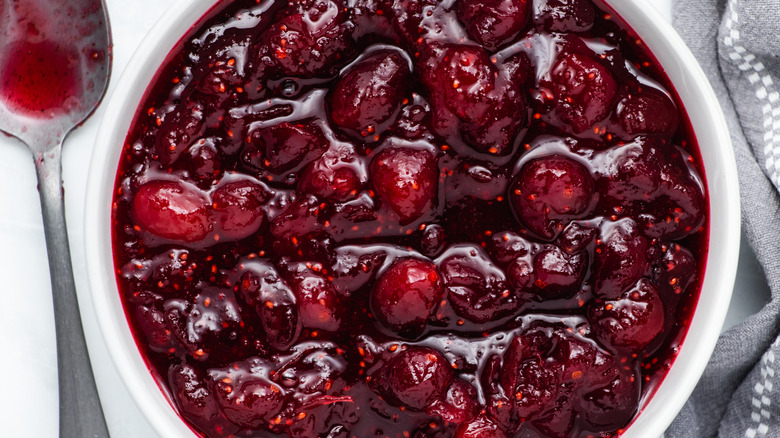 Catherine Brookes/Mashed
If you do a word association test with just about anyone who grew up in the U.S. and you say "cranberry sauce," you're probably going to get a lot of answers referencing Thanksgiving. Cranberry sauce, for as long as any of us can remember, has had one real starring role in the pantheon of holiday foods: playing sidekick to roast turkey. While fans of the stuff can easily obtain their cranberry sauce from a can, you may prefer to make it from scratch, as in this recipe that developer Catherine Brookes calls a "perfect balance of sweet and sour."
The most difficult part of making this cranberry sauce may be sourcing cranberries out of season, should you choose to be a culinary rebel and cook this dish at any time between January and September. If you're a true cranberry aficionado, your best bet may be to buy a few bags each November, then store them in an airtight bag or container in the freezer for use throughout the year. The frozen fruit section of the freezer aisle may also have cranberries in stock. In fact, Brookes uses frozen cranberries in this sauce, although she says you can also make it with fresh ones. She does warn, however, that you "may need to increase the liquid content a little" if so.
Gather the ingredients for this cranberry sauce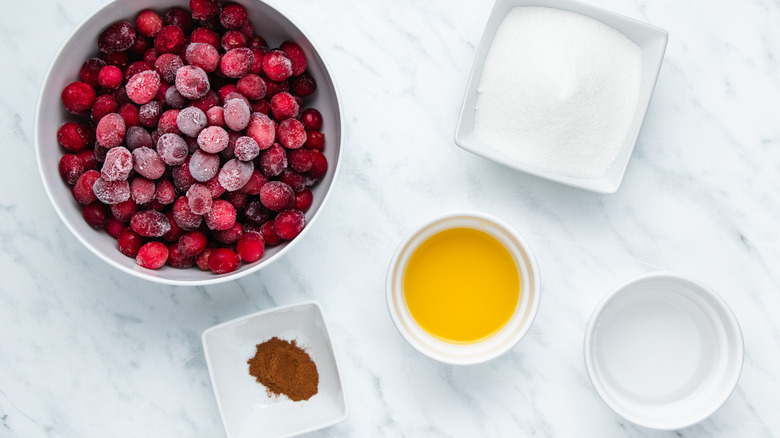 Catherine Brookes/Mashed
To make this cranberry sauce, you need cranberries, of course -– fresh or frozen. Not dried ones, though, as they won't reconstitute to the proper texture. You'll also need sugar, as cranberries on their own are really, really tart and a bit bitter. Brookes also likes to add some orange juice, explaining that it "adds sweetness to balance out the sharpness of the cranberry."
One other ingredient Brookes uses here that you may not be expecting in cranberry sauce is cinnamon. Brookes says she enjoys it in her cranberry sauce since she feels it "pairs really well with tart citrus flavors and adds a nice hint of sweet spiciness." After all, the aroma of warming spices like cinnamon immediately take us to a place of nostalgia and comfort.
Cook the cranberry sauce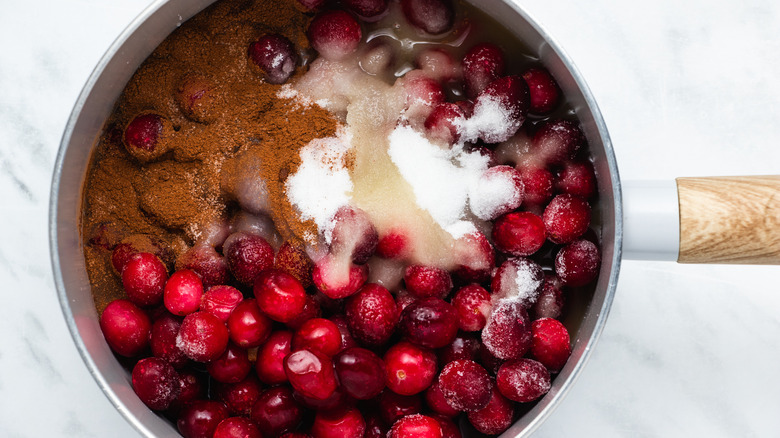 Catherine Brookes/Mashed
Mix all of the ingredients together in a saucepan, then heat the mixture to a boil over medium heat. As soon as it starts boiling, turn the heat down. Let the sauce simmer gently for 20 minutes or so, stirring it once every 5 minutes. Brookes explains that you can tell the cranberry sauce is done when "the cranberries are soft and the liquid is slightly thickened."
Cool the cranberry sauce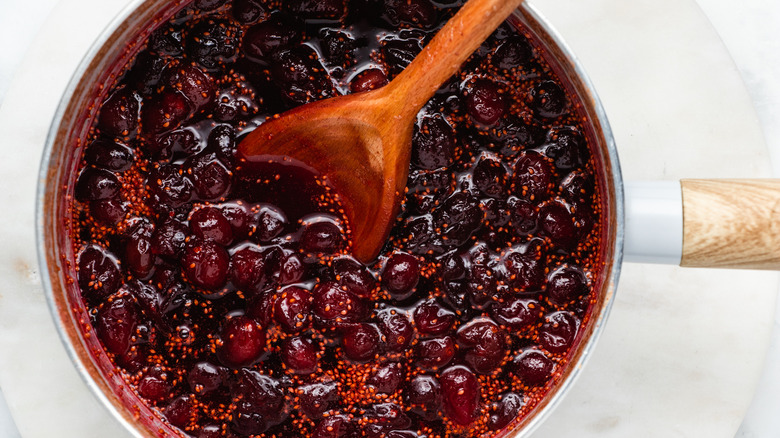 Catherine Brookes/Mashed
When the sauce is done cooking, turn the burner off, but let it sit in the pan and cool down for a bit before you do anything else with it. Brookes notes that while the sauce may still be thin at this point, "it will thicken much more as it cools." Once it's cool, you can transfer it to an airtight container and store it in the refrigerator until you're ready to eat it.
What to pair with your cranberry sauce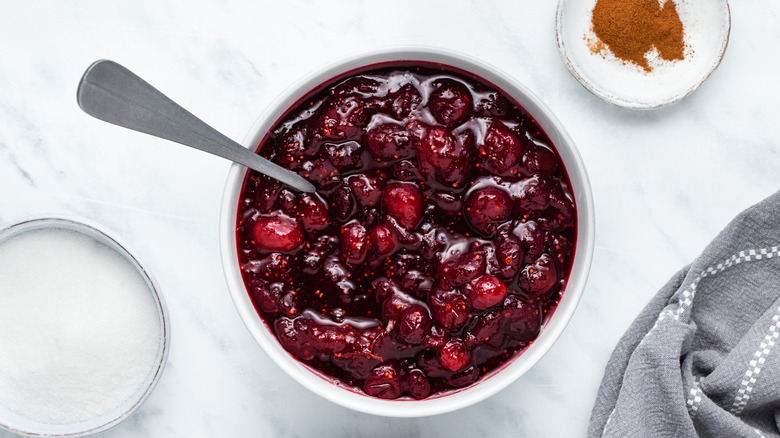 Catherine Brookes/Mashed
While cranberry sauce is usually seen alongside turkey, there's no reason you couldn't eat it with chicken or even pork. In fact, you might even like to serve it with Swedish-style meatballs, since cranberry sauce is somewhat similar to lingonberry jelly of Scandinavia (and IKEA) fame. Brookes has one other serving suggestion to add: this cranberry sauce would be "great spooned on top of cheese and crackers."
Sweet and Tart Cranberry Sauce Recipe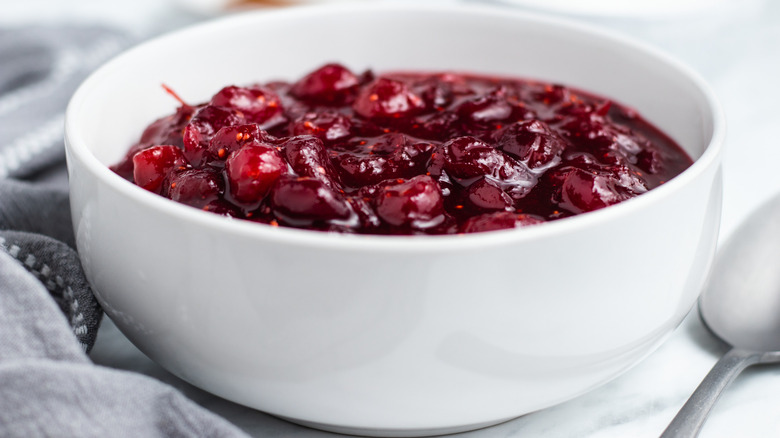 Catherine Brookes/Mashed
Prep Time:
Cook Time: 20m
Yield: 4 Cups
Ingredients
4 cups frozen cranberries
⅓ cup water
⅓ cup orange juice
1 cup sugar
½ teaspoon ground cinnamon
Directions
Combine all ingredients in a large saucepan.
Bring mixture to a boil over medium heat.
Turn the heat down and simmer the cranberries for 20 minutes, stirring every 5 minutes or so.
Allow the cranberry sauce to cool at room temperature, then store it in the refrigerator.