Do Yourself A Favor And Stop Cooking Salmon In An Air Fryer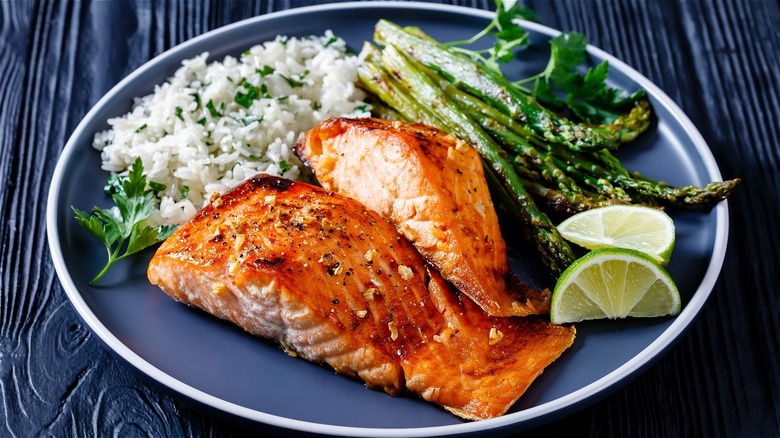 from my point of view/Shutterstock
A lot of consideration can go into picking out a nice piece of fish. When it comes to choosing the perfect catch to cook up for dinner, chef de cuisine at La Grand Boucherie, Hector Diaz, told Eat This, Not That! that the smell of the fish should be taken into account, explaining the chosen fish shouldn't "smell fishy," rather it should "smell like the ocean." When searching for a good piece of salmon, texture can also provide a clue to its freshness. Head chef at Clutch Restaurant in Atlanta, George Jewell, advises shoppers to "Try to avoid mushy salmon — that is a key indicator that it isn't fresh."
Spending a while at the grocery store or fish market perusing the options, making a purchase, commuting home, and bringing in groceries can take a toll on one's time. So finding a quick solution to cook a meticulously chosen piece of salmon may be enticing. Home cooks looking for convenience may even be tempted to use an air fryer to cook their salmon. We're here to tell you, there are probably some foods that you should never cook in an air fryer, and salmon happens to be one of them.
Cooking salmon in an air fryer requires close attention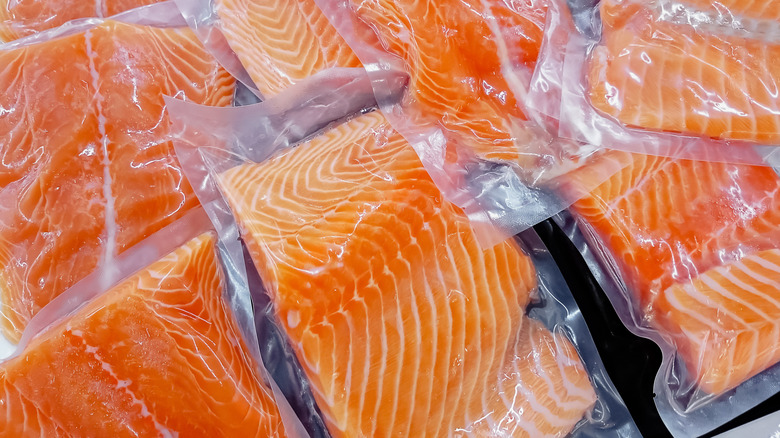 Vichailao/Getty Images
The threat of overcooking salmon is all too real. So much so, that according to Wild Alaskan Company, it can prevent some from trying their hands at cooking salmon altogether. The company offers a list of tips to prevent overcooking including the use of a timer, a fork, and your own eyes, cautioning "you can't go back in time once your fish is too well done." The watchful eye required to cook salmon brings us to how salmon landed on our list of some foods that you should never cook in an air fryer.
As Executive chef for air fryer maker NuWave, David Jarvis, explained to Mashed, "A lot of times, the idea of an air fryer is, you turn it on, press start, put in a time, and walk away." Preparing salmon, however, isn't a good fit for a "walk away" cooking experience since an air fryer can overcook salmon just like a pan can, according to Jarvis. If you're aiming for a nice home-cooked meal starring salmon, you may have to put some extra effort in. Of course, there are plenty of ways to cook salmon, including the use of an oven like in this spicy baked salmon recipe, or the use of a gas grill like in this grilled salmon recipe. Even the use of an air fryer is possible — just as long as you're not planning on catching up on Netflix until the timer goes off.