Levain Chocolate Chip Cookies Copycat Recipe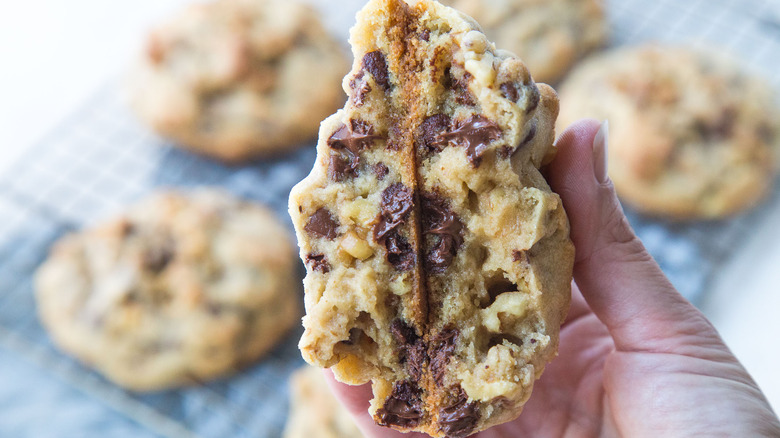 Kate Shungu/Mashed
The Levain Bakery is known for its trendy-yet-spendy oversized cookies. These can be purchased at any one of the chain's outlets and are also available at Whole Foods, through DoorDash, and of course on the company's website. The cookies sure don't come cheap though, as Levain charges almost $30 for only four of them, plus the cost of shipping and handling. 
If you want to save a few bucks without skimping on flavor, recreate Levain-style chocolate chip cookies at home with our copycat recipe. This recipe makes eight chunky cookies (that's $49 worth, according to Levain) that recipe developer Kate Shungu calls "seriously thick, gooey, and big." She loves how impressive these look and taste.
Although Levain does not share its baking secrets, Shungu has one of her own to impart. She explains that using cornstarch is what makes these cookies so doughy and thick. As she explains, "Cornstarch binds with the liquid in the eggs to prevent the cookies from spreading too much." She also says that using an extra egg yolk helps to make the cookies less cake-like. What's more, the size of the cookies also influences the texture. "Making very large balls," she tells us, "creates the opportunity for a gooey interior when the cookies are baked for just 11 to 13 minutes."
Gather the ingredients for these copycat Levain chocolate chip cookies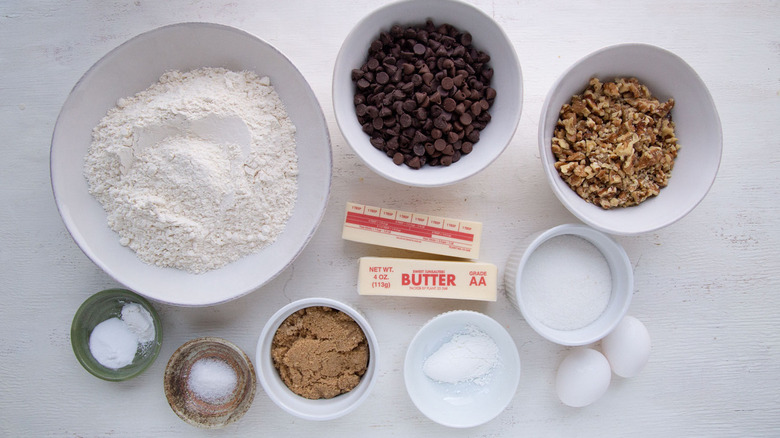 Kate Shungu/Mashed
For the most part, the ingredients are the same as you'd find in most chocolate chip cookie recipes, with the possible exception of the aforementioned cornstarch. They consist of butter, brown and white sugars, eggs (1 whole and 1 yolk), flour, cornstarch, baking powder, baking soda, salt, chocolate chips, and walnuts. Shungu advises "us[ing] a mixture of chocolate chips for best flavor," and suggests a combination of semisweet, milk, dark, or bittersweet, as well as experimenting with miniature and standard-sized chips. Perhaps toss in some jumbo ones or chocolate chunks, too, since these are extra-large cookies.
Shungu admits that "Levain Bakery doesn't publish specific ingredients," so there's no way of telling if these copycat cookies are an exact match, although the size and texture are pretty close. One thing she does know is that Levain doesn't use vanilla in its chocolate chip cookies, so she's omitted the flavoring extract here, as well.
Make the cookie dough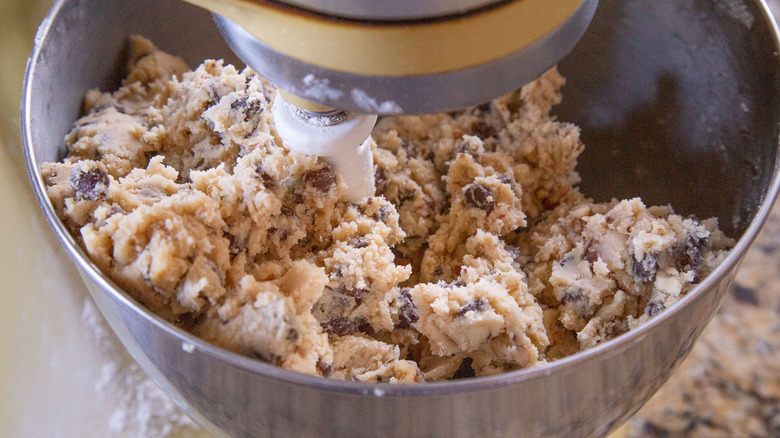 Kate Shungu/Mashed
Set the oven to 400 F. As it heats up, beat the butter with both types of sugar, then mix in the eggs. In a separate bowl, stir together the dry ingredients (flour, cornstarch, baking soda, baking powder, and salt), then mix them in with the butter, sugar, and eggs until combined. Fold in the chocolate chips and the nuts.
Shape the cookies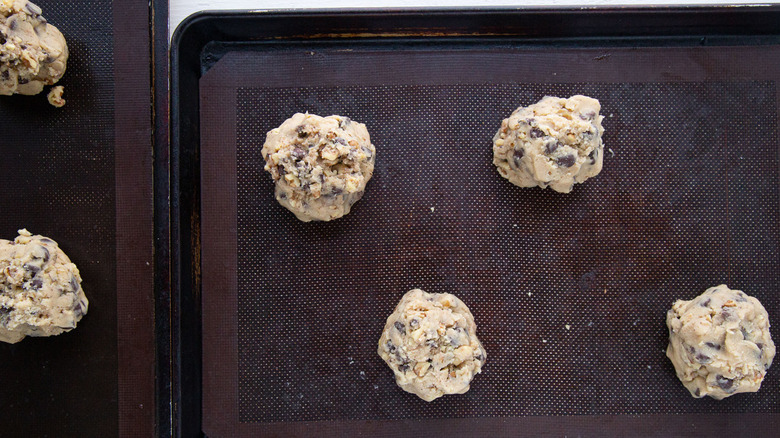 Kate Shungu/Mashed
Divide the dough into eight equal-sized pieces — if it helps, you can shape the dough into a block or log, then cut it in half, then in half again, and in half once more. Take each piece and roll it into a ball, then pull the balls in half and smoosh the smooth ends together so the rougher sides are now the tops and bottoms. This, Shungu says, will give the cookies a more "craggy" appearance which is similar to Levain's product.
Bake the cookies and cool before serving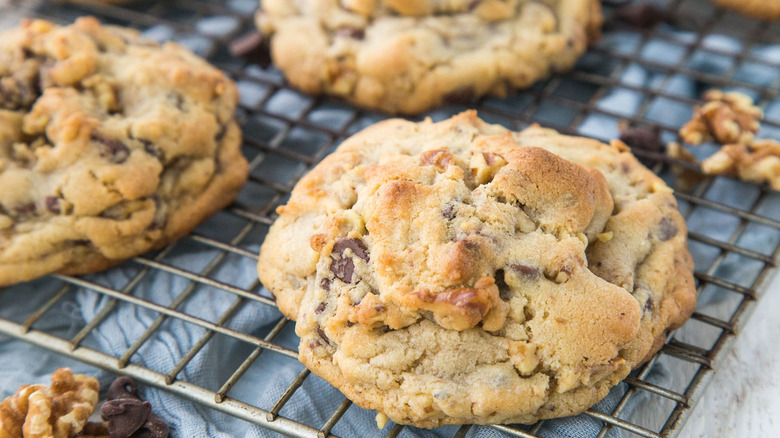 Kate Shungu/Mashed
Bake the cookies for 11 to 13 minutes. They're done when they appear golden brown in color. Let the cookies sit and cool right there on the pan for a full 15 minutes before you remove them.
As per Shungu's recommendation, these chocolate chip cookies are best kept at room temperature in an airtight container. If you're not likely to eat them all before they go stale, she notes that they can also be frozen.
Levain Chocolate Chip Cookies Copycat Recipe
Levain cookies are revered by admirers, yet the high price isn't as easy to swallow. Our copycat recipe delivers all the flavor and texture as the original.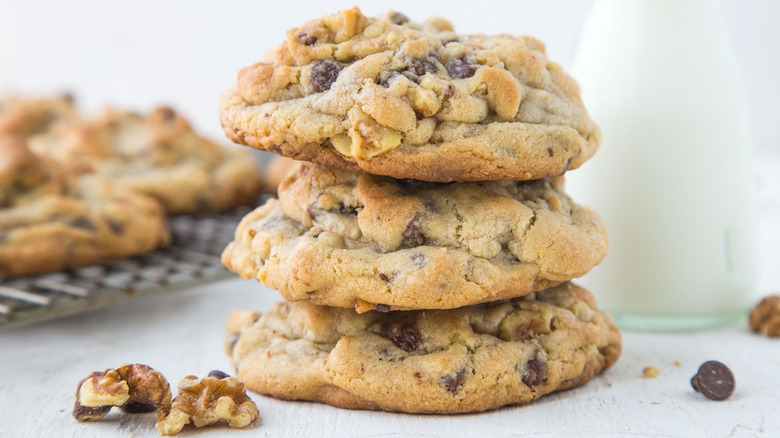 Ingredients
1 cup butter, cold
¾ cup brown sugar
¾ cup white sugar
1 egg
1 egg yolk
2 ¾ cups all-purpose flour
1 tablespoon cornstarch
1 teaspoon baking powder
1 teaspoon baking soda
1 teaspoon salt
2 cups chocolate chips
1 ½ cups chopped walnuts
Directions
Preheat the oven to 400 F.
Beat the butter, brown sugar, and white sugar until combined.
Mix in the eggs.
In a separate bowl, combine the flour, cornstarch, baking powder, baking soda, and salt.
Mix the dry ingredients into the butter/sugar mixture until just combined.
Stir the chocolate chips and walnuts into the cookie dough.
Shape the dough into 8 balls of equal size.
Pull each ball apart in half, stack the smooth ends together, and place them on a baking tray.
Bake the cookies for 11 to 13 minutes or until the tops appear golden brown.
Let the cookies cool for 15 minutes on the baking sheet.
Nutrition
| | |
| --- | --- |
| Calories per Serving | 926 |
| Total Fat | 51.8 g |
| Saturated Fat | 24.4 g |
| Trans Fat | 1.0 g |
| Cholesterol | 107.7 mg |
| | |
| --- | --- |
| Total Carbohydrates | 107.3 g |
| Dietary Fiber | 4.2 g |
| Total Sugars | 67.7 g |
| Sodium | 443.8 mg |
| Protein | 11.7 g |