Levain Bakery Has Big News For Cookie Lovers
Levain Bakery is named after the French word for leavening agents used to make sourdough bread, according to the New York City-based bakery's website. Though the company has now expanded to include its mega-popular cookies, its name has stayed the same to honor its beginnings as an artisanal bread source. Levain's reputation for cookies began after the huge success of its chocolate chip walnut cookie, which was placed in the bakery's case simply as a trial.
According to Today, the cookies were originally created by owners Pam Weekes and Connie McDonald, who needed edible fuel while participating in a triathlon. "I was at the bakery by myself and I thought, 'Maybe I'll just make, just for the fun of it, a batch of those cookies,'" McDonald said. "And they all sold." Following the success of the cookies, The New York Times approached the business for an interview, further solidifying the bakery as a New York staple. So, what's the big deal about these cookies? Interested DoorDash users are about to find out.
Levain cookies could be yours, no matter what state you live in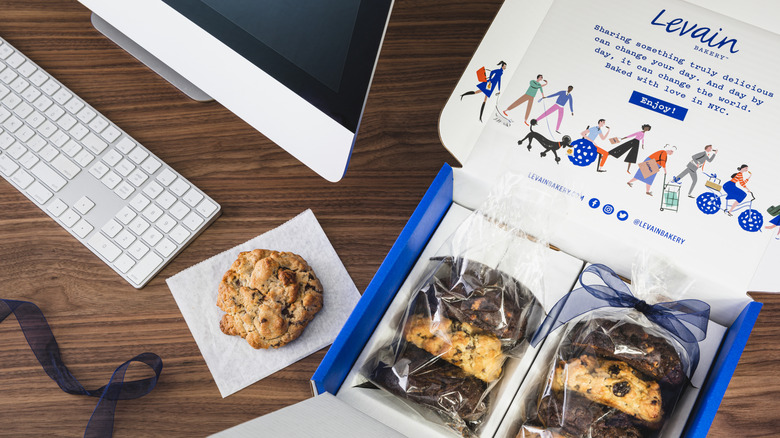 Kate Previte/Levain Bakery
Levain-curious cookie lovers who live far from the East Coast are in luck, as the bakery's cookies are now available for delivery through DoorDash to all states except for Alaska and Hawaii, according to a press release sent to Mashed. Furthermore, members of the DoorDash DashPass program can receive $50 off their first order of at least $69.99 using the promo code "50FORSHIP" at checkout. This deal is only valid from August 11 to August 17 as part of the Summer of DashPass promotion.
Until now, freshly baked Levain cookies have only been available at the chain's New York locations, as well as outposts in Boston, Washington, D.C., and Bethesda, Maryland. While Whole Foods began carrying Levain cookies nationwide in the spring of 2021, the freezer item must be baked at home. Levain's move to offer nationwide delivery is not so unusual in the age of Goldbelly, which has enabled beloved local brands like Hattie B's Hot Chicken and Joe's Pizza to cater to more customers around the country.