You Can Replicate Dollywood Dishes With A Vintage Country Cookbook
We may receive a commission on purchases made from links.
Despite a shift to digital media at the turn of the 21st century, cookbook sales, especially baking books, have continued to rise in the US (per NPD). An incredible feat, given the popularity of cooking videos on social media channels like TikTok. Perhaps it's because a hardcover cookbook can withstand sticky fingers and spills, unlike a tablet or cellphone, or is it the nostalgia a worn-out cookbook provides?
Cookbooks are the written relics of family recipes passed down from generation to generation. While grandma may have tweaked a few things over the years and hopefully written her secrets in the margins, vintage cookbooks are like our youth's storybooks that we revisit repeatedly. Whether they are 800-page encyclopedias like 1961s "The New York Times Cook Book," thin church-sponsored recipe pamphlets, or the South's Junior League cookbooks like the 1950s version of "Charleston Receipts," these recipes are filled with the comfort foods we never stop craving.
According to Abe Books, collectors will pay "four-figure prices" for out-of-print cookbooks from the 1700s to 1850s, and not surprisingly, first editions of Julia Childs' opus "Mastering the Art of French Cooking: Volumes 1 & 2" have sold for $12,500. For Southerners or country music fans, "Cooking with Country Music Stars" is one of those books. Published in 1986 as a fundraiser to "preserve country music history," the cookbook features recipes from music legends including Dolly Parton.
Good Southern comfort food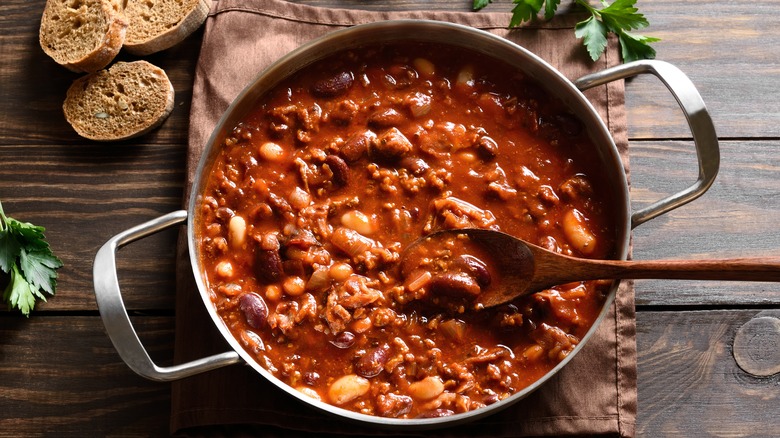 Tatiana Volgutova/Shutterstock
Filled with two hundred recipes from 37 country music royalty, including Reba McEntire, George Strait, and Tammy Wynette, "Cooking with Country Music Stars" is a collection of dishes spanning the gambit of southern cuisine. According to Eater, the cookbook is divided into courses like traditional cookbooks containing less desirable sounding dishes like barbecued deer bites, creamed tuna, and something called "slumgullion," in addition to "tried-and-true" recipes including a few from Dolly Parton's parks and resorts at"Dollywood."
Accompanying each recipe is an essay from the singer, some long gone, and photos from their big hair days in the 80s. Included in the cookbook is Dolly's recipe for her banana pudding, her coleslaw with its secret ingredient (pickle juice), and fans of her theme park, "Dollywood," may want the recipe for the cowboy beans served there. Since it's unclear whether the recipes were heirlooms or taken from another published source, a memorable disclaimer was placed on the title page "The publishers and editors accept no responsibility for recipes that seem to be unsatisfactory." While all the recipes may not be home runs, home cooks can trust in Dolly's.  
Parton's 2006 cookbook, "Dolly's Dixie Fixin's: Love, Laughter and Lots of Good Food," contains over 125 family recipes passed down from Parton's mother and mother-in-law, including that beloved banana pudding. An avid baker, Parton also teamed up with Duncan Hines for a limited edition line of cake mixes and icings, giving us another reason to love her.