Antoni Porowski's Subtle Engagement Announcement Has Instagram Freaking Out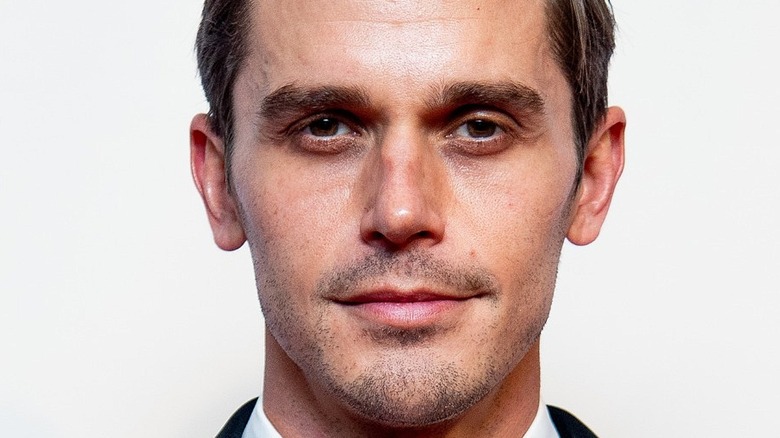 Roy Rochlin/Getty
If you love heartwarming reality TV, you've probably seen your fair share of Netflix's "Queer Eye." For reality TV fans who also love food, we're guessing that your favorite host of "Queer Eye" is Antoni Porowski, the show's food and wine expert. Now, Porowski is continuing to share his knowledge of food as the host of the new cooking competition, "Easy-Bake Battle."
But that's not all the exciting news Porowski has to share this fall. In a recent Instagram post, Porowski announced his engagement to his now-fiancé, Kevin Harrington. Despite this being a huge life event, Porowski kept the announcement super casual and posted a blurry photo of the two of them with the caption, "I really hope the wedding photos are less blurry." Fans and friends were celebrating the happy couple in the comments and bringing lots of enthusiasm to the more subtle caption.
According to People, Porowski and Harrington have been dating for three years and met before the pandemic lockdown. People reports that the couple lived in Austin during that time and started fostering their dog, Neon together.
Here's what Instagram is saying about Antoni Porowski's engagement post
If you're thrilled to see Porowski's engagement announcement, you're not alone. In the comments section of his Instagram post, friends and followers are gushing over Porowski and Harrington. Alyse Whitney, a guest judge on "Easy-Bake Battle" commented, "i'm throwing cheese curds down the aisle!!! i love you congratulations!!" Of course, the other co-stars of "Queer Eye" also gave their congratulations. For example, Karamo Brown said, "Yessssssssss!!!! So excited for you two! This is amazing" and Tan France wrote, "I volunteer as wedding selfie-photographer."
Harrington also shared an engagement announcement on Instagram with a few more photos and the caption, "Officially together until we look like the last pic." The last photo in his slideshow features Harrington and Porowski dressed up as zombies, so both of them went with a cheeky and playful route when sharing the good news. In the comments of Harrington's post, one person was especially excited about seeing more couples' costumes and said, "THANK GOD we get a lifetime of Halloween outfits now."
While we don't know anything about the wedding yet, we're sure the food will be next level. Want to know more about Porowski's life? The three ingredients Porowski can't live without are probably already in your kitchen, but they make a major difference in cooking. Plus, try making Porowski's favorite comfort foods to warm up on a chilly winter night.