These Chefs Are Casey Webb's Biggest Inspiration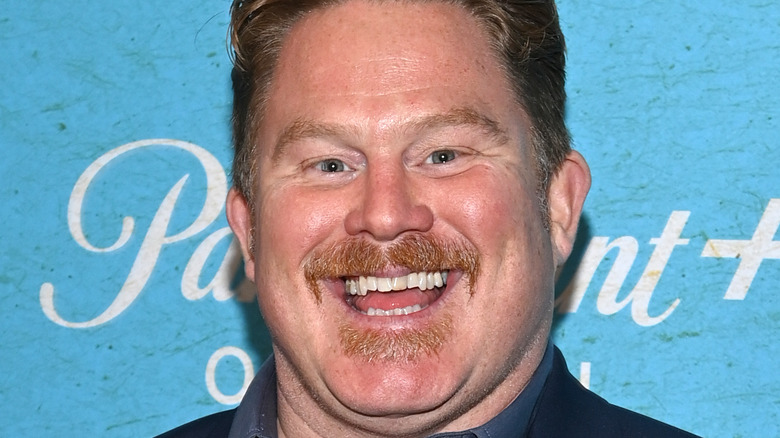 Dave Kotinsky/Getty Images
New Jersey native Casey Webb is no stranger to the food and restaurant industries. Since the tender age of 15, he's been working in some capacity, whether it's dishwashing or bartending, or managing the house. He's also a self-taught chef and has even made acting appearances on "Inside Amy Schumer" and "Boardwalk Empire" (via Travel Channel). This meant he was the perfect choice to take up the "Man V. Food" mantle left behind by the former host Adam Richman. In fact, Webb was bartending in Brooklyn when he got the call to fill Richman's shoes. When asked why he's the ideal person to take up hosting duties, his explanation was simple, saying, "I'm not allergic to anything. I do enjoy eating. I'm pretty competitive" (via ET).
Webb says traveling around the country and trying new foods is his dream job. "I get to combine my two passions — the restaurant business and performing. I love meeting new people and traveling, so I am having the time of my life." The highlight of traveling around the country is going to restaurants and meeting the owners and supporters of the eateries, who are obviously proud of what they have, no matter how crazy the portion sizes. "Meeting folks who have such hometown pride and shining a light on their local hangouts is so cool," he said (via Travel Channel).
Tradition, humor, and visionaries inspire Webb
Just like anyone who aspires to be or do something great, Casey Webb has his own inspirational figures in the food and restaurant industries. Chef and author Anthony Bourdain's "Kitchen Confidential" opened Webb's eyes to the seedier parts of the restaurant industry when he was waiting tables in his early 20s. Bourdain's "punk rock, shock jock" tone flung open the doors to a previously unknown world, with Webb admiring his "gunslinger swagger."
Martin Yan is a Chinese-American chef who hosted "Yan Can Cook" on PBS. Yan is known for infusing humor into his cooking demonstrations. Webb cites his father's love for Chinese food and Yan's show for getting him into the restaurant business. Webb also has a soft spot for southern food and found inspiration in chef and funny guy Justin E. Wilson's humorous style and passion. "Martin and Justin showed me that work and play don't have to be separate. If you can find the joy in what you're doing, you'll have fun no matter what."  
Webb says that PBS chef and cookbook writer Mary Ann Esposito allowed him to explore his Italian roots through the country's food and customs. "Mary Ann's journey through dishes that span generations gave me permission to dream wildly about travel, food and tradition." Eddie Huang is a multi-faceted chef with many credits to his name. Webb admires Huang's culinary "visions of global domination" and calls him "a true wizard in the industry" (via ET).