You Won't Believe What Casey Webb Did Before Hosting Man V. Food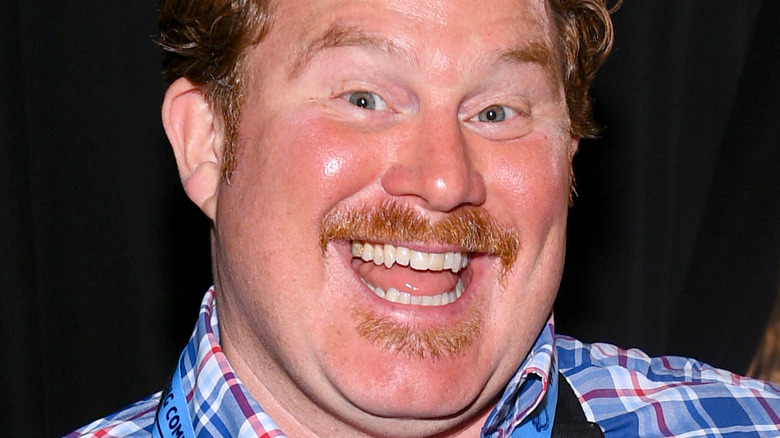 Dave Kotinsky/Getty Images
Casey Webb quickly became a household name in 2017 after taking over the Travel Channel's show "Man v. Food," after the former host Adam Richman's departure in 2012. The show follows Webb as he travels across the country, seeking out the mightiest food challenges he can find, such as the "Porkasaurus" challenge that pitted him against a veritable mountain of hash browns, eggs, and breakfast meats, to prove that man is superior to food. He's also appeared in other cooking shows like "Beat Bobby Flay" as a guest judge and as host of "Santa's Baking Blizzard" in 2019, per IMDb.
Webb is clearly thrilled with his position, saying "he loves the gig and hopes to do it as long as the Travel Channel lets him" in an interview with The Columbus Dispatch. His passion shines through in the show as he interacts with both the chefs preparing his immense food challenges and the locals who love those establishments. But Webb wasn't always so prolific, as shown by his career before "Man v. Food."
Webb before the food fights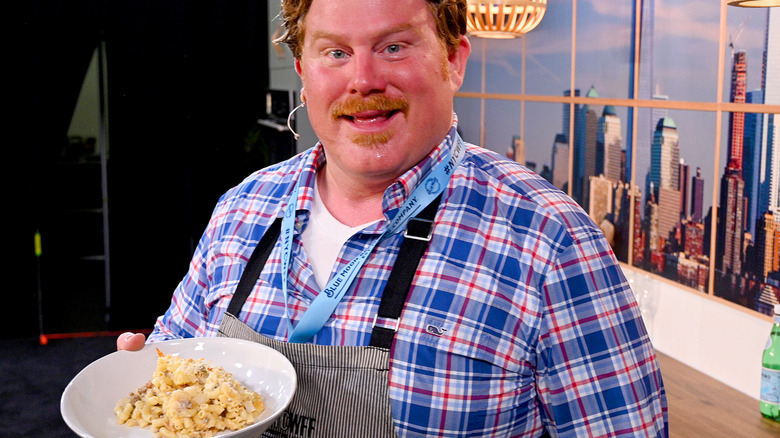 Dave Kotinsky/Getty Images
In the interview with The Columbus Dispatch, Casey Webb revealed he considered himself an "underdog" when it came to representing man in the eating challenges as his background didn't involve any competitive eating. Webb was, however, quite familiar with the restaurant industry before the show as he worked various restaurant jobs since he was a kid, per Distractify. But Webb has also had experience on the other side of the camera. An article on TV Over Mind revealed that Webb has worked as both an actor and a child model before.
The article notes that Webb's modeling career fell off as he got older and his roles in film and television went largely under the radar. His other acting roles have included minor parts in television shows like "Life & Beth" and movies such as "Top Dog," per IMDb. Working in food and entertainment has been two of Webb's passions that "Man v. Food" brought together for the host, per the Travel Channel. Webb also told the Travel Channel that before getting the hosting role, he "was bartending in Brooklyn." The rise from child model to television show host is a testament to Webb's willpower and shows how much perseverance can pay.