Martha Stewart's Newest Thirst Trap Is Stunning The Internet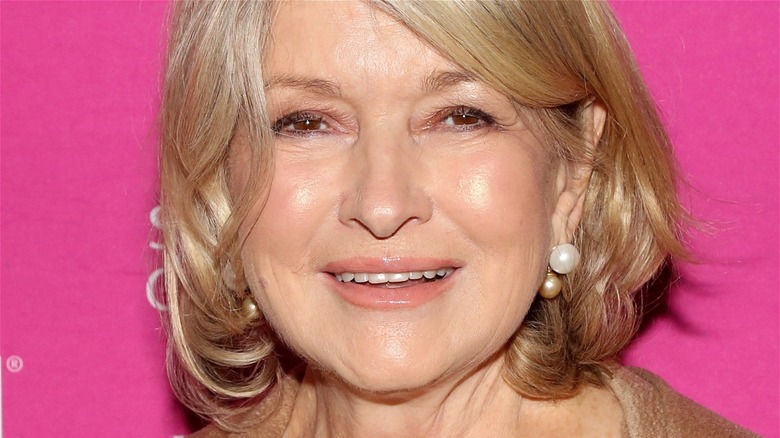 Bruce Glikas/Getty
Love her or hate her, you have to admit that Martha Stewart is a woman of many talents. Not only does she possess just about every skill in the kitchen, but she also knows how to throw a top-notch dinner party, and has a major green thumb, as well. These skills have earned her several accolades over the years, including her most recent title of the "queen of Thanksgiving," which was bestowed upon her last month by the folks at the TODAY show.
Stewart's expertise also extends outside of the home. She is an Emmy-award winner and a successful businesswoman. Martha Stewart Living, the company she founded in 1996, reaches more than 100 million consumers monthly (via PBS). And with over 75 books under her belt covering a wide range of homemaking topics, it's safe to say that Stewart is a pretty good writer, as well.
We're still not done. While most of Stewart's aforementioned strengths are pretty obvious to anybody that has been following her impressive career for some time now, the television host has a few lesser-known skills, as well, including the unique talent Stewart demonstrated during a dinner party a few years back. Additionally, it seems that the domestic goddess has also become a master of social media — specifically in the art of the thirst trap — and this week, she demonstrated her proficiency in the area once more with another attention-grabbing snap that has Instagram stunned.
Some fans think this is Martha Stewart's best selfie yet
Most pop-culture enthusiasts can probably recall the steamy swimming pool snap Martha Stewart posted to Instagram back in the summer of 2020 that led to TODAY declaring that Stewart was one of the celebrities who has "mastered the art of the thirst trap." Earlier this week, she demonstrated her dominance in the realm again after sharing another sizzling selfie that her followers have been raining hearts on ever since.
"In the miami beach/art basel vibe," Stewart captioned the November 29 upload featuring a close-up photo of the dolled-up businesswoman pursing her lips in an alluring fashion. "Bare shoulders, great hair by Simona, and makeup by the incomparable @daisybeautytoye," she said. The look was a major hit with her followers, who have awarded the image more than 66,000 likes as of this writing. Additionally, many have also taken to the comments section to flood Stewart with compliments.
"Like a fine wine. Martha looks incredible as always," Instagram user @mapelhillphoto wrote. "She's thirstin' and lookin' like a million," quipped another fan. Several others asked Stewart what the secrets were behind her ageless beauty, which one Instagrammer said was more akin to a 28-year-old rather than someone 81 years of age. Meanwhile, Instagram user @thepouf boldly claimed the thirst trap "might top the pool picture idk." Whether you agree or not, we think many out there will agree when we say Stewart can bring the heat both in and out of the kitchen.