Martha Stewart Fans Are Stunned By Her Vegetable Garden Harvest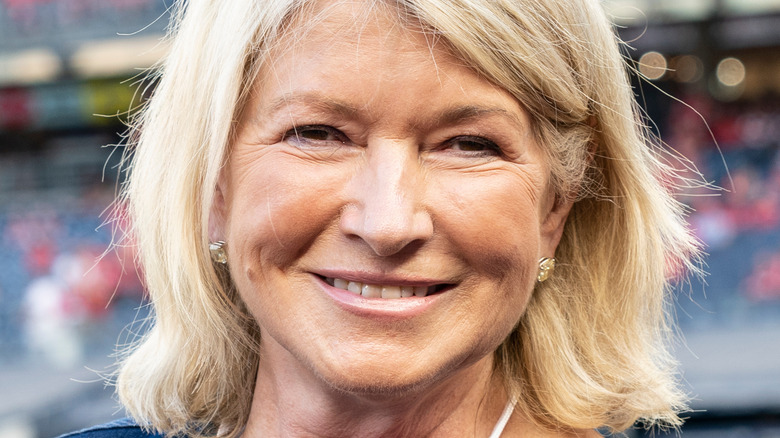 lev radin/Shutterstock
If your springtime optimism about a bountiful fall harvest turned to dismay when stealthy yard critters plucked your tomatoes before they ripened on the vine or your bevy of cucumber blossoms fizzled on the stem, it may be time to cut your losses and plan for next year. For inspiration, check out the kaleidoscopic display of fresh-from-the-garden produce on Martha Stewart's Instagram page along with the caption, "It's a bountiful harvest over at @marthastewart48's Bedford farm. This year's extra hot summer has been exceptionally good to the tomatoes. From about 100 plants we are picking all different sizes, shapes, and colors for sauce, canning, and fresh eating. What dishes do you think Martha should make with this garden haul?"
So far, the post, by Stewart's head gardener, Ryan McCallister, has drawn plenty of oohs and aahs, along with a few well-intentioned (we hope) nudges to donate the bounty to a local food pantry. One commenter, weightwatchinggammie, took the challenge and came up with this suggestion: "Looks so good. How about a good-as-it-gets version of a classic BLT and a batch of summer corn chowder?"
Martha Stewart's garden is legendary
While Martha Stewart owns several residences, including a seaside retreat on Mt. Desert Island in Maine, she's most at home at her 153-acre farm, Cantitoe Corners, in Katonah, New York. Located about an hour north of New York City, the farm is a National Wildlife Federation Certified Wildlife Habitat (via Distractify) and the site of her renowned garden. While in residence, Stewart lives in a three-story home she calls Winter House. Other residential buildings on the property include Summer House and Maple Avenue Guest House. There's a working stable surrounded by grazing paddocks and a hen house. But the garden is the crown jewel.
And while Stewart has help, the on-site garden is based on her vision and she's hands-on. "Martha decides what to plant and where it should go," her head gardener, Ryan McCallister, told Town & Country, "I've been gardening my whole life and studied plants and landscapes in school, but I learn something new from her every day."
McCallister, who joined Stewart's team at Cantitoe Corners in 2011, decided in March 2020 to hole up at Stewart's farm to ride out — what he thought at the time — would be a short COVID lockdown and to get ready for the spring planting season. Weeks turned into months, but he made the best of it, telling Town & Country, "Since we're at the house, we can work earlier and later and we get a lot more things done."
Stewart's garden is huge by all standards
At 90 feet by 150 feet — 13,500 square feet or just a bit less than a third of an acre — Martha Stewart's vegetable garden is huge by residential standards (via Martha Stewart). For comparison, Today's Homeowner suggests beginners start with a 100-square-foot garden plot to accommodate three to five plants each of up to five varieties of vegetables. More experienced gardeners can feed a family of up to four in the summer from a 300- to 500-square-foot plot. But let's face it, Martha Stewart does everything in a big way.
By the looks of her garden haul, Stewart harvested everything from corn, eggplant, cucumbers, plums, and artichokes. The star of the show was by far the tomato crop, as Stewart's Instagram posts were filled with dozens and dozens of the fresh fruit. As many commenters suggested, salsa, pasta sauce, and ratatouille would be perfect ways to use up the harvest.